BOZICH | My weekly AP college basketball Top 25 ballot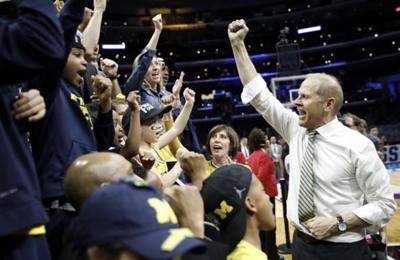 LOUISVILLE, Ky. (WDRB) — Don't look for Pac-12 basketball games on DirecTV and don't look for them on my AP college basketball Top 25 ballot either.
And, if the reports out of Los Angeles late last night are true, don't look for Steve Alford on the sidelines at UCLA any more. The former Indiana star is gone.
On to the 25 teams that matter.
1. Michigan (13-0) — The Wolverines don't need two home games as Big Ten play resumes, but they get Penn State and Indiana in Ann Arbor next.
2. Duke (11-1) — After more than two full weeks off, the Blue Devils open league play in Durham against Clemson Saturday.
3. Virginia (11-0) — The Cavaliers celebrate New Year's Eve with Marshall before starting ACC play at home against Florida State Saturday.
4. Kansas (11-1) — The Jayhawks are favored to win the Big 12 for the 137th straight season.
5. Tennessee (11-1) — The Vols will welcome Tom Crean and Georgia to the SEC Saturday.
6. Nevada (13-0) — Ken Pomeroy gives the Wolfpack a 13 percent shot at finishing the regular season unbeaten.
7. Michigan State (11-2) — The Spartans trip to Ohio State Saturday will be one of the best Big Ten games of the week.
8. Texas Tech (11-1) — After West Virginia is a fun way to start league play.
9. Gonzaga (12-2) — The Zags will beat up on Cal State Bakersfield Monday before beginning their usual domination of the West Coast Conference.
10. Florida State (11-1) — Pomeroy projects an 11-7 ACC record for the Seminoles.
11. Kentucky (10-2) — Back-to-back wins over North Carolina and Louisville has stopped the hyperventilating in Lexington.
12. Virginia Tech (11-1) — The Hokies have played four teams with computer rankings of 300 or worse, but they won't play any more.
13. Ohio State (12-1) — The Buckeyes have been better than expected for the second straight season.
14.  North Carolina (9-3) — After hosting Harvard Wednesday, the Tar Heels will plays their first two ACC games on the road.
15. Nebraska (11-2) — We'll find out if the Huskers are a legitimate Big Ten challenger after they play their next two at Maryland and Iowa.
16. Oklahoma (11-1) — Wonder who Lon Kruger annoyed to get his league opener at Kansas Wednesday?
17. Indiana (11-2) — The Hoosiers open Big Ten play Thursday against an Illinois team that just lost to Florida Atlantic.
18. Auburn (11-2) — The Tigers don't play until they welcome Kermit Davis to the SEC at Ole Miss Jan. 9.
19. Mississippi State (12-1) — Ben Howland doesn't look so bad at UCLA any more.
20. Houston (13-0) — I got a text message that Kelvin Sampson's team has six Top 100 wins.
21. Marquette (11-2) — That will be a perturbed St. John's team that the Golden Eagles visit Tuesday.
22. Buffalo (12-1) — The Bulls are not the only Mid-American Conference team to watch.
23. Wisconsin (10-3) — The Badgers will try to bounce back from their debacle in Bowling Green against Minnesota.
24. N.C. State (12-1) — The Wolfpack have played a featherweight schedule so let's see how they fare in the ACC.
25. Toledo (12-1) — The Rockets just thumped the Penn team that won against Villanova.
Copyright 2018 WDRB Media. All Rights Reserved