LOUISVILLE, Ky. (WDRB) -- Top-25 recognition percolates for the Indiana University football team in the preseason magazines. Multiple IU players appear on the early all-Big Ten and all-American lists.
Recruiting?
Head coach Tom Allen and his staff have transformed the mojo of the last two seasons into results. National recruiting analysts rank IU's 2022 class the best performance in program history.
IU has oral commitments from high school players from Texas, Ohio, Florida and Arkansas as well as three of the top 10 in-state prospects. With a dozen recruits, Indiana's 2022 class ranks 20th in the nation and fifth in the Big Ten. Typically, IU football recruiting ranks in the 40s nationally and 11th or 12th in the Big Ten.
What is the next improvement Indiana needs to make to show skeptics this isn't your great uncle's Indiana football?
Full-sized crowds, fans who turn out for the game more than the tailgate.
Filling all 52,626 seats at Memorial Stadium several times this season should be the goal. Bumping the season attendance average higher than the 41,000-44,000 level — where it has sat since 2009 — should be another.
IU senior associate athletic director Jeremy Gray said that ticket sales are 27 percent higher than 2019.
"I would love to see that (home opener Sept. 11 against Idaho) to be a packed house for what these guys invested and what they have given to this program during a difficult time (last season)," Allen said.
"The fans weren't able to be a part of it. Now we have a chance to have them back. We want it to be sold out, loud and crazy and let these guys know how much the fans appreciate them and how excited they are about what we're building.
"I want to have a super loud crowd, because the crowd affects the game. The energy, the noise affects the opposing team. On offense, on third down, it's real. It's part of the game.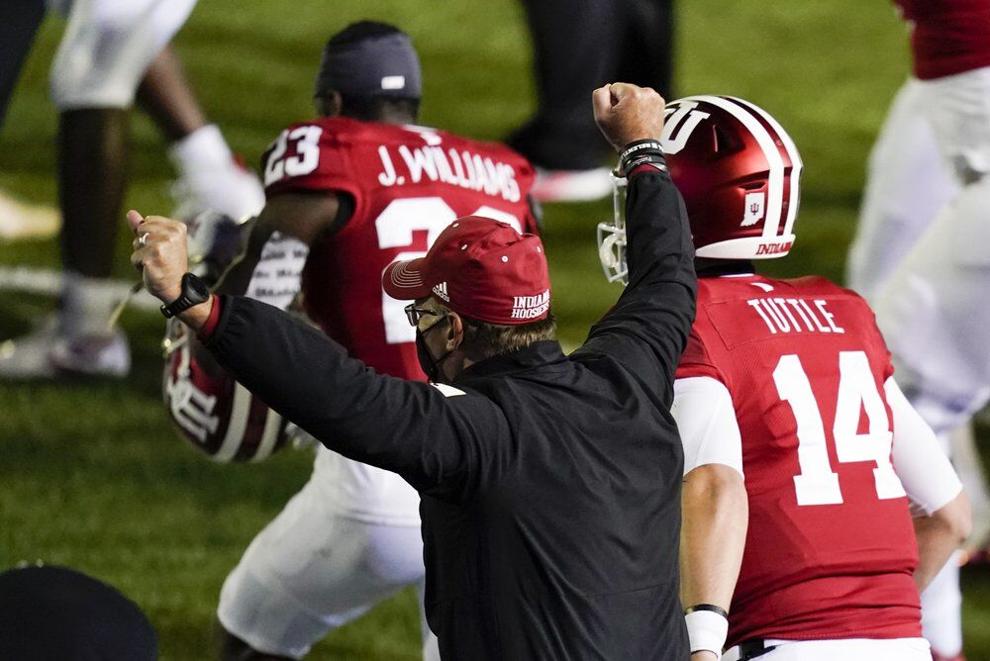 "And we need that homefield advantage.
"It can become very loud with both end zones closed in. It's a loud stadium. I'm excited to be able to see it, feel it and hear it and be the beneficiary of that noise."
Indiana has averaged more than 50,000 fans per home game twice in program history: 1988 and 1969 (two seasons after IU went to the Rose Bowl).
The Hoosiers filled Memorial Stadium three times since 2011: for Ohio State in 2015 and 2017 and Michigan in 2017. Buckeye and Wolverines' fans occupied a quarter or more of the seats.
Allen has never complained. That's not his operating philosophy. He understands the tradition and dynamics of IU football. A chunk of Indiana fans drive from the Indianapolis area. They need motivation to make the hour-or-so drive.
There is no better motivation than winning.
"We've got to play at a level they want to come support," Allen said. "We've got to win football games. We've got to play at a high level. That's what we're doing now and we've got to continue it.
"That's part of it. And I get it. I've never sat here and said, 'You've got to do this, you've got to do that.'
"But I've always believed in my heart we could do it. What's the key? We've got to win. We've got to win.
"That's how you fill up Memorial Stadium."
The Hoosiers will play half of their 12 games in Bloomington. At least two opponents — Ohio State and Cincinnati — figure to be ranked in the top 25. Michigan State, Rutgers and Minnesota are the other three Big Ten opponents.
Idaho, coached by former University of Louisville offensive coordinator Paul Petrino, will visit Memorial Stadium for the home opener a week after the Hoosiers begin their season Sept. 4 at Iowa.
The Hoosiers played in mostly empty Memorial Stadium last fall because of COVID-19. In 2019, during an 8-5 season, IU averaged 41,244.
Allen said that he believed crowds would be larger this season.
"(Ticket sales) are definitely up, and there is definitely a lot of excitement about it," Allen said.
"Those who have never done it in the past, for the first time, they are going to purchase season tickets and be there to support the Hoosiers.
"A lot of people have said that. They've said it in messages. They have said it to my face. Absolutely. For sure."
Copyright 2021 WDRB Media. All Rights Reserved.