BOZICH | No post-Notre Dame letdown as Louisville thumps Georgia Tech, 61-44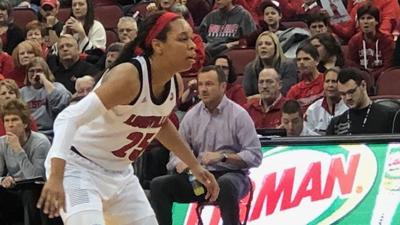 LOUISVILLE, Ky. (WDRB) — Post-Notre Dame letdown? Trap game? Bad day at the office?
"That (loss to Notre Dame) wasn't the national championship game," said Louisville star Asia Durr, shrugging at the thought.
Put all those fears or anything else that had you fretting about the University of Louisville women's basketball team's game against Georgia Tech into the shredder.
The Cardinals' loss to top-ranked Notre Dame Thursday night in South Bend will likely cost Louisville the Number 2 national ranking when the next AP Top 25 is released Monday afternoon.
But the aftermath of the Cards' first loss did not cost them another game Sunday against dangerous Georgia Tech.
Louisville 61, Georgia Tech 44.
Jeff Walz, the Louisville coach, was not surprised that his team performed as if his players intended to hold their place in the national top five.
"We've got a lot of veterans who have played in a lot of big games," Walz said. "For us to go up there and play at Notre Dame, of course, it's a huge game.
"It was 1 vs. 2. But it's not the first time these kids have been in those ball games, especially when you've got just everybody returning who played in the Final Four.
"You sit there and play your Sweet Sixteen game and you realize you've got an Elite Eight game next. So our kids have done a really nice job of being able to handle one game at a time and then move on to the next game.'
The Cards never trailed. The Cards shot the ball well. They shared the ball even better, earning 19 assists on 23 field goals. The Cards handled the bruising style of play that the larger, more physical Yellow Jackets preferred. They overcame getting out-rebounded by 14.
Defense? Georgia Tech barely made a quarter of its field goal attempts -- 17 of 65.
"I thought our defense was outstanding," Walz said. 
"I was just so impressed by the way they played on the defensive end," said Georgia Tech coach MaChelle Joseph, whose team made 21 turnovers.
Louisville moved to 15-1 and 3-1 in Atlantic Coast Conference play against a formidable, 12-win opponent that had one Top 15 win on its resume.
The Cardinals scored the first 10 points and pushed out to a 15-2 lead as Durr played like first-team all-America Durr, scoring 10 points while making a pair of shots from distance with two rebounds during that opening stretch.
Durr finished with 21 points, her 10th 20-point game this season. She made three of eight shots from distance and contributed five rebounds.
The 21 points bumped her career total to 2,086. At her current pace of 21.4 points per game, Durr figures overtake Shoni Schimmel (2,174) as the program's No. 2 all-time leading scorer against UConn Jan. 31.
"She can score in so many ways and hurt you in so many ways," Joseph said.
Sam Fuehring celebrated a double-double with 13 points and 14 rebounds. The rebound total was her career best.
"You roll the dice sometimes and try to make somebody else beat you and make those passes," Joseph said.
The Cards pushed their lead to 36-23 by halftime. Georgia Tech rallied briefly in the third quarter, cutting the Louisville lead to 42-33.
Durr was not prepared to let the Yellow Jackets get any closer. She and fellow senior Fuehring worked a back-door cut from the left wing the way John Wooden drew it up.
Fuehring took a pass at the top of left side of the foul line. Durr convinced everybody she was racing up for the ball. She stopped, changed directions and cut directly to the rim.
Fuehring dropped a crisp bounce pass in her hands, and Durr quickly converted it to a layup. Threat averted. There would be no post-Notre Dame letdown or trap game. 
"Notre Dame was a big game but we have other games to play," Durr said. "This was a time to get better and to see if we could bounce back. We did a great job of doing that ... It was a great bounce back win."
Louisville will host Virginia Thursday at 7 p.m. in the Cardinals' next game.
Copyright 2019 WDRB Media. All Rights Reserved.