LOUISVILLE, Ky. (WDRB) — I hope nobody rushed to Scott Satterfield's press conference Monday chasing an incendiary quote about the rivalry game that Satterfield's University of Louisville football team will play at Kentucky on Saturday.
Satterfield said that he does not know UK head coach Mark Stoops well, but he complimented the consistent work that Stoops has done for seven seasons in Lexington.
"He's done a great job there," Satterfield said.
Make no mistake: Satterfield said the word Kentucky.
Multiple times.
Satterfield delivered more praise about Kentucky's running game. He made certain to tip his hat toward Kentucky's defense, especially its ability to limit big plays.
He said that would be an issue for his team, because Louisville has benefited from long runs and passes. Three U of L players have receptions of 74 yards or more. Three U of L runners have gains of 48 yards or more.
In response to a question, Satterfield said that playing the U of L-UK on the opening weekend of the season (the way it used to be) would create more buzz.
"But it doesn't matter when you play," Satterfield said.
He said that on Sunday night during a team meeting he discussed behavior on social media. Satterfield said he did not ask his players to suspend their social media accounts for a week, but he did ask them not to engage in sniping with Kentucky players.
"That doesn't help you win," he said. "Sometimes, you get so caught up (in the rivalry) that you lose sight of what your job is."
Win the game on the field, not on your smartphone.
That was the rundown from Satterfield on Monday.
This is the forecast for Saturday:
Don't expect any ugliness or even much silliness at Kroger Field.
No pregame stare-downs. No midfield barking, howling and other forms of fake toughness. No unnecessary hits after the whistle or out of bounds. No flurries of yellow penalty flags.
Just football, please.
Hit hard. Play harder. Leave the nonsense for everybody else.
Reasonable Kentucky fans will find it difficult to dislike Satterfield. He won't give Wildcat Nation any substantive material. It's not his DNA.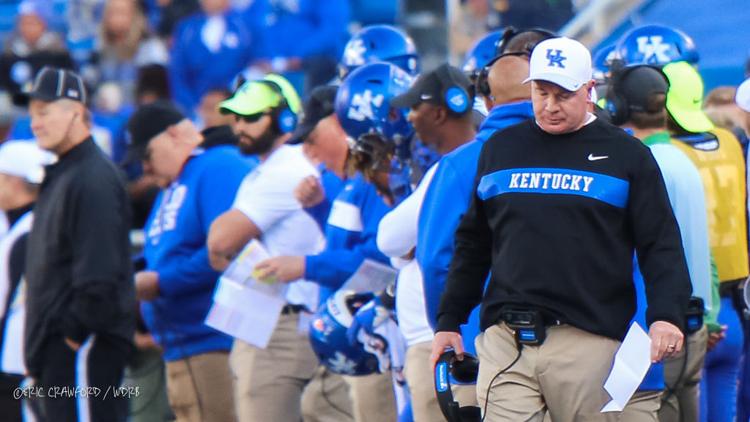 Satterfield said he grew up in North Carolina around the Duke/North Carolina rivalry. He was exposed to Ohio State-Michigan hostility when he lived briefly in Toledo.
At Appalachian State, Satterfield's primary rivalry was Georgia Southern, because both programs fought their way to FBS status at the same time in the Sun Belt Conference.
But the distance from Boone, North Carolina, to Statesboro, Georgia, is 335 miles, not 70. There are not large pockets of Georgia Southern fans in the mountains of North Carolina.
This is different. Satterfield said that he sensed that when he attended his first U of L-UK basketball game last Dec. 29. But he won't make it hostile. Not his way.
Bobby Petrino wasn't afraid to run it up. Charlie Strong handled the Wildcats three out of four. John L. Smith was never a fan of the color blue. Howard Schnellenberger's affection for hyperbole and drawing attention could make his alma mater scream.
But Satterfield?
I've said it before, but it's worth repeating: Satterfield is the most normal, regular, reasonable guy I have encountered while covering football in this area through multiple regimes at multiple programs. He's right there with Bill Curry.
Satterfield has been consistently polite, unassuming, cooperative, thoughtful and patient in his dealings with the media.
He does not create imaginary enemies. The sight of a microphone or TV camera does not get his paranoia percolating. He does not look behind potted plants for spies. He hasn't fired off nasty emails over a poorly chose adjective or adverb.
Unlike many coaches, Satterfield has not dabbled in misdirection. From Day 1, he said that Louisville was going to run the football.
That is precisely what the Cardinals have done: running it for nearly 215 yards per game, the third-best average in the Atlantic Coast Conference.
He's given credit to the four teams that have defeated Louisville. He has treated football as if it is a very, very, very important thing without turning it into a death match over family property.
Coach the things you can coach. If it's good enough, chances are you'll win. If it's not, odds are you'll lose.
On Monday, Satterfield sounded like a coach who was ready to plunge into this U of L-UK rivalry. But don't expect him to come out lobbing ugliness or petty grudges. It's simply not his way.
Copyright 2019 WDRB Media. All Rights Reserved.