BOZICH | Nothing deplorable about Louisville during 3-game winning streak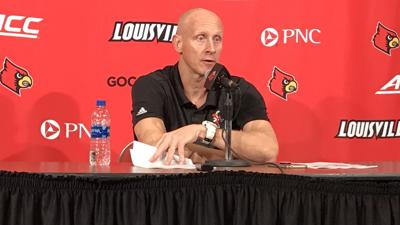 LOUISVILLE, Ky. (WDRB) — Until another dramatic moment interrupts, the defining take on this University of Louisville basketball season came after the Cardinals lost at Pittsburgh on Jan. 9.
Pitt 89, U of L 86. Overtime. The rematch is booked here Saturday afternoon.
The aftermath of the Pitt defeat was when Mack described the defense played by his team as "deplorable," an angry coaching word that should resonate for weeks. That was when Mack complained that his guys needed to play with "a little more dirt under its fingernails," another choice of words that ensured everybody knew precisely what Mack was thinking,
That was also the day people wondered why Louisville was unable to beat a Pittsburgh team the Cardinals handled by 34, 26 and 55 in the three previous meetings between the programs.
The wondering has stopped. Deplorable worked magic in the locker room. So did dirt under the fingernails.
Credit Mack with an excellent coaching moment.
Thursday at 8:06 p.m. Louisville welcomes North Carolina State (and former U of L assistant coach Kevin Keatts) to the KFC Yum! Center.
The Cardinals will try to stretch their winning streak to four, move back into a four-way tie (with Virginia, Duke and North Carolina) atop the Atlantic Coast Conference and defeat an N.C. State team that beat U of L by seven in Raleigh last season. N.C. State isn't Virginia or Duke, but the Wolfpack (15-3, 3-2) are no laugher.
Why is deplorable no longer a word that percolates around Mack's team?
Three reasons:
1. No Free Looks: At Pittsburgh, Mack was perturbed the Panther made half of their 32 attempts at the basket as well as 9 of 20 three-point shots. Speaking in percentages, it was the second-best three-point shooting performance against the Cardinals this season.
Get this: After giving up nine threes against Pittsburgh, Louisville allowed only 11 shots from distance in victories over North Carolina, Boston College and Georgia Tech.
The Tar Heels, Eagles and Yellow Jackets shot a combined 20 percent, missing 44 of 55 three-point attempts.
That's more than simply an effective job of packing the lane. That's making certain shooters have been covered in every direction.
"I think we've done a really good job of being able to take both the good and the bad, learn from it and try to keep improving," Mack said. "That's our goal each and every day, as boring as it sounds."
2. Win the Three-Point Battle: While opponents have been clanking threes, Louisville has set its feet and made shots.
Louisville outscored North Carolina, Boston College and Georgia Tech by 90-33 from the three-point line. The Cards shot 38 percent from three in those wins.
North Carolina State is a below-average three-point shooting team. The Wolfpack rank ninth in the ACC in three-point percentage, making 31 percent. State is more likely to try to attack Louisville in the paint — and on the glass.
"They have a very aggressive style," Mack said. "They have a bunch of what I would call 'tweeners' that are difficult matchups.
"They play with a lot of confidence, they go quickly from defense to offense, they try to generate offense from their defense. They've got guys who will shoot it and go get it.
"They're one of the best offensive rebounding teams in the country, and I think it speaks to the type of personality that coach Keatts wants to have his teams play with -- very aggressive, very confident and you can see that all the way through each of the individual players on their team."
3. Crush the Glass: Rebounding, especially offensive rebounding, is the statistic to watch against North Carolina State.
According to Ken Pomeroy's numbers, N.C. State ranks first in the ACC in offensive rebounding percentage, grabbing better than 36 percent of its missed shots. With Mack, rebounding is non-negotiable.
"I don't think we were going as hard as we should have early in the year," Mack said. "(Assistant coach Dino) Gaudio's done a really good job of browbeating our guys to get on the glass and it's a way for us to gain extra possessions.
"It is for any team, but it's just all about effort. Getting your head under the rim by the time the shot comes out and I think the guys on our team that are allowed to offensive rebound are doing a really good job of that, and we need to get all the possessions we can."
Beating Louisville on the glass has not been a workable formula in ACC play. The Cardinals have out rebounded all five conference opponents.
Louisville has been particularly ferocious on the glass during this three-game winning streak, out-rebounding North Carolina by nine, Boston College by 11 and Georgia Tech by 10.
Nothing deplorable about that.
Copyright 2019 WDRB Media. All Rights Reserved.