LOUISVILLE, Ky. (WDRB) -- The consensus remains that we'll have an update on the shape of the 2020 college football season within the next 10 days.
I will let the vocal Gotta Play and Shouldn't Play forces collide in a social media steel cage elsewhere. I'm climbing into the (Phil) Steele cage today.
I paid my $20.77 (with the $6.93 Football Writers Association of America discount; yeah, it's pricey) for Phil Steele's mammoth 352-page annual yearbook.
I will get more than my money's worth even if the season is A) delayed; B) reshaped; C) condensed or D) canceled.
Steele leads the league in details, minutiae and rankings, providing a fascination combo platter of history and predictions.
As I've done with the four other college football yearbooks I have previewed, I'll limit the information I share. My intent is not to cut into the sales of his product in its 26th year.
I'm simply sharing preview insight from another respected source. Steele's yearbook is always last to arrive, but generally worth the wait.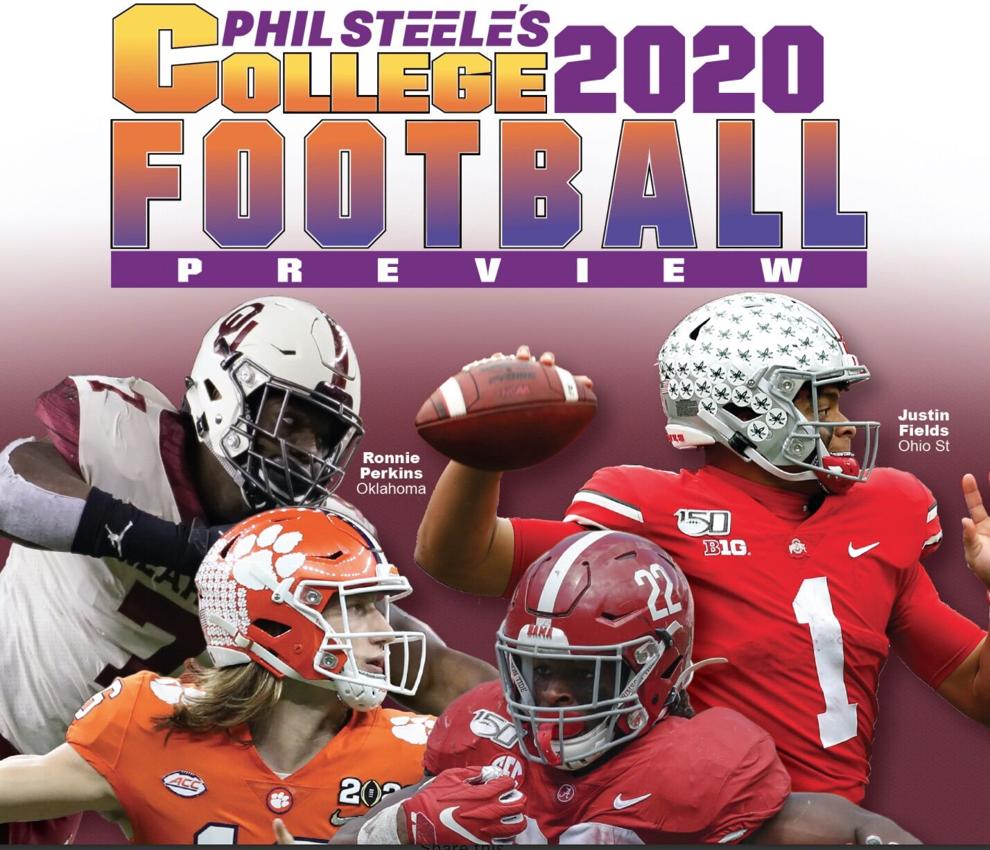 Here are some of his thoughts on Louisville, Kentucky, Indiana and Western Kentucky.
*Steele is bullish on all four local FBS programs
Although Steele ranked Louisville No. 49 nationally, he put the Cardinals third in the Atlantic Division of the Atlantic Coast Conference, behind Clemson and Florida State. Louisville is ranked second by at least two others but the Cards finished second after being forecast to finish fourth last season, so chill.
Steele mentioned twice that Louisville won eight games last season despite being out-gained by 38 yards per game in ACC play. That had a whiff of skepticism.
But he said the Cards will be in the hunt for second in the division.
He picked Kentucky to finish fourth in the East Division of the Southeastern Conference, ahead of South Carolina, Missouri and Vanderbilt. He ranked UK No. 29 in the country, one spot behind Tennessee.
He also wrote that even without Lynn Bowden, the Wildcats "have more talent, look even stronger and are a bonafide contender in the upgraded SEC East."
Anybody who picks Indiana No. 25 in the nation and fourth in the Big Ten East believes Tom Allen has the Hoosiers poised for a solid season. That is Steele's projection. He said Indiana could win nine games, but that was before the Big Ten booted WKU, Ball State and Connecticut from the IU schedule.
Steele also likes Tyson Helton's second WKU squad, selecting the Hilltoppers to win the East Division of Conference USA. His biggest question about WKU is quarterback, but Steele is a fan of Maryland transfer Tyrell Pigrome, if he can stay healthy.
*All-Americans, Anyone?
As usual, Steele went four deep with his national all-American teams: offense, defense and special teams.
There was solid local representation.
Two of Scott Satterfield's Louisville players made the cut: Tutu Atwell as a second-team wide receiver and Hassan Hill, third team returning kickoffs.
Two Kentucky players were also honored: Max Duffy as the first-team punter and Darian Kinnard as a fourth-team offensive lineman.
Do not forget one another player: New Albany native and Trinity high school star Rondale Moore earned second-team recognition at receiver with coach Jeff Brohm at Purdue.
*Top Local Units
Steele ranks teams by their individual position units. The locations earned several solid numbers.
For Louisville: The Cards received are ranked 13th best in the nation. With Javian Hawkins leading the way, U of L's running backs were ranked No. 28 at that spot.
For Kentucky: Credit Mark Stoops and assistant John Schlarman with building the fifth best offensive line in the nation. UK also cracked the list with the No. 15 secondary as well as the 15th ranking special teams unit.
For Indiana: Led by Whop Philyor, IU's receivers earned the No. 19 ranking. Michael Penix Jr. and Jack Tuttle pushed IU's quarterback ranking to No. 34.
For WKU: The Hilltoppers' defensive line is ranked No. 32, higher than U of L, UK and IU.
The individual unit leaders are Clemson at quarterback, running back and defensive line; LSU at receiver; Alabama offensive line; Georgia linebackers; Oregon defensive secondary and Memphis special teams.
*College football is resistant to change
If I gave you my list of seven programs, I'm certain at least three and probably four would make the college football playoff every season.
Here is my list: 1. Alabama; 2. Clemson; 3. Ohio State; 4. Oklahoma; 5. LSU; 6. Georgia; 7. Notre Dame.
The last time a program outside that list made the playoff was the 2016 regular season. The team was Washington.
In six seasons of the four-team playoff, the only time three or more teams from my list failed to make the playoff was 2014, when Florida State and Oregon participated.
That's a long-winded introduction to saying that Steele picks Ohio State, Clemson, Alabama and Oklahoma to make the playoff — with the Buckeyes winning the title for coach Ryan Day.
Copyright 2020 WDRB Media. All Rights Reserved