BOZICH | Romeo Langford's career night lifts Indiana past Illinois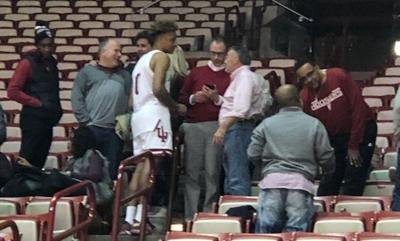 BLOOMINGTON, Ind. (WDRB) — The gauntlet for the Indiana basketball team was supposed to start Sunday. You didn't have to be Cody Zeller to know that.
At unbeaten Michigan on Sunday. Followed by a trip to Maryland. Followed by four more road games (including one at Purdue) over the following six games. Left jab followed by right hook followed by body blow. Big Ten Conference play.
And the Hoosiers had to do it without point guard Robert Phinisee, who has been missing for 15 days in concussion protocol.
The gauntlet started one game ahead of time.
In Simon Skjodt Assembly Hall.
Against the worst team in the Big Ten.
Down 10, Indiana overcame a rugged opening 10 minutes to rally and defeat Illinois, 73-65. The Hoosiers improved to 3-0 in the Big Ten and 12-2 overall.
"We knew it was going to be a weird game because of how frantic they played," said IU senior Juwan Morgan. 
This one was played into the final seconds after Indiana gave back a large chunk of a 15-point lead in final 8 1/2 minutes. They made their free throws and got the ball to the guys who consistently deliver when it mattered.
"I think we got a feel for what it's going to be like for the next couple months," IU coach Archie Miller said.
Credit Romeo Langford, the Hoosier' unflappable freshman from New Albany. He handled the ball. He attacked the rim. He defended with vigor.
And another thing: Langford scored 28 points, his career high. He did it efficiently, too, making eight of 13 shots from the field as well as 11 of 15 free throws.
"We knew they like to play the passing lanes and that was going to leave open driving lanes," said Langford, who drew nine fouls. "I just started seeing more drives open. Right now that's what I'm best at.
"I feel like that was my best game so far all around, on the defensive end, too."
Langford was not finished entertaining his fans. Nearly a half-hour after the game, he walked into the seats on the east side of the arena to sign autographs and talk to more than 25 friends and family members who attended the game from New Albany.
"He's as coachable a guy as we have on the team," Miller said. "Romeo was terrific making plays."
Morgan contributed another double-double, scoring 15 points with 10 rebounds. Morgan missed nearly two minutes in the second half after banging knees with an Illinois defender but was able to finish the game. He called the injury a "stinger," but said he did not expect to miss any time.
Credit the Hoosiers defense, which squeezed six shot clock violations out of Brad Underwood's team.
"Regardless if you're making shots, you can't let your defense go to waste," Morgan said.
"Our guys know if we're going to be successful, it's defense to offense," Miller said.
Illinois did not look like the worst team in the Big Ten against Indiana. They made nine of their first 13 shots, attacking the Hoosiers from the first dribble.
Illinois, 4-9, had Indiana down by 10 less than 10 minutes into the first half. The Hoosiers looked like they needed Phinisee, Zeller, Isiah Thomas, Scott May and anybody else who was ready to volunteer to assist Archie Miller.
Giorgi Bezhanishviji is a freshman center for Illinois. He was matched against Juwan Morgan, Indiana's leading scorer as well as a guy who was voted national player of the week two weeks ago.
The Illinois freshman did not flinch — or retreat.
At least three NBA scouts, from the Miami Heat, Minnesota Timberwolves and Dallas Mavericks, saw Bezhanishviji score 10 first-half points, using solid footwork and a dependable, sweeping left handed shot to score near the rim.
Indiana's defense steadied over the final 5 1/2 minutes of the half. The Hoosiers rallied from a 27-19 hole to tie the game at 32 by halftime when Justin Smith soared into a lane to tip home a miss by Al Durham.
Langford gave Indiana control, scoring the first eight points of the second half. The Hoosiers surged to a 55-40 lead.
"We want him to be more aggressive," Miller said. "Sometimes you have to get the ball in his hands against a team like that.'
The gauntlet is still coming for the Hoosiers. They'll be in Ann Arbor on Sunday to face Michigan, which has already defeated North Carolina and Villanova this season.
Miller said it was doubtful that Phinisee would play against Michigan, which improved to 3-0 in the league by defeating Penn State Thursday. 
"Today is the first time I've seen Rob smile in a long time," Miller said.
Copyright 2019 WDRB Media. All Rights Reserved