LOUISVILLE, Ky. (WDRB) -- Life comes equipped with built-in scoreboards. The early results arrived from the settlement reached by the University of Louisville and Rick Pitino, the Hall of Fame basketball coach who A) resigned or B) the school dismissed nearly two years ago:
Louisville 1, Rick Pitino $0.00.
A school already paying a former athletic director and football coach about $20 million for not working will not be required to write another check to a basketball coach whose former program gave back a national championship and continues to navigate a turbulent course while on NCAA probation.
"Zero" walkaway cost is the way U of L Athletic Director Vince Tyra described it at least three times.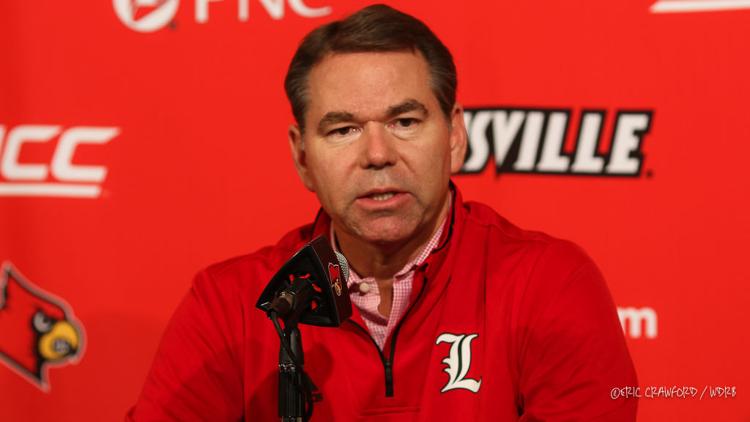 The word I heard from the beginning of this colossal hissing contest was that one member of the U of L administration was determined not to give Pitino the sweat off his brow — or actually another area of his body.
On Wednesday, Pitino agreed that he will not receive a penny, a super-sized concession from a guy who was reportedly seeking more than $40 million.
Louisville also budged. The terms of Pitino's departure were re-written to define his departure as a "resignation," not a firing. History will have the final word on that.
But with more NCAA issues percolating around the program that focus on the recruitment of Brian Bowen by Pitino and his departed staff, do not overlook this sentence from the joint statements issued by the school and its former coach:
"Although these infractions may not have occurred at Coach Pitino's direction or with his knowledge, the problems leading to the NCAA infractions happened under his leadership."
In other words, stay tuned. The blame game could return.
Next question: If Pitino got no money and did not receive a full, public exoneration, what did the coach win?
I'll start with this: A chance to pursue another basketball opportunity as quickly as a 67-year-old coach with Pitino's complete resume can make himself a hot job candidate.
Pitino also earned several favorable early headlines from coverage of the settlement:
ESPN led with: "Pitino settles with Louisville, seeks 'new chapter." No mention in the headline that Pitino "settled" for $0.00. They painted the coach as the man of action. Then ESPN moved the story to what the coach hopes is next. In the world of public relations, he can call that a victory.
USA Today presented the story with a similar introductory script: "Rick Pitino reaches settlement with University of Louisville Athletic Association." Again, no mention of $0.00. Gives the coach credit for the settlement. So, Pitino settled with Louisville, and Louisville did not settle with Pitino? Words matter, right?
The headline writers for The Sporting News, CBS Sports,  and Yahoo! were also on board, crediting Pitino with reaching the settlement and recycling his phrase about a "new chapter."
Did anybody deliver a dissenting opinion?
Bleacher Report did, working the phrase, "Ex-HC Will Not Receive Any Money," into its headline.
When you fall millions short of your goal, that seems fairly significant, but maybe $40 million doesn't go as far as it once did. I wouldn't know.
What I do know is this: This was a victory for U of L. Remember that Tyra noted three times that "zero funds" changed hands.
The fewer times the school has to lapse into another recounting of the Karen Sypher, Katina Powell and Brian Bowen sagas that morphed into the dismissal of Pitino, the better.
This is Chris Mack's program. The basketball world will expect big things from Louisville this winter.
The Cardinals are a consensus Top-5 pick nationally for the 2019-20 season. But the school is still working vigorously to reclaim fan support that disappeared during the embarrassing junk that has attached itself to the program since 2010.
According to NCAA statistics, U of L home basketball attendance has declined for four consecutive seasons. Despite a 20-win performance by Mack's first team, the Cardinals attracted an average of 16,601 fans to the KFC Yum! Center in 2018-19, a decline of 22.4 percent (4,785 per game) from the 2015 season (the last season before news of the strippers and prostitution scandal broke).
Louisville is waiting a determination from the NCAA on how the organization will deal with the fallout from the Bowen situation. More probation and sanctions are possible. So is more bad publicity.
This is not over. Louisville has to live with the aftermath of the end of the Pitino era as much as the former coach does.
What's next for the coach?
He said that he has no plans to return to coaching in Europe. NBA will be in training camp soon. Six teams changed coaches after last season. Pitino did not make the cut, even though the Cavaliers went for a former college guy (John Beilein of Michigan), and the Lakers went for a guy Pitino helped train (Frank Vogel).
Will another college program give him a chance to do what he did at Boston University, Providence, Kentucky and Louisville?
Too soon to say. The crystal ball remains cloudy. It might depend upon on how the remainder of the NC AA investigation goes.
If it goes well, don't be surprised if a program that would never have a chance to hire a coach with Hall of Fame credentials decides that Pitino is their guy.
If it doesn't go well … we'll have to adjust the scoreboard again.
Related Stories:
Copyright 2019 WDRB Media. All Rights Reserved.