LOUISVILLE, Ky. (WDRB) -- This is 9 p.m. Wednesday, not 6 p.m Saturday. This is the ACC Network, not ESPN. This is Schlanger and Bonner, not Shulman and Bilas.
This is the motivational challenge Louisville faces at Boston College, the Cards' first road game since they won at Duke.
BC is an extremely ordinary 10-10, tied for eighth in the Atlantic Coast Conference and absent from every projected NCAA Tournament bracket you can find.
A year ago, the Cardinals went to Chestnut Hill, Massachusetts, and lost to BC, 66-59. According to the Ken Pomeroy's college basketball website, it was clearly Louisville's worst loss of the 2019 season.
That was a Boston College team that finished 14-17. Louisville was BC's only victory in its last seven games.
Memories of what went wrong?
"I remember there was not a lot of energy in the building. It was cold there," McMahon said. "They came out and beat us. They were the better team that night. We didn't really show up. So we definitely need to prevent that from happening again."
Louisville coach Chris Mack is not a king-sized fan of connecting events from last season to events for this season.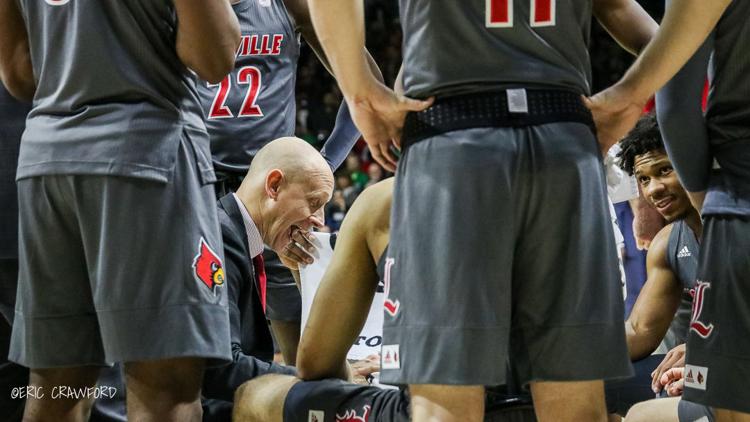 "I'm not really looking for that. I'm looking for the right type of preparation. I'm looking for the same amount of energy in our practice, the same focus that it takes to win," Mack said. "I think if you're a competitor, you certainly remember past performances against different programs or different players. But they're a lot different team. We're a lot different team. The quest is to be better than Boston College tomorrow at 9 o'clock."
Here is better motivation: Selection Sunday for the NCAA Tournament is 47 days away.
With a victory Wednesday, Louisville will be assured for being in first place in the ACC at the midway point. Winning the ACC regular-season title is a valuable credential.
For the last 16 seasons, the ACC regular-season champ has been at least a No. 2 seed in the NCAA Tournament. Actually, the numbers are more enticing: The record shows that 13 of the last 16 ACC regular-season champions have been No. 1 seeds.
Beating BC holds Louisville's spot in the bracketology discussion. A loss would be a smudge the tournament selection committee would notice. If Louisville can continue to play with the maturity and resolve the Cards have shown since the back-to-back losses to Kentucky and Florida State, the Cardinals will increase the gap between themselves and other ACC contenders.
The combined ACC records of Louisville's next six conference opponents — Boston College, North Carolina State, Wake Forest, Virginia, Georgia Tech and Clemson — is 24-32. None of the six is expected to make the NCAA Tournament.
Here is one challenge: Playing in the Silvio O. Conte Forum is not like playing at Cameron Indoor Stadium at Duke or the Carrier Dome at Syracuse. The place seats 8,606. BC has averaged less than 5,000 fans and not come within 1,500 of a sellout this season.
How does Louisville make certain it brings the energy at a venue where fans often shrug at the home team?
"Just by being dialed into the little details. By not expecting to get energy from anywhere else, other than ourselves," McMahon said. "From our bench, from our coaching staff, from our players on the court — we've got to create our own energy."
Pomeroy's numbers have Louisville a dozen points better than BC this season. Last season, his formula had the Cardinals six points better, and they lost by seven.
Is BC better this season?
"They've gotten healthy," Mack said. "When you look at some of their previous games, they've been missing three, four or five games at a time."
Mack can make that argument. The Golden Eagles have beaten Virginia and Virginia Tech.
Their point guard is Derryck Thornton, whose career actually started at Duke four years ago when he was the No. 18 recruit in America. BC has four guys that average double figures.
"You go there with a different intensity," McMahon said. "You go there with a mindset that no game is given. We'll walk in there and hopefully come with the mindset that we're focused and ready to go and come ready to play."
Copyright 2020 WDRB Media. All rights reserved.