LOUISVILLE, Ky, (WDRB) -- There's a sure way to demonstrate what an interesting and mostly successful college football season it's been in the Kentucky-Indiana area.
It's not the won-loss records. It's more than the bowl projections. It's this:
Look at the three of the names on the Hot Coaching Candidates list at Florida State.
FSU fired former Western Kentucky coach Willie Taggart on Sunday. Within minutes, Kentucky coach Mark Stoops found his name on at least three national lists as a possible replacements in Tallahassee.
Stoops wasn't alone. Louisville coach Scott Satterfield made two lists, and Indiana coach Tom Allen made at least one.
Exhale, everybody.
I'd be shocked if Stoops, Satterfield or Allen went anywhere.
I know how these Coaching Candidate lists work. Some names are pushed by agents. The quickest way to get more seasons or money added to a client's contract is to use leverage created by interest from another school.
Other names come from media folks trying to connect resume dots. If there is an opening at a school where a guy once coached or played, he is required to be on the list.
Some are simply thrown into the mix. Better to have too many names on a list than to not mention enough coaches.
What is the best explanation for what's going on in this situation?
Yes, Stoops once directed the Florida State defense. But his connections were to different athletic and academic administrations. This is not the Florida State that he once knew.
It's not like Stoops worked a lifetime in Tallahassee. It was three seasons. He departed for Kentucky one year before Jimbo Fisher won the 2013 national title.
He also worked three seasons at Miami and five at Arizona. This is Stoops' seventh season at Kentucky. Mitch Barnhart stood with Stoops when some clamored for a regime change.
Barnhart has worked tirelessly to give Stoops many of the resources that he needed to compete at the highest level in the East Division of the Southeastern Conference. With four games to play, Stoops has won half of UK's eight game, doing a solid job of navigating a heavy talent loss from 2018 and the loss of his starting quarterback Terry Wilson to injury.
Florida State does not have an athletic director with the track record or the juice of Barnhart, who is one of the top administrators in America.
Florida State has more seats to fill. It has more national championship rings to flash. It has a geographic edge in recruiting.
Florida State also has more issues. There have to be super-sized internal issues for a school to pay a head coach $17 million to leave after 21 games. Warning lights are flashing around the FSU job. The Seminoles have been overtaken in the ACC food chain.
I understand why Stoops is on the list of potential candidates at Florida State. But his older brother, Bob, the former Oklahoma coach, is a sexier candidate.
In fact, Bob Stoops is so sexy that he had to tell ESPN's Kirk Herbstreit that rumors he had interviewed for the job were not true — even as FSU administrators confirmed the school's interest.
James Franklin of Penn State would also be a more exciting choice to Seminoles' fans. Perhaps even P.J. Fleck, who has Minnesota sailing into a game against Penn State with an 8-0 record this weekend.
Mentioning Mark Stoops, I get. Calling him a frontrunner for the job is a stretch.
Tying Satterfield and Allen to the job is even more of a stretch.
Satterfield has been at Louisville for eight games. His pedigree at Appalachian State showed that Satterfield was not as a job chaser. He has put together a solid staff and has already won more games than any of the pre-season magazines projected.
Satterfield isn't going to Florida State. He's going to work to keep Louisville ahead of Florida State in the Atlantic Division of the Atlantic Coast Conference.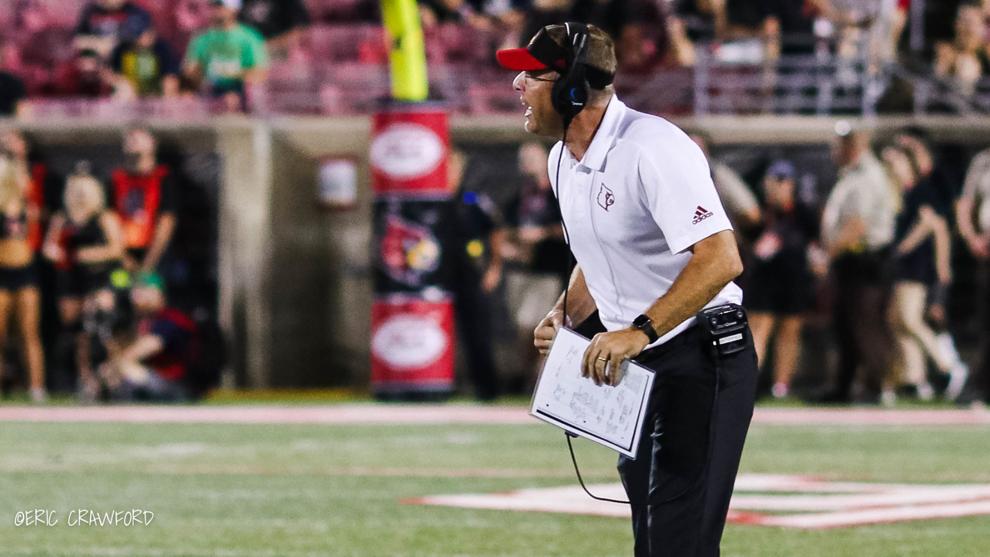 Allen has done tremendous work winning seven games at Indiana. One of the best things Allen has done is build on his connections to the Tampa area to bring Florida high school players to Bloomington.
One of those players was Michael Penix Jr., Indiana's sophomore quarterback. Two seasons ago, Penix picked Allen and Indiana over Taggart and FSU — even though Penix played high school football in Tampa.
It's a great anecdote. But the seven games Allen has won at IU this season would not move the needle in Tallahassee. Allen is a Hoosier, a native of New Castle. He certainly seems focused on becoming IU's most successful coach since Bill Mallory.
I don't see Stoops, Satterfield or Allen going to Florida State. The mentioning of their names only says it has been an interesting year for college football in the area.
Copyright 2019 WDRB Media. All Rights Reserved.