LOUISVILLE, Ky. (WDRB) -- Las Vegas posted the odds for the players most likely to be voted Most Valuable Player in the 2021 NBA Finals.
If you don't prefer the favorite, Suns' guard Chris Paul, and you're worried that an injury will stop Milwaukee ace Giannis Antetokounmpo, I have one guy who deserves your love and attention:
Former Kentucky guard Devin Booker, who scored 27 points as the Suns beat the Bucks, 118-105, in the first game of the Finals Tuesday night in Phoenix, Arizona.
"I'm excited, but the relief will be when we get the chance to hold up that trophy," said Booker's father, Melvin, a former professional basketball player who played briefly in the NBA.
"That will be the relief. To get so close and not win it, that would take me back to that Kentucky run (in 2015) when we just didn't finish it out. I'm going to keep my emotions in right now until we finish the job off.
"This is like the ending of the first part of Devin's legacy. This is his first playoff, and he makes a run to the NBA Finals. That's like the most amazing thing. This is the ending of the first chapter."
The folks at SportsBetting.ag put the over/under on Booker's scoring average for Phoenix in the Finals at 26.5 points per game.
Booker is a 6-foot-5-inch, 206-pound dynamo. He will punish you from distance if you play him for the drive and bury you with floaters and free throws if you disrespect his ability to drive. For Phoenix, Booker is the $158 million man. Melvin Booker said that over the weekend, he and Devin had a long talk about their journey and what is ahead.
"A little bit of butterflies, but that's a good thing," Melvin Booker said. "I've had butterflies times times this year, and Devin has performed well in all three of those games, and we've won each time."
Booker is the first piece that the Suns believed in when the franchise began building this team that is favored to win the title in Suns' history.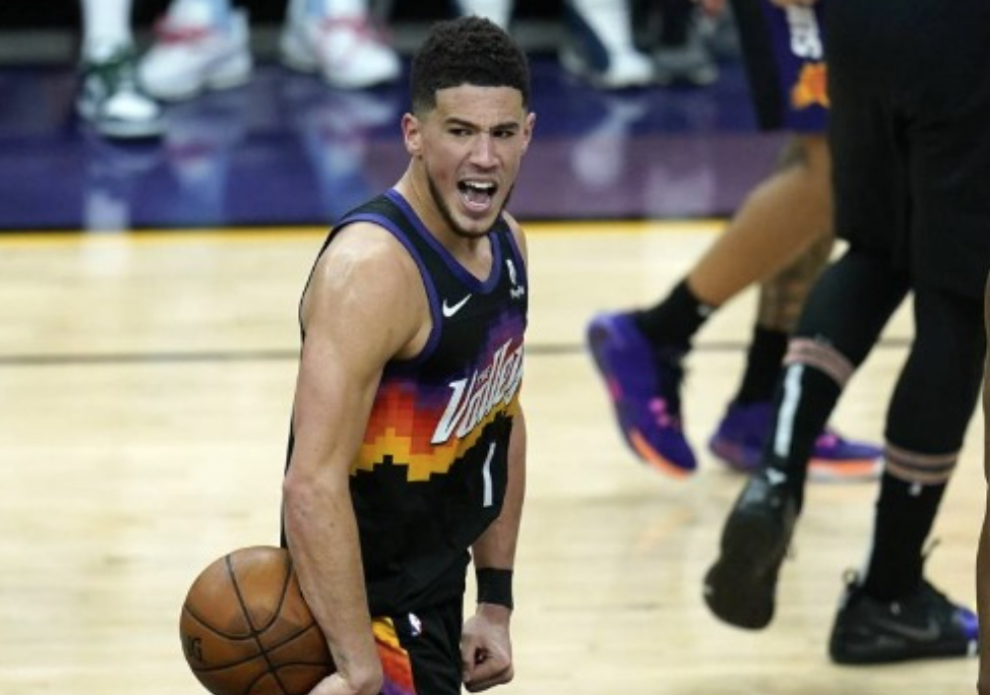 The same Devin Booker who didn't start one game during the Wildcats' 38-1 romp through the 2014-15 season.
The same Devin Booker who might have saved Kentucky from that jarring upset loss to Wisconsin in the 2015 Final Four if Booker had not been stuck behind Aaron Harrison in John Calipari's playing rotation.
The same Devin Booker who was ranked the eighth-best shooting guard prospect in the 247Sports recruiting rankings, behind not one, not two but three guards who are not in the NBA.
The same Devin Booker who has scored more points than anybody in his 2015 NBA Draft class, even though he was taken with the 13th selection behind Jahlil Okafor, Emmanuel Mudiay and, yes, Frank Kaminsky.
That's a lot to unpack for a guy who ranks third — behind Paul George and Trae Young — for points scored through the first three rounds of the 2021 playoffs. Booker has averaged 27 points while shooting better than 91% from the line. No wonder ESPN's Stephen A. Smith compared Booker to Kobe Bryant.
"(Smith) was just talking about the similarities in their games," Melvin Booker said. "Devin is trying to be the next Devin. Kobe is a tough guy to be compared to. But Kobe had to go through it with the Michael Jordan comparisons. You just continue to do what you can do. Devin grew up watching Kobe."
The Suns' grind from 23-59 to favorites for these Finals (especially if Antetokoumpo can't play) began with the arrival of Booker. He's their foundational player, the only guy remaining from the 2015-16 roster.
"He's 24 years old and he's been on the team the longest," Melvin Booker said. "That says a lot about what he's been dealing with for the last six years ... this is what he has worked so hard for.
"If he is nervous, you will never know because he is always locked in, calm and collected."
Booker was a terrific player during his one-and-done season at Kentucky. He did many great things. Dropped a half-dozen threes on Florida. Hit 5-6 in a 39-point beatdown of UCLA. I suspect I'm not the only one who believes Booker could have done more, especially in the national semifinals game the Wildcats lost to Kaminsky, Sam Dekker and Wisconsin, 71-64.
Booker ranked third on that group in scoring (10 points per game) and second in three-point field goals made even though he ranked seventh in minutes. None of those shots from distance came in Booker's final UK game. He did not attempt a three-point field goal, the only game all season when Booker did not launch a single three. Didn't get to the line.
Strange.
But in a game when Wisconsin went 7-17 from distance, John Calipari's team attempted just five, making three. Like I said, strange.
Booker finished with six points in 19 minutes, earning less time than either Andrew or Aaron Harrison.
"I understand why he didn't play more that season," Melvin Booker said. "They had a ton of talent on that team. Who were you supposed to sit down?
"Yeah, you could look at hindsight and look at what careers everybody has had. But at that time, nobody was supposed to sit down. Cal did the best job in dealing with all that talent he had."
The Suns were not deterred. They selected Booker with the 13th pick in the 2015 NBA Draft, one spot behind his UK teammate Trey Lyles. Karl-Anthony Towns (first, Minnesota) and Willie Cauley-Stein (sixth, Sacramento) gave UK four lottery picks.
In six NBA seasons, Booker has scored more points than anybody in his draft class. In fact, Booker has 1,051 more points (9,395) than the combined numbers of three guys drafted ahead of him: Duke's Okafor (2,566 as the third pick); Arizona's Stanley Johnson (2,312) as the eighth pick and Wisconsin's Kaminsky (3,446) as the No. 9 selection.
NBA scouts whiffed on Devin Booker. Either Booker or Towns was the best player in that draft class.
"You could say that about every draft," Melvin Booker said. "There is always going to be someone overlooked. Donovan Mitchell was taken 13th as well (in 2017). Kobe Bryant was 13 (in 1996). That's the hard part about drafting. You're trying to predict the future of what you think these guys will be."
The recruiting rankings from Booker's senior high school season inspire a similar question:
What were these guys thinking?
Although Booker was a five-star, ranked the 22nd-best player in his class, seven shooting guards were placed ahead of him.
"With so many of these kids, it's so hard to determine who is best," Melvin Booker said. "Devin was a late bloomer on the circuit. I think it was great that way because he always played with a chip on his shoulder to prove himself. 
"You can still see today that he plays with that chip because even with him being at this point, there's still somebody out here that is doubting him."
Raise your hand if you believe any of these guards will be a better professional than Devin Booker:
Stanley Johnson, who played one season at Arizona and is on his third NBA team. He was the top-ranked, must-have shooting guard.
Kelly Oubre, who the Suns moved after last season and is now on his third NBA team.
Rashad Vaughn, the former UNLV guard who has been out of the league since 2018.
Isaiah Whitehead, who parlayed two seasons at Seton Hall into 89 games in the NBA.
D'Angelo Russell, the former Louisville Central guard, who has moved from Ohio State to the Lakers to Brooklyn to Golden State to Minnesota.
Daniel Hamilton, who has not played in the NBA since 2018 after two seasons at UConn.
James Blackmon Jr., who had three fine seasons at Indiana but never made the NBA.
I believe we know the answer.
The answer is Devin Booker. He is in line for his first NBA championship and a solid bet to be the NBA Finals MVP.
"He's just got to continue to be the veteran that he's been all season," Melvin Booker said. 
Copyright 2021 WDRB Media. All Rights Reserved.