BOZICH | 10 things to get college basketball conference play percolating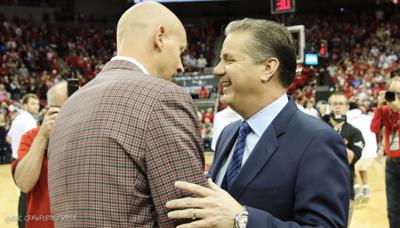 LOUISVILLE, Ky. (WDRB) -- No more exhibitions. No more Savannah States. No more nine home games for every road game.
Conference play has arrived (or returned in the Big Ten) and for everybody who remembers when a team actually had to win a conference championship to qualify for the NCAA Tournament, we can pretend it's a big deal, right?
So, as we await Illinois at Indiana (Thursday), Kentucky at Alabama (Saturday) and Miami at Louisville (Sunday), here are 10 Things To Get Conference Play Percolating.
1. Will V.J. King Play a Larger Role for Louisville?
King was voted a captain of this Louisville basketball team. He traveled to Charlotte in October to represent the school (with Christen Cunningham and coach Chris Mack) at Atlantic Coast Conference Operation Basketball.
I'm not arguing King should be a first-, second- or even third-team all-ACC player, but he's capable of more than six points, 10 rebounds, 0 assists and 0 steals, his numbers in the combined 64 minutes he has played in Louisville's last five games. It's the least productive stretch of his career since February of King's freshman season.
Looking at the numbers, King's biggest issues are turnovers (eighth on the team in minutes, fourth in turnovers) and an inability to score from distance (3 for 20).
King has made nearly half of his two-point attempts as well as 80 percent of his free throws. That suggests a guy who should attack more and settle less.
It'll be interesting watching how Mack deals with King's minutes and role on a team that played as if it needed more scorers against Kentucky.
2. Was Quade Green's Departure Addition by Subtraction?
Yes.
Ashton Hagans is a keeper at point guard for Kentucky. His defense is persistent, disruptive and likely to produce fatigue from the guys Hagans will defend.
Tyler Herro played with poise and confidence against North Carolina and Louisville. Keldon Johnson is a Top 10 draft pick who believes he can get to the rim on any defender.
If John Calipari and big-man specialist Kenny Payne can dial up increased contributions from E. J. Montgomery or Nick Richards, the Wildcats will push Tennessee and Auburn at the top of the Southeastern Conference.
3. Is Indiana 'Teetering?'
Seth Davis, managing editor and college basketball sage for The Athletic, listed the Hoosiers as a 'sell' stock in a recent analysis of the nation's top teams.
Too many close wins. Brutal upcoming schedule, which features six of the eight on the road, after the Hoosiers host Illinois Thursday night.
Is Indiana teetering, with road games against Michigan, Maryland, Purdue and Northwestern in the next three weeks?
They're likely to exit the Top 25 but (if they can get healthy) Archie Miller's team has the defensive profile of a team capable of finishing behind Michigan and Michigan State in the Big Ten.
Ask me after Sunday, when the Hoosiers visit Ann Arbor. Crisler Arena has not been kind to the Hoosiers. They fell behind by 14 in the first 10 minutes last season and never threatened the Wolverines. They were behind by 15 after 10 minutes two years ago before losing by 30.
Juwan Morgan is the only current IU player who has won in Ann Arbor.
4. Will Western Kentucky Pick a Lane?
The Hilltoppers have defeated four teams ranked in the Top 60 by Ken Pomeroy
The Hilltoppers have lost to three teams ranked outside the Top 125.
I'm not sure how you translate that, other than to say WKU could have put itself in position for an at-large bid to the NCAA Tournament by beating Saint Mary's and Wisconsin, but it's impossible to forget the losses to Troy and Missouri State.
If WKU can win the Conference USA Tournament, they'll be a trendy pick for the Sweet Sixteen. If.
5. Duke Vs. Virginia
The only problem I have with Duke and Virginia playing twice during the ACC regular season is one of the games is not the final weekend.
I know, Duke must play North Carolina on the last weekend and Virginia must finish with Louisville.
But Duke-UVa is the game I want.
Duke with its one-and-dones. Virginia with three juniors and a senior in the starting lineup.
Duke with its average possession time of less than 15 seconds. Virginia, with an average possession time of 20 seconds, which ranks No. 350 in the nation.
Duke with Coach K angling for his sixth national title. Virginia with Tony Bennett, angling to get to his first Final Four.
They play Jan. 19 in Durham and Feb. 9 in Charlottesville. Can't wait.
6. Who Should UCLA Hire?
On Tuesday ESPN analyst Dick Vitale put on his party hat and went to bat for Rick Pitino as the next UCLA coach.
Said he would put the Bruins back in the Top 10. Said he would make UCLA instantly relevant.
I stopped reading there. Any outline of Pitino's credentials also needs to include a summary of the mess that he left at Louisville.
I believe it was substantial. If you argue none of the issues that swallowed U of L have been pinned directly on Pitino, I'll counter by saying he can have the UCLA job if he allows the NCAA investigative team to hire his assistants and support personnel.
Now, let's get to the serious candidates: Two names lead the speculation: Fred Hoiberg, recently fired by the Bulls, and Eric Musselman, currently unbeaten at Nevada.
Blah.
Hoiberg was very good but not great in Ames, Iowa, which is not Los Angeles. Musselman has built this team with transfers and serves as the Flavor of the Month.
It's predictable they'd be atop the lists. How about Tom Izzo? Maybe he'd enjoy a fresh challenge? Or Bill Self? He knows how to get things done. Billy Donovan intrigues me.
Think big. Think LaVar Ball.
7. Will the Pac-12 Get One NCAA Tournament Bid?
Joe Lunardi's most recent NCAA Tournament bracket at ESPN had two Pac-12 teams -- Arizona State, seeded sixth, and Oregon, a 12 -- in the 68-team field.
That was before Arizona State lost to Princeton. Every Pac-12 team enters league play with at least three defeats. The team's top four teams have been defeated by Texas Southern (Oregon), Vanderbilt (ASU), Alabama (Arizona) and Minnesota (Washington).
Smells like a one-big league.
8. Ranking the Former Rick Pitino Assistants
Pitino has taken his Twitter account to Greece but his coaching tree can still go toe-to-toe with anybody in Division I. Ten of his guys are scrambling for success -- and four are on track to make the NCAA Tournament.
Here's the rundown, from first to worst (as ranked by Ken Pomeroy):
Kevin Keatts, North Carolina State, 12-1, No. 21 -- I suspect the Wolfpack are a product of a schedule that has featured only four games against Top 100 opponents but the faithful in Raleigh are energized.
Mick Cronin, Cincinnati, 11-2, No. 27 -- I've seen Cronin's name on the Steve Alford replacement list because of the way the Bearcats drilled the Bruins, but Mick seems as Cincinnati as Skyline Chili.
Kevin Willard, Seton Hall, 10-3, No. 54 -- The Pirates have wins over Kentucky, Maryland and St. John's. I'm surprised they're not ranked higher.
Richard Pitino, Minnesota, 11-2, No. 62 -- The Gophers are strong around the rim, making them my sleeper pick to finish in the Top 6 of the Big Ten -- and Richard has a better Twitter account that his Dad.
Marvin Menzies, UNLV, 6-6, No. 15 -- This is year three for Menzies and nobody is comparing him to Jerry Tarkanian.
Wyking Jones, California, 5-7, No. 207 -- This looks like the Wyking Jones Farewell Tour in Berkeley.
Herb Sendek, Santa Clara, 8-6, No. 210 -- Herb can coach. His team has split four games against the Pac-12.
Tubby Smith, High Point, 6-7, No. 234 -- Believe it or not, only two teams (including Virginia) play at a slower adjusted tempo.
Kareem Richardson, UMKC, 5-10, No. 241 -- The Kangaroos have won five of their last nine. Progress.
Steve Masiello, Manhattan, 2-10, No. 331 -- Things have not gone according to plan since Mass had to give up the South Florida job.
9. Will Nevada Finish the Regular Season Unbeaten?
Here's a better question: Who's going to beat Wolf Pack?
Pomeroy puts their win probability at 90 percent or greater in 11 of 18 conference games and at less than 70 percent in one -- at Utah State March 2.
10. Can Anybody Stop Kansas?
The last coach to keep Bill Self from winning at least a share of the Big 12 regular season title was … Eddie Sutton.
Yes, I had to look it up. That was the 2004 Oklahoma State Cowboys, who finished two games ahead of Kansas on their way to losing to Georgia Tech in the Final Four.
Georgia Tech in the Final Four?
Remarkable.
Oh, so the answer is No.
Copyright 2019 WDRB Media. All Rights Reserved.