LOUISVILLE, Ky. (WDRB) -- Winning on the road in college basketball is supposed to be tougher than last month's tuna casserole.
It is.
And it isn't.
Confused?
Me, too.
Atlantic Coast Conference basketball is inexplicably confusing this season. It's an asterisk. It's bizarre. It's the focus of this column.
In the ACC, road teams have won more conference games than they have lost, and that's not supposed to happen in a league with four coaches who have won national championships.
It's happened. Trust me. I looked it up.
Winning on the road is a king-sized topic on the local college basketball scene this week. Louisville, Kentucky and Indiana are booked for two games away from home.
For Louisville, that features a Tuesday appearance at Pittsburgh followed by a Saturday journey to Krzyzewskiville at Duke.
For Kentucky, a Wednesday visit to South Carolina will lead to a Saturday trip to Arkansas.
At Indiana, the Hoosiers must prepare for a Wednesday game at suddenly ferocious Rutgers and Saturday challenge against Nebraska.
Here are the numbers I cannot explain: 
In the Big Ten, home teams have won better than 86% (32 of 37) of their conference games. Four Big Ten teams have won league road games. One Big Ten team has won twice: mighty Wisconsin.
I checked the results from the power leagues. According to Ken Pomeroy's fabulous website (kenpom.com) here are the home team winning percentages in descending order:
Big Ten: 86.5 (32-5)
Pac-12: 70.0 (14-6)
SEC: 63.2 (12-7)
Big 12: 60.0 (9-6)
Big East: 57.9 (11-8)
ACC: 42.1 (16-22)
I also checked the ACC home winning percentage in conference games back to 2002, the first season Pomeroy collected data. Road teams did not finish a season with a winning record in conference games. The best winning percentage was 56.3% in 2015. In 15 of the 18 seasons with available data, road teams won at least 60% of their games.
What's going in the ACC?
I'll suggest two things.
A correction is coming as the sample size grows
The typically fabulous ACC features more mediocrity than it has featured in years
More basketball must be played to prove my first theory, but plenty of basketball has been played to support my second theory.
Clemson winning for the first time 60 trips to North Carolina (last Saturday) was the perfect place to start. The Tar Heels have lost back-to-back-to-back home games to Georgia Tech, Pittsburgh and Clemson, three teams not expected to make the 2020 NCAA Tournament.
No wonder Carolina head coach Roy Williams (kiddingly) suggested his athletic director should fire him. UNC is tied with Notre Dame and Wake Forest for last in the league.
Syracuse is supposed to be a daunting place to play. Large, boisterous crowds. The unusual shooting background presented by The Carrier Dome. Jim Boeheim's perplexing 2-3 zone defense.
Virginia, Notre Dame and Virginia Tech have won ACC games in The Carrier Dome this season.
Guess which team has not won an ACC game in The Carrier Dome this season?
Syracuse.
Two teams are perfect at home in the league: Duke and Florida State. The Blue Devils and Seminoles are the teams U of L must beat to win the league.
What does this mean for the three local programs this week?
I planned to say Louisville needed to get one at Pitt, because the Cardinals cannot count on celebrating at Cameron Indoor Stadium on Saturday. (Then I remembered that Stephen F. Austin celebrated at Cameron in November.)
Somebody tried to ask U of L head coach Chris Mack about the Blue Devils Monday. Air ball.
"They're all big," Mack said. "I don't even want to really respond to that question (about Duke being a big game).
"I don't look at it that way. I don't think our players look at it that way. It's hard to win on the road in conference, so whether we win or lose (at Pitt) has zero to do with what you all perceive as a big game on Saturday."
For Kentucky, South Carolina is one of the Wildcats' best opportunities to win on the road. Boston University, Houston, Stetson and Florida have won in Columbia this season.
Arkansas, meanwhile, is 9-0 in Fayetteville. Simple math.
Indiana has played two Big Ten road games. The Hoosiers trailed by 31 at Wisconsin and lost by 20. They trailed by 30 at Maryland and lost by 16.
Rutgers is 11-0 in Piscataway. Nebraska, meanwhile, has lost at home to UC-Riverside, Southern Utah, North Dakota and once in the Big Ten.
"You've got to have some humility and figure out a way to go on the road and compete against Rutgers..." IU coach Archie Miller said. "...it's going to be 50 times harder that it was (against Ohio State in Bloomington Saturday)."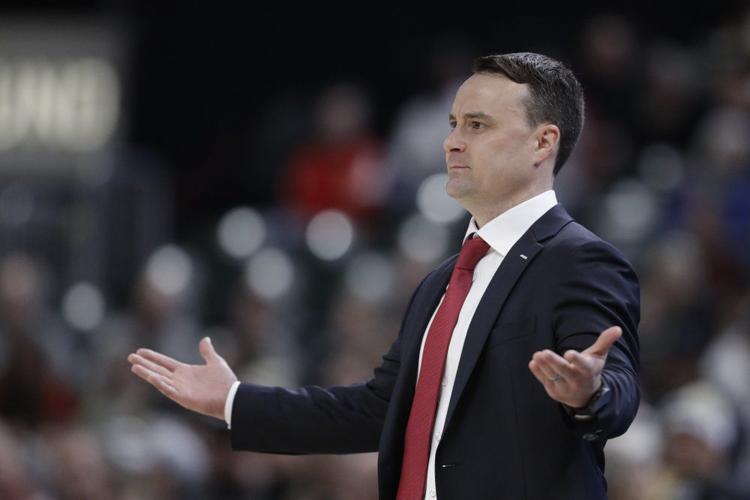 Win two this week and the Cardinals, Wildcats and Hoosiers can go (at least temporarily) crazy.
Win one and they can at least exhale.
Win none, and I'm certain we will revisit this topic again.
Copyright 2020 WDRB Media. All Rights Reserved.