LOUISVILLE, Ky. (WDRB) — Nov. 19 is too early to hyperventilate over the last 80 minutes of bizarre basketball that have unfolded in Rupp Arena since last Tuesday.
But a date on a calendar has never stopped any legitimate local fans from overreacting. Nov. 19, Sept. 19, July 19, May 19, Jan. 1, 2, 3, 4 ... it matters not.
Any day is a reasonable day for hyperventilating.
Overreacting to Kentucky's three-point loss to Evansville (a team unlikely to make the NCAA Tournament) as well as an eight-point win over Utah Valley (similar March outlook) is the perfect time to ask:
"What the heck is going on here?"
Other than the injuries to E.J. Montgomery and Immanuel Quickley.
And the youth that is always the flavor of the month of a Calipari team.
And the reminders that these Kentucky players are not computers.
And the suggestion that every opponent rolls into Lexington and performs as if the game is their A) Super Bowl; B) Stanley Cup final; C) Olympic gold medal game; D) all of the above.
Enough of the opinions, emotions and other finger-pointing that will rage until John Calipari's (3-1) team finally does something noteworthy — like defeat the consensus preseason No. 1 ranked team in the nation on a neutral court.
Until that happens (again), I prefer to focus on something less likely to lapse into a blue vs. red, SEC vs. ACC, Cal vs. critics discussion.
Something like numbers. Numbers that illustrate why Kentucky has struggled.
As a confirmed addict of Ken Pomeroy's analytics site, I quickly uncovered three numbers that confirm much of what has ailed the Wildcats:
Effective field goal percentage.
Offensive rebounding percentage.
Three-point shooting percentage.
In other words, they're not shooting it well, and they're not rebounding their misses.
Calipari's teams have usually overpowered everybody on the glass and showed efficiency shooting the ball. Not this group. Not yet.
Take one: Kentucky's performance in those three categories has been the worst in the 10-plus season John Calipari Era by a considerable margin.
Three-point percentage is the more traditional stat, easily understood by basic fans. Kentucky has been an abysmal from distance. How abysmal?
There are 353 Division I programs. Kentucky's three-point percentage of 21.3% ranks 342nd. It's a tiny sample size, barely a tenth of the season, but UK is 13 of 61 from distance.
Tyrese Maxey has made five shots from distance. No other Wildcat has made more than three. Nobody is shooting better than 33%.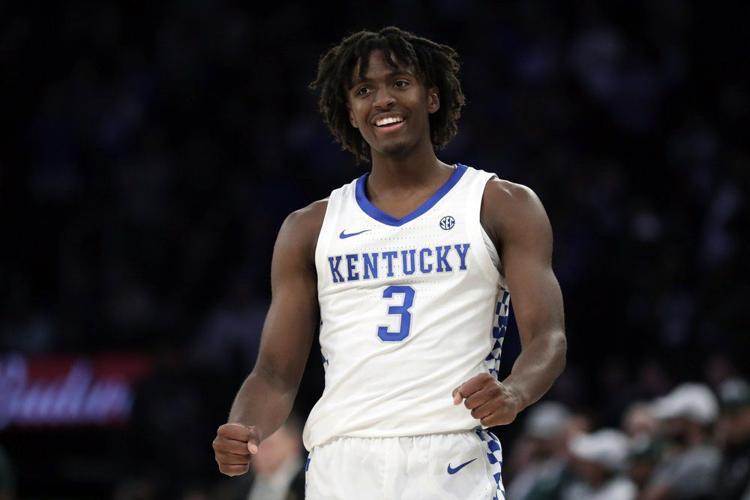 Understand this: Calipari's worst three-point shooting team was his first one: John Wall, Eric Bledsoe, Darius Miller, DeAndre Liggins, Darnell Dodson.
That team made 33.1% of its attempts and was bounced from the 2010 NCAA Tournament in a jarring upset against West Virginia because they missed 28 of 32 threes.
But also understand this: There is another notable team shooting the three worse than Kentucky this season. That team is Virginia. The defending national champs, who are unbeaten, have missed 80% of their threes.
Here is a more alarming number: This is also Calipari's worst offensive rebounding team.
The Wildcats have rebounded only 29.4% of their misses. That ranks 146th in the country, slightly above average but below average for a a Calipari team. Seven of his 10 UK teams have been Top-20 offensive rebounding squads.
Through 10 years, Calipari's worst offensive rebounding team was the 2011 Final Four squad, which grabbed 32.9% of its misses. The 2012 NCAA champs were at 37.3% while the 38-1 team from 2015 finished at 39.5%. DeMarcus Cousins and Patrick Patterson drove a team that snagged nearly 40% of its misses.
There is work to do on the glass, especially on the offensive end.
The final number to chew on is effective field goal percentage, which is an overall evaluation of a team's ability to make shots.
It adjusts traditional field goal percentage numbers to reflect the added value of the three-point shot.
If you'd like to calculate a team's effective field goal percentage, it is not difficult. Add field goals made to .5 times three-point field goals made. Divide that number by total field goal attempts.
Kentucky's effective field goal percentage is 46.9%, which ranks 218th nationally. That's three percentage points below Cal's worst team.
Seven of his teams delivered effective field goal percentages of 52% or better. The 2012 national champs ranked 15th nationally in that number, with an effective field goal percentage of 53.8%.
Kentucky needs to get healthy. It needs experience. But, mainly, it needs to make more shots and rebound more of the shots that it misses.
Copyright 2019 WDRB Media. All Rights Reserved.