LOUISVILLE, Ky. (WDRB) -- When you're counting down the minutes until the start of the college football season, you find the craziest things.
On Wednesday, I clicked on one story, which led to another story, which led to another story, which led to ...
... this.
BigGameBoomer, a Twitter account with more than 51,000 followers, ranked the 25 most bitter rivalries in college football.
Not the best rivalries. Not the most historical rivalries. Not the must-see rivalries.
I don't care how you define it, I expect Auburn-Alabama to top any list. Dead trees at Toomer's Corner. Fans of the losing team shooting at their television screens after the game. Coaches losing their jobs.
If not that, the pick had to be Ohio State-Michigan. Jim Harbaugh will be reminded how bitter that rivalry is when the Wolverines take their mighty one-game winning streak to Columbus, Ohio, in November.
BigGameBoomer disagrees.
Top 25 Most Bitter College Football Rivalries pic.twitter.com/5iGWGaHqaK

— Big Game Boomer (@BigGameBoomer) August 22, 2022
It ranked Auburn-Alabama eighth on the bitter meter and Michigan-OSU 10th.
Guess which game was sandwiched between them?
Louisville vs. Kentucky at No. 9.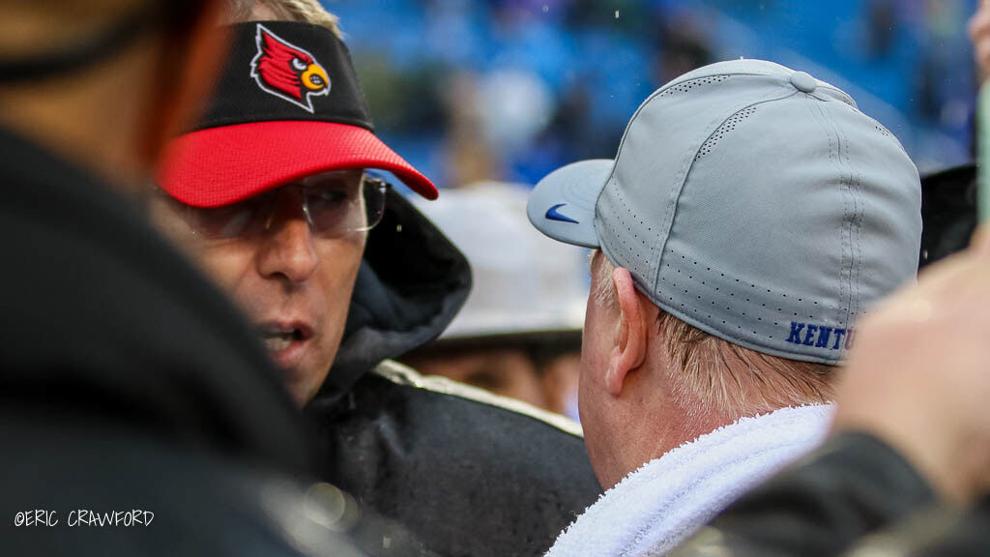 The winner was Clemson-South Carolina.
Excuse me, but hasn't that game been more of a lecture than a rivalry? The Tigers have run the Gamecocks seven straight times.
No. 1? That's a stretch.
It's also a stretch to put Michigan State vs. Michigan at No. 2.
Hurry Saturday. We need games.
*Has anybody mentioned that the games need to begin?
If not, let me say the games need to begin.
Three days from the Week Zero portion of the schedule, the fine folks at USA Today decided it was time to re-rank all 131 FCS teams.
Not rank. Re-rank, before the first flag or fumble.
I expect the results to be posted in the locker rooms at Louisville and Indiana. Paul Myerberg of USA Today put the Cardinals at No. 77, more than 40 spots lower than where Louisville is listed at ESPN's Football Power Index. They're No. 36 there.
Ugh.
There's no debate over which three teams (Alabama, Ohio State, Georgia) got recognition in the debut of the USA TODAY Sports NCAA Re-Rank But there were some tough decisions placing the rest. Check out the full list of 131 teams. https://t.co/YoBy54LXpJ

— USA TODAY Sports (@usatodaysports) August 24, 2022
But that's not as ugh-less as where you will find Tom Allen's IU squad. Myerberg puts IU at No. 109, the seventh-worst ranking for a Power Five program.
Kentucky and Western Kentucky fans should prepare "Thank You," notes for Myerberg. He ranked the Wildcats No. 23 and the Hilltoppers No. 47.
Re-read that last sentence. Myerberg has WKU ahead of Florida State, Nebraska, Purdue, Hawaii, IU and Auburn. I mentioned the last three teams because the Hilltoppers visit Hawaii (Sept. 3), IU (Sept. 17) and Auburn (Nov. 19).
*Remember when Rich Rodriguez was the flavor of the year in college football?
The guy who coached West Virginia in epic games against Louisville. The guy who got his chance at Michigan and bombed. The guy once rumored to be a candidate to coach at U of L. The guy who later bombed at Arizona, too.
Rodriguez is 59. He's not ready for the beach — or the bench.
He is the coach of FCS semi-power Jacksonville (Alabama) State. During the lead-up to his debut this weekend against Stephen F. Austin, Rodriguez has accused his opponent of spying on Jacksonville State's practices — twice.
The first incident developed at JSU's spring game. The second came at fall camp. Rodriguez said he sent one of the team's assistant strength coaches after the spy and ran him away.
EAST TEXAS ESPIONAGE ???Ahead of their Week Zero showdown with Stephen F. Austin this upcoming Saturday, Jacksonville State Head Coach Rich Rodriguez claims SFA allegedly sent a spy with a camera to watch them practice. "That's really not supposed to happen" -R.R.@abc3340 pic.twitter.com/BEUF9dH3f6

— Johnny Congdon (@congdonsation) August 23, 2022
ESPN should send RichRod a note of thanks. He helped build the audience for the game, which will air Saturday air 3:30 p.m. on ESPN.
*Before there was Drew Brees, Jim Everett, Mark Herrmann, Gary Danielson, Mike Phipps, Bob Griese or any other quarterback to do wonderful things at Purdue, there was Len Dawson.
Dawson was to Purdue what John Unitas was to Louisville or Babe Parilli was to Kentucky — the quarterback who set the original bar. An NFL Hall of Famer, Dawson passed away Wednesday. He was 87.
You may be cool, but you'll never be Len Dawson smoking a cigarette and having a beer during halftime of the Super Bowl cool. RIP Legend pic.twitter.com/M8yR116dRW

— Ty (@SkyyHighTy) August 24, 2022
Although Dawson grew up in Ohio, he picked the Boilermakers over Ohio State. Different world, folks.
Dawson threw for 3,325 yards combined in three seasons. But that was enough to lead the Big Ten in passing in 1954, 1955 and 1956, even though Dawson had more interceptions that touchdown passes as a junior and senior.
Those numbers changed as a pro. After five seasons as a back-up in the NFL, Dawson jumped to the renegade American Football League in 1962.
Five years later he led the Kansas City Chiefs to an appearance in the first Super Bowl, which they lost to Green Bay. Three years later, Dawson and the Chiefs returned to beat Minnesota.
It wasn't the earthquake victory Joe Namath and the Jets delivered against the Colts in Super Bowl III. But it was close.
Purdue opens its 2022 season at home Sept. 1 against Penn State. Expect a tribute to the legendary Len Dawson.
Copyright 2022 WDRB Media. All Rights Reserved.