LOUISVILLE, Ky. (WDRB) -- After checking the pollen count and American League standings Tuesday, I moved to another daily staple:
The latest college basketball recruiting ratings, trends and gossip.
This is a good time to share what I discovered.
Nobody's sweating federal or NCAA investigations. It's all clear.
Perched at the No. 3 spot in the 247Sports team recruiting rankings, behind Penny "Wooden" Hardaway of Memphis and John Calipari of Kentucky was Arizona.
Sean Miller's Wildcats have attracted a pair of five-stars, a pair of four-stars, a solitary three-star and Jemarl Baker, a former four-star who transferred to Tucson from Kentucky after the 2019 season.
Another Pac-12 program, USC, was ranked sixth, behind Duke and Villanova. That's a dazzling showing for a Trojans' program that has not made the NCAA Tournament in consecutive seasons.
Did you hear the big recruiting news Monday?
Tristan Watford, a 5-star forward from Birmingham, Ala., sat at a table that featured hats from Alabama, Memphis, Louisiana State and Indiana and put on the lid that made Shaquille O'Neal and Ben Simmons happy for LSU.
Arizona.
USC.
LSU.
Moe, Larry and Curly.
Where have I heard the names of those programs the last 20 months?
A. At the Naismith Basketball Hall of Fame?
B. Scratched on the wall of the men's room at the Final Four?
C. Connected to Christian Dawkins, Merl Code, James Gatto and the play for pay scandal that had federal investigators crowing in September 2017 they "had the playbook" of the guys breaking NCAA rules?
I thought the correct answer was C, but apparently, it was A or B, because if some programs involved in this nonsense have taken a hit, I need to check replay for evidence of any strong-ass punishment.
"If nothing is done to those schools, it just doesn't matter," one Division I head coach said. "If some of these coaches are not punished, it's hopeless."
"All bark and no bite," another Division I head coach said when describing what the NCAA has done in the aftermath of the investigation.
Louisville took a hit. A four-man coaching staff was waved out of town. As was the athletic director. An entire recruiting class was sacrificed.
The university did not wait for the NCAA to act. The board of trustees acted, in part because of other nonsense that embarrassed the program and university for years.
They did the right thing. They didn't wait to be told to make fixes. They acted and likely expected other programs to follow their lead.
Hasn't happened. Assistant coaches have been dismissed at USC, Auburn, Arizona, South Carolina and Oklahoma State. Other than that, it's mostly business as usual.
In fact, business has been better than usual.
Despite the noise surrounding his program at Arizona, Miller collected his third-ranked recruiting class and appears determined to resume his pursuit of his first Final Four.
Bruce Pearl lost assistant coach Chuck Person to the scandal but saw his contract at Auburn extended through the 2023 season before he directed the Tigers into the 2019 Final Four.
On Tuesday, it was reported by AL.com that Pearl will make an extra $1.2 million next season, moving his annual pay to $3.8 million. Pearl told reporter Sam Blue that Auburn's president and athletic director realized that "an adjustment needed to be made."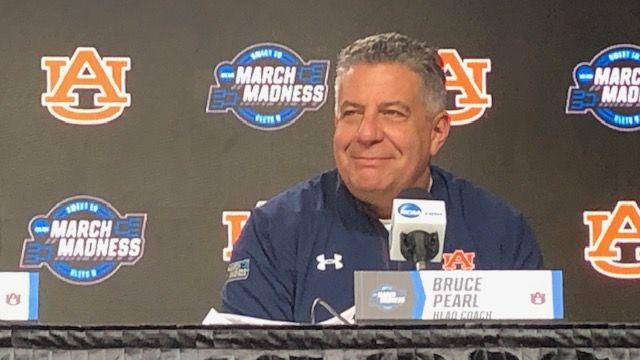 LSU temporarily showed spine by suspending coach Will Wade after Yahoo! Sports posted a story on March 7 that reported the feds had a wiretapped conversation that featured Wade telling Dawkins he made a "strong-ass offer" in his successful pursuit of a recruit.
While Wade sat, LSU advanced to the NCAA Sweet 16. When Wade returned, he secured a commitment from Watford, ranked the 17th best player in his class by 247Sports.
Credit Wade with a three-man class that features a five-star, four-star and three-star. Strong.
Somebody asked Watford if he was concerned about the federal investigation and NCAA issues at LSU.
Are you kidding me? Serious questions only.
"When (Wade) got reinstated, he was still talking to me throughout the whole time, and his athletic director was behind him," Watford said. "So, you know, I feel like he'll be there."
Guess what? Good luck finding an opposing coach prepared to argue Wade will not be there.
"It will be interesting to see how the NCAA handles this," another head coach said. "I feel fairly confident saying it will be minimal (penalties). One has to wonder if all of this will lead to even more cheating, since very few were punished."
Need a good laugh: A Division I coach told me that a representative of the NCAA appeared at the spring meetings of a mid-major conference. The NCAA rep lectured the coaches about their behavior in recruiting.
"I couldn't help but be ashamed for the people who 'allegedly' police our profession,'" the Division I coach said.
"Did (the NCAA rep) not realize they were addressing a group of coaches who the NCAA investigation had no bearing on?
"Clueless."
Spineless, too.
That's a good start to describe what's going on out there. Everybody is clueless about what additional information and incentive the NCAA needs to deliver a message.
So far the message is simple: all clear.
Copyright 2019 WDRD Media. All Rights Reserved.