LOUISVILLE, Ky. (WDRB) -- The opening point spread for the Kentucky-Louisville football game will not be posted until Sunday afternoon. But if you're as impatient as I am, you don't have to wait to calculate the likely number.
Go to Jeff Sagarin's college football computer ratings and work through his formulas. That's what I did Friday afternoon. The result was a bit surprising:
Louisville by 1.58 points.
That's correct. The Cards earned a rating of 76.03 in Sagarin's preferred predictor ratings. Kentucky sits at 76.42. Give the Cards 1.97 points for playing at Cardinal Stadium, and Scott Satterfield's team should be energized about its shot to finish the regular season 7-5 and to defeat the Wildcats for the first time since 2017.
*Here is another interesting tidbit from Sagarin: New Mexico State, the team the Wildcats play Saturday in their home finale, is ranked as the fourth-worst FBS team in the nation in 2021. Only Florida International, UConn and Massachusetts have a worse power formula number.
According to Sagarin, UK should win Saturday by 34.43 points. The VegasInsiders.com line was UK by 36 on Friday afternoon.
*ESPN bracketologist Joe Lunardi dropped a fresh bracket 10 days into the 2021-22 season.
Disappointing news for Louisville. The Cards were as a high as a No. 7 seed in some of Lunardi's preseason brackets, but he had them as the fourth team out of the field (behind Rutgers, Colorado and Washington State) in the 68-team bracket that he shared Friday morning.
That's what happened when you lose to Furman, which lost to Belmont in its first game after upsetting the Cards last Friday.
Lunardi gave the Atlantic Coast Conference six bids: Duke (1 seed) ; North Carolina (5); Florida State (7); Virginia Tech (8); Syracuse (9) and Notre Dame (11).
No Virginia. The Cavaliers are two spots below U of L.
Blah news for Kentucky. The Wildcats started the season as a No. 3 seed with Lunardi. They're now a 4-seed, one of eight Southeastern Conference teams in the field. The other four seeds are Arkansas, Illinois and Tennessee.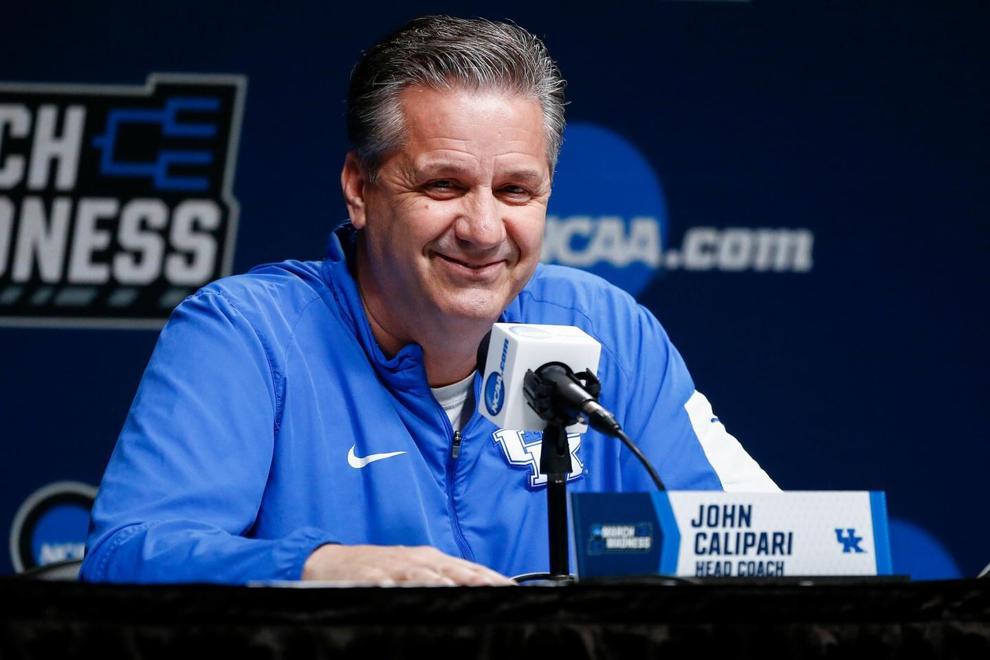 The five other SEC teams in the field are Alabama (3); Florida (6); Auburn (6); LSU (9) and Mississippi State (10).
Encouraging news for Indiana. The Hoosiers moved from a 10-seed to an 8-seed after their 3-0 start against Eastern Michigan, Northern Illinois and St. John's.
Like the SEC, the Big Ten earned eight spots from Lunardi, surprising considering the league lost six of eight games to the Big East in the Gavitt Games this week.
Here are the seven other Big Ten squads: Purdue (2) Michigan (2); Illinois (4); Ohio State (5), Michigan State (6); Maryland (7) and Iowa (10).
Mike Woodson's IU team still isn't shooting the ball from distance (27.7%) or the foul line (65.2) as efficiently as the Hoosiers will have to do it to win in the Big Ten. But IU's defense has been better without clunky pack-line defense installed by Archie Miller, and Woodson's team has played with more energy.
It's early, but the savvy observers who wrote that Indiana spent $10 million to get worse by firing Miller might consider deleting those tweets.
Lunardi does not have Western Kentucky in his field. He gave the automatic qualifier spot for Conference USA to UAB, which has started its season with three wins and a three-point loss to South Carolina.
*About that UK basketball schedule. After playing Ohio University on Friday night, the Wildcats play four straight home games against teams ranked No. 242 or worse in Ken Pomeroy's computer formula. Their win probability is 99% in three games and 98% in the other. Considering UK had a 99% win probability against Mount St. Mary's Monday and a 98% win probability in its home opener against Robert Morris, John Calipari is not giving fans much meat on the bones for the home schedule.
*Finally, former Indiana coach Mike Davis will bring his winless Detroit Mercy team to the KFC Yum! Center at 2 p.m. Saturday.
The Titans are 0-3, losing to Wyoming, Toledo and Mississippi State on the road.
Davis will start this season like a coach who has bills to pay. Detroit is booked to play its first nine games on the road.
His best player remains his son, Antoine, who was born in Bloomington and was a 3-year-old toddler when his father led the Hoosiers to the 2002 NCAA final game against Maryland.
Antoine Davis is a big-time shooter. Over three-plus seasons, Antoine has made 323 shots from distance with a career field-goal percentage of nearly 36%.
Copyright 2021 WDRB Media. All Rights Reserved.