LOUISVILLE, Ky. (WDRB) -- In 2018, about seven months after he had been let go as vice president for athletics at the University of Louisville, Tom Jurich reached a legal settlement with the university and has not spoken of it publicly since.
He signed the standard non-disparagement language, moved to Florida and got on with his life. Last November, the NCAA's Independent Accountability Resolution Process issued a ruling on Louisville actions during the Brian Bowen pay-for-play matter, finding fault with some assistant coaches but not the program as a whole, and hitting the school with a small fine and no further serious sanctions.
Jurich, who was fired in the wake of that incident, said nothing in response.
His name came up when a large and well-connected group of friends and supporters got together early last year and tried to urge the university to at least speak to its former athletic director about the permanent job. But nothing came of it. U of L eventually hired Josh Heird, who worked for Jurich and who has earned favorable reviews in his short time in the post. At the time, I had asked if Jurich would speak publicly about it. He did not.
So when I happened to ask one of his close friends in Louisville, John Ramsey, about Jurich recently and gave him the obligatory "let me know if he ever wants to talk about things," line, I didn't expect anything to come of it.
Instead, the answer came back, "He'll do it."
Late last week, I spoke with the longtime Louisville AD for more than 30 minutes. It was our first conversation since September 2017. He spoke from his home in Florida.
Before I share some of his thoughts, two things.
First, the record. Jurich was fired three days before his 20th anniversary as athletics director at Louisville. A few things to know about that two-decade span, for which an anniversary party was never thrown.
Louisville's athletics budget grew from $16.5 million to $104.5 million. Its athletics graduation success rate went from 66% to 83%. The value of its apparel deal went from $18,000 to $16 million. Cardinal Athletic Fund seat donations rose from $3.8 million to $16.9 million. TV revenue went from $1.4 million to $10.9 million. Sponsorships and merchandise sales grew from $328,000 to $9.14 million. Scholarships and financial aid provided by athletics went from $767,000 to $5.5 million. And in that two decades, $278.8 million were invested in facilities.
Not all the gains were financial. Louisville's Learfield Directors Cup ranking rose from No. 100 to No. 26. The program went from Conference USA to the Big East to the American Athletic Conference to the Atlantic Coast Conference. The number of female athletes grew from 147 to 391. Academic services went from six full-time staffers to 15. Sports performance staff (trainers, nutritionists, strength and conditioning coaches) increased from seven to 29. The number of female head coaches tripled. The number of coaches working with female athletes went from 20 to 39.
In those two decades, Louisville won 67 conference championships, 42 conference tournaments and had teams finish seasons ranked in the Top 25 no fewer than 125 times. Basketball went to three Final Fours and won a national championship (later vacated). Football won an Orange Bowl and a Sugar Bowl, and had a Heisman Trophy winner. Women's basketball went to two Final Fours and played for the national championship twice. Baseball went to the College World Series four times. Men's soccer played for a national title in 2010. Louisville had 30 Academic All-Americans and 191 athletes selected in professional drafts.
Second, a comment. From the NCAA.
On April 20, 2017 — six months before the university, in a letter signed by then-acting president Greg Postel, would accuse Jurich of "consistent and willful lack of supervision of head coaches" and "multiple compliance lapses occurring in multiple sports," as well as charging him with "ineffective management, divisive leadership, unprofessional conduct, and a lack of collegiality" — longtime NCAA director of enforcement Stephanie Hannah said this about Jurich, in remarks from a hearing transcript.
"Chuck (Smrt) mentioned that the institution's previous infractions case was in 1998, and that actually was my case, and Tom Jurich was new to the institution at the time," she said. "But it was clear that he was committed to helping the enforcement staff in its investigation or doing what they asked in getting to the bottom of things, and even though one of the issues with men's basketball involved Denny Crum, who was an icon as the head men's basketball coach there, and he was the new guy, he didn't back down from saying enforcement staff, do what you need to do and my staff will support you. And all these years later, he still has the same approach to that. Several years ago when we had another case on campus, it didn't turn out to be major, but Tom's approach was the same then. I think it's that he wants to support the staff and he wants his staff to do what they can to help the enforcement staff, and he kind of gets out of the way and lets them do their work because he is committed to compliance."
Postel's entire letter, a year after those comments and seven months after it was sent, was rescinded. The language in Jurich's separation was amended to "resignation." He received a settlement of $4.5 million, plus $2.7 million owed to him in deferred compensation.
Despite that, there are hard feelings.
"He just wasn't treated right," Ramsey said. "He didn't deserve to be let go. Far from it. Would you just let me say that? I think someone needs to say that."
Now, someone has. And now, Jurich has his say. He didn't want to critique anyone's job at U of L. He said he has had a good relationship with Kenny Payne, and wishes for success for new football coach Jeff Brohm, noting, "there's a lot of pressure on him." He said he'd answer my questions but that he would not disparage the university or its current leadership, nor would he comment directly about those involved in his dismissal, though it's not difficult to read between the lines.
After the interview, I allowed Jurich to review his answers for legal reasons, and to amend wording or add thoughts to make sure was able to say things how he wished to say them. My questions here are edited just a bit for brevity or clarity.
Q: I guess the first thing, and the reason that I reached out to you on this, is in November, the IARP came back with its findings. And the university didn't face major sanctions. And in fact, the NCAA said that Rick Pitino promoted an atmosphere of compliance, and that there was no evidence that anybody failed to promote an atmosphere of compliance. Rick lost his job over this. You lost your job largely because of these events. I just wondered what your thoughts were when this ruling came out?
JURICH: I was happy for Coach (Pitino), you know, I was happy for him. He's endured a lot. You know, he was awful good to that school. And when I when I talk about it, too, it's not just that he had, what, 300-400 wins and brought us a lot of great memories. The ruling just proved what I already knew, that he had done nothing wrong. I supported Rick because of that. He was great off the court to a lot of people, he was great to a lot of businesses in that community. He was great to charities, just like, Bobby Petrino was.
You know, people want to just torch Bobby, but look at all the good he did off the field. Look at what he did for Kosair Hospital. I'll never forget about Bobby here. Because they told me over at Norton that one of the greatest things that they ever saw was, after he had pledged a million dollars in the first go-around here, and he went and took the Falcons job, they said they just were basically writing it off. You know, that pledge isn't any good anymore. He paid that thing up. Even when he's in Arkansas, paid the thing off. And then he came back and made another huge contribution. It was almost 3 million bucks that he gave to a children's hospital. He had a good heart, he won a lot of great things. People want to talk bad about Bobby. Bobby did a lot of great things. And I'll stand by him for that. A lot of things people don't like about him, too. And that's fine. They're well documented. But we had a lot of positives. I think he was like 77-27 under me. So, you know, I never worried about having to fire Bobby. I worried about being able to keep Bobby. And when we did hire him that was the biggest concern. Everybody that called and talked to me, it wasn't about, 'Was he staying?' It was about, 'Will he go?' It wasn't about, 'Will he stay?' That's why I put a $10 million buyout on his end that he would have had to pay if he left. And people said, 'Well, he had this huge buyout when he got fired.' But that was your choice to fire him. The school's. You didn't have to fire him, that was just his contract. There was no buyout in his contract. You chose to make it that way. And I think that narrative really got switched up pretty bad. I mean, that guy wanted to be there for the rest of his life. He wanted to. He wanted to be there rest of his coaching career. He loved Louisville, loved the city. His family did, too. And I think they've done a good job. I know the last year was a train wreck, but he felt totally unsupported. . . . They made a lot of moves that have really hurt that school, that really hurt. You know, I just want to look back and reminisce about the great times. We met so many great people, Eric, and we loved our 20 years there. Obviously, the last few months weren't any fun, but the other time was great. And just to be able to climb that ladder that we were able to go from Conference USA all the way to the ACC was fun for all of us.
Q: How much do you follow some of the coaches that you hired? Dani Busboom Kelly has been to a couple of Final Fours and a national championship game since you left, Jeff Walz a couple of Final Fours, Dan McDonnell to the College World Series?
JURICH: A lot of them stay in touch quite a bit. You know, I want to be supportive in any way I can. Because I want to see them succeed. And they're certainly doing a great, great job. And that's -- I think I'm the most proud of just how good a group that group of coaches turned out to be. Dani has just been unbelievable. Jeff is great. What Dan McDonnell does is the best. And think of one we lost in Ken Lolla – might be one of our greatest coaches of all time in any sport. Justine (Sowry) in field hockey, and look at the (swim and dive) program that Arthur Albiero has built. I'm proud of all of them.
Q: As you look at what's happened since you left, what are your feelings as you watch some of that? I know you watched this basketball season. I know you've watched football go through ups and downs a little bit. What are your thoughts on those things?
JURICH: Well, I'll be honest with you, I don't get too close to it. I've got a new life. I'm enjoying it thoroughly. I've got a wonderful wife, wonderful family, you know, so I haven't I haven't been absorbed in it like I think people would maybe think I would be. It used to be everything, used to be 100 percent of me, used to be 110 percent of me. I gave every ounce of blood, sweat and tears to that program. And my loyalty, I think, hurt me. You know how many jobs I turned down, Eric. And I think that's probably the biggest mistake I ever made at Louisville was I should have taken one of those jobs and left and just run out of there. But I wanted to be extremely loyal. And I kind of wanted to make a point to people outside of Louisville that Louisville now is a destination, that you don't have to come to Louisville to go somewhere else. It's a destination place. And that's what I always wanted to do. And I think that came back and bit me. You know, I made a lot of great friends and we wouldn't trade that for anything. We love the community we love the fan base, love the fan base.
Q: You know what you were told at the time. But there has been a settlement, and some years have passed. Why ultimately do you think Louisville took the action against you that it did?
JURICH: I have no idea. Nobody's ever given me that answer. nobody's ever given me that answer. All I know is that every, single evaluation I ever had -- they're all public record -- was perfect. I certainly have no idea. If they wanted somebody new, all they had to do was tell me that.
Q: Was there anything in this latest NCAA ruling that surprised you? Or was the IARP's ruling close to what you expected to see?
JURICH: I expected it. I mean, we at the university and compliance, everybody at the university was sold on compliance. I never had an issue with the NCAA for 17 years. You know, and then all of a sudden, you get this Katina (Powell) thing pop up out of nowhere, which still to this day baffles me.
Q: On that ruling, four months after you left, the NCAA vacated the 2013 championship. Are you surprised they ordered that banner to be taken down?
JURICH: I was. I was shocked about it. And I was shocked the university didn't put up a better challenge to that. To me, those were two things that were just terrible. They were terrible. Those kids deserved it. Those coaches deserved it. Everybody in our community deserved it. That game happened. There's no taking it away. I thought the greatest thing was Michigan, he's a dear friend of mine, Warde Manuel up there the AD, and John Beilein said, 'We didn't win that game. We don't want an award. We didn't win it.'
Q: Before the athletics director's job was filled last year, a number of people here pushed for you to be considered. I know we talked a bit before this interview and you said you had no interest in signing a non-disclosure agreement about a position at a public university, which was a condition of having discussions with them. Would you otherwise have had interest in the job and were you approached?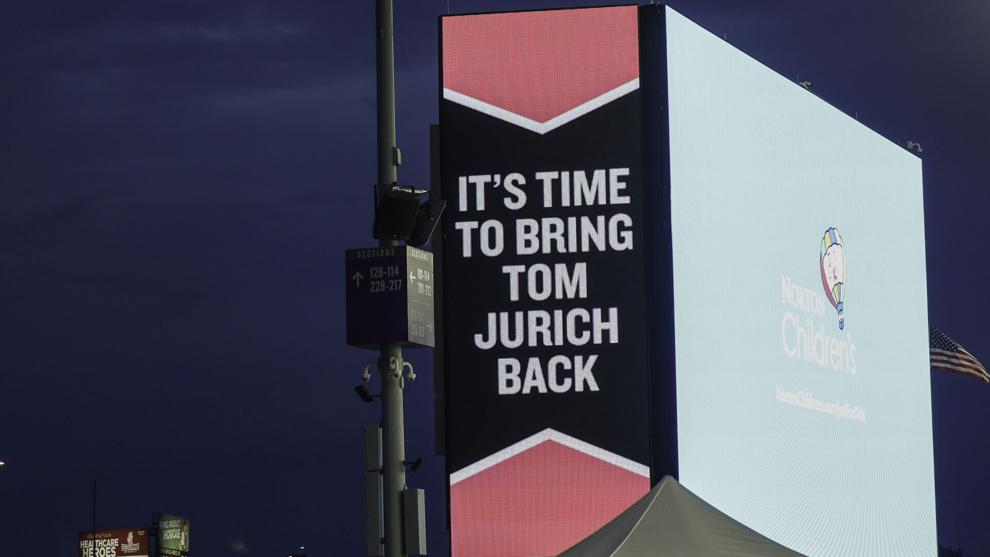 JURICH: There was a lot of people that reached out to me, a lot of people. But the one thing I said was that I'm not going to campaign for anything. And I didn't. I didn't call anyone. And I didn't ask one person to help me try to get a job. If they wanted to talk, and they have new management, if they wanted to talk we would have done it. You know, if they wanted me, then there would have been maybe a different story. But they wanted their own people. And they've got them now.
Q: Would coming back and continuing have been appealing to you?
JURICH: Well you have a lot of love for the place. I do, and that I don't think anybody's going to be able to take away. I still love the school. I love the city. To say that a lot of things that people did weren't hurtful, I can't say that. There were a lot of things done that I just look at and say, 'Wow. Really.' Like I said, my only regret was that I probably stayed there when I should've left. I think, obviously the people who are still reaching out are great friends. It's just shocking, I think, to see what's transpiring.
Q: It's a different landscape even than it was 2 or 3 years ago in college sports. NIL has changed things. I know you follow it in a general sense. I won't ask you to talk about U of L specifically, but just athletics departments in general in this new landscape, what's the key for success today?
JURICH: Well, you'd better raise money. You'd better raise money. Believe me, that's got to be A, B and C right now. Because the NIL is a different world, but you've got to be prepared for that. And you need to be very creative, and you need to be out there helping your coaches and you need to be on the front end of it. And those are things that I would really have liked to sink my teeth into. I loved raising money, and my son loved raising money, and he was damn good at it. But look, you've got some great coaches out there, and they're going to rely on that now. . . . Every year, there's something going to be different. You know, my 34 years as an AD, every year was different. There's always challenges. I just always wanted to be out in front of them. I thought we were a very proactive athletics department. And I think people around the country -- and I talk to ADs all over the country every day -- really admired what we accomplished.
Q: Do you have much contact with Rick Pitino? Now he's back in the headlines even today – Iona back in the NCAA Tournament and who is going to get him. What do you think of what he's been able to do?
JURICH: I think whoever gets him is going to be damn lucky, damn fortunate. Because we've all seen it, he's as good as it gets. There's no one better than Rick Pitino. You can just look at all his kids who have been around him and played for him. That's what I always like to judge a head coach on. Obviously record and all that, but they don't need me to talk about that because they know how good he's been. But all the ex-players and how much they love him, whether it's at Kentucky or the Knicks or anywhere. He's incredibly popular among his players and they're fiercely loyal to him.
Q: What's going on in your life right now and what is your future? Do you see yourself getting back into the business at any point?
JURICH: No, not at all. I'm enjoying what I'm doing. We really enjoy Florida, we love our place in South Carolina. We've always been lake people. And we wanted a place where all the kids can get to pretty easily, and all my kids are on the East Coast. Colorado is a little bit more difficult – but we're staying in Colorado also. We love to ski and all that. So, we've done a lot of that. A lot of golf, a lot of boating, a lot of water stuff. I've enjoyed my time. And you know, I do a lot of riding the bike, running and walking. I had my knee replaced and had to rehab through that. No, I really don't have any interest in getting back into it. But I do want to see my people do well, my coaches and I want to do anything I can to help them.
Q: The university, in a settlement with you, basically retracted any allegations it made against you. Some years have passed. I think a great many Louisville fans look back on those years pretty fondly. How do you hope your tenure is remembered?
JURICH: I don't think that's for me to say. I think that's for them to say. I don't need anyone to do anything for me. I'm happy with my family. We always put God first. We love the Lord and are very spiritual people. And we're just very happy that we were able to pass through Louisville. We built some tremendous relationships. As an AD, you have a lot of ups and a lot of downs, that's part of the job. But I think we had many more ups than downs. So that's good. But other people need to judge me, not me.
Copyright 2023 WDRB Media. All Rights Reserved.