LOUISVILLE, Ky. (WDRB) -- Here's the prevailing narrative: If Bellarmine were to beat Louisville on Wednesday night in the KFC Yum! Center, it would be the biggest win in the program's history.
Here's the reality: It would not be. It would be a big win. But to people who have followed this program for a long time, it would be another in a long line of big wins. It would further burnish the glistening start to NCAA Division I transition that Bellarmine has fashioned, but would it bring more fans or money or respect to the table for Bellarmine? That would be nice but it's not likely.
Would it be bigger than winning a Division I conference tournament in its second year of Division I? Absolutely not. Would it be bigger than winning a national championship at the Division II level? Nope. I was there. The Knights won that game on CBS. This game Wednesday night in the KFC Yum! Center will be decided about the time late-night programming fires up, but far from the national spotlight.
Sure, it's bragging rights in the city. Yes, it would provide Davenport — whose coaching career began as the result of a pickup game while he was a student at U of L, who graduated from U of L with a degree in psychology, who coached for two Hall of Famers at U of L — a signature career moment.
But it would be one of many.
You'd be hard-pressed to find anyone who loves U of L more than Davenport. But when it became evident that Louisville wasn't going to even consider hiring him in the midst of all the turmoil of the past five years, this also became evident: If he wasn't going to be able to join them, perhaps the only route left was to beat them.
On Wednesday, he'll have that chance, though it's worth noting that beating Louisville wouldn't even be the ASUN Conference's biggest nonconference win of the season's opening week. Florida International beat USC on Monday night, and Stetson won at Florida State.
And it's also worth noting that it's far from the only chance to make their mark against a national name that Bellarmine's players will have.
They'll face Duke, UCLA and Kentucky on the road.
Louisville is depleted. It's playing for a first-year coach in his first game. It's a 13-19 team that lost a great deal of its production. A season-opening exhibition loss to NCAA Division II Lenior-Rhyne disabused anyone of the notion that this team isn't vulnerable, especially in an early-season game.
Bellarmine, thanks to Davenport's community mindedness and outreach to public schools in Jefferson County, played its only exhibition game in front of a larger crowd than Louisville had for either of its exhibition games, and that at 11 a.m. on a weekday.
As for the game itself, Bellarmine has its own holes to fill. It must replace leading scorer Dylan Penn. It will have to deal with a Louisville team that is bigger, significantly so, at every position. Though, granted, Bellarmine deals with that every game. The Las Vegas reality check: VegasInsider.com has the Knights as a 9.5-point underdog in its consensus point spreads.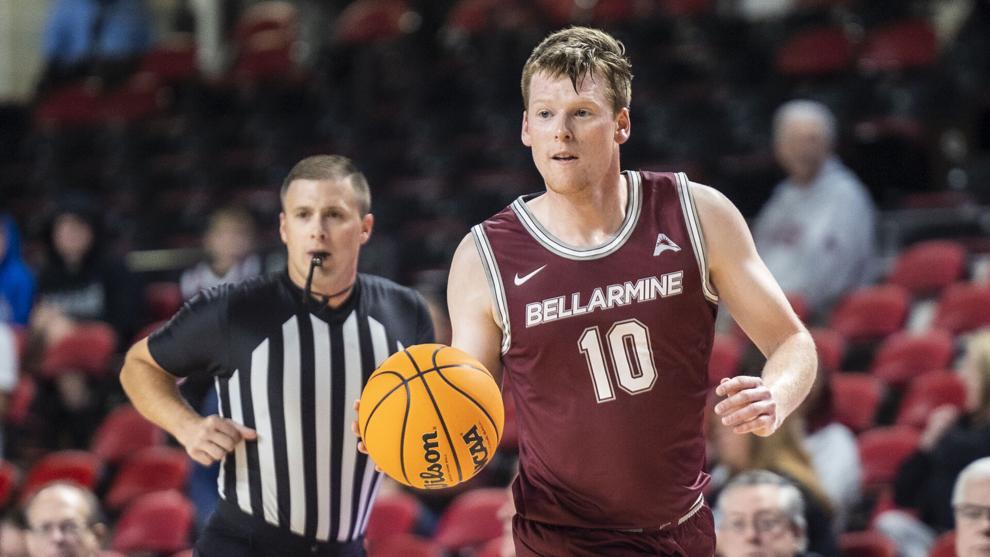 And it will be far from 100%. Alec Pfriem, who was a starter last season and will be a key player this year, is still recovering from a torn labrum. His playing time is limited. Ben Johnson, the 2021 Kentucky Mr. Basketball, has been slowed by injury.
And it will have to deal with the added pressure of so many people nationally expecting an upset. Louisville players have been listening to chatter about Bellarmine for a while.
Who ever thought that would be the case? And while Bellarmine faces perhaps heightened expectations in its opener against Louisville, it was picked to finish only sixth in the ASUN preseason coaches' poll.
"We don't have the expectations, I think," Bellarmine's Garrett Tipton said. "People are kind of underestimating us a little bit, with losing as much as we've lost. But we know what we have here, and we're excited to kind of show it off."
I do believe it's true – part of what Bellarmine needs to do to establish itself as a Division I player is beat Louisville. But it needs to do that more for perception here at home than perception around the nation.
What Davenport is looking to establish at Bellarmine is what Gonzaga built out west. He's looking to build a program on a par with the Catholic-school powers of the Big East. In that, Bellarmine remains in its infancy.
Tonight's game against Louisville could be another step toward that goal. But it would not be the biggest step.
Copyright 2022 WDRB Media. All Rights Reserved.