LOUISVILLE, Ky. (WDRB) – In late 2017, as part of its 125th anniversary celebration, the Liverpool Football Club commissioned a "dream scene" painting featuring the greats of the storied club's history.
If you look closely, behind the smiling men, on a peg in a locker, hangs the jersey of one woman, above a Super League Trophy, one of the consecutive titles the club won while she was captain. The player whose jersey hangs there is Gemma Bonner.
As we'd say on this side of the Atlantic – not too shabby.
On Tuesday, the 29-year-old center back brought her accomplished career to the training grounds here, in Louisville, after one of the most challenging periods of her pro soccer experience. It began with an ankle ligament injury in January, was prolonged by a bout with COVID-19, and drug on further when she tore a thigh muscle upon her return. Even after making the call to leave Manchester City for Racing Louisville FC in late April, there was a wait of more than a month for her visa to come through.
So it was little surprise to see Bonner, at long last, sprinting around the Champions Park training pitch with a smile on her face.
There isn't much she hasn't done in soccer at home. She'd like to do more. Still hungry for a more prominent role on England's National Team and just as hungry for a new challenge, she happily joined the fledgling club in Louisville.
"Obviously she comes in with bags of experience and pedigree behind her," Louisville coach Christy Holly said. "We know she's going to be a huge addition to the team."
Bonner came here having already heard about Racing's reputation, about how the club is trying to build the right way, how it is trying to treat its players the right way. She got to town over the weekend and went straight to Lynn Family Stadium, where she saw the largest crowd in the facility's COVID-restricted history.  One night earlier, she saw the club she would join give up more goals than it had in its previous five games in a 5-0 loss at Charlotte.
She knows she's here to unpack those bags of experience. And she's excited about it.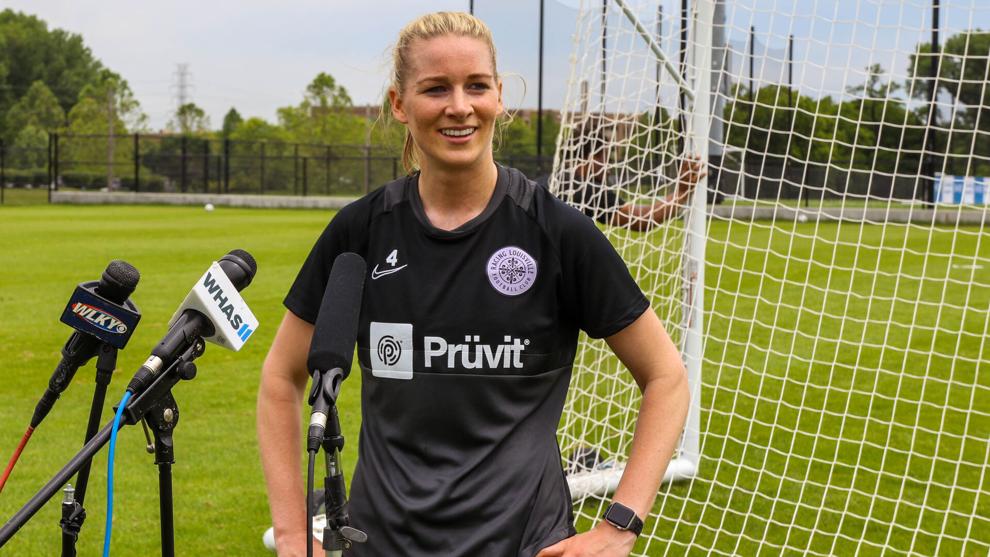 "It's been really positive," she said of her short time in Louisville. "I think the girls have been absolutely brilliant and welcoming here, as have the whole staff and everyone around the city. So for me it's been an unbelievable first experience and hopefully it can continue like that."
When asked what drew her to Louisville, she was fast with her answer.
"I think the whole club and what they're going about," she said. "How they're doing things. The structure. You can see the training ground. For me, I think it's probably one of the best in the world in terms of the facilities and how they're doing things. They're making sure that they're getting everything right in looking after the person and the player as well. A player coming into a professional environment, you've got everything here, and it's up to you what you do with it. So I think from that perspective, for me, it was a no-brainer, given the opportunity."
Bonner has been studying her new team. She has seen the clean sheets, Tweeted congratulations when Emina Ekic scored her big goal a couple of games back, and knows it's not only her job to share wisdom, but to bring stability to Louisville's back line. But she's also looking to learn some things herself, to improve by adapting to the athleticism and pace in the National Women's Soccer League.
One of the things she hopes to bring is an on-field recognition of what she called "moments," key stretches of play when it's time to dig in or press forward.
"It's probably just recognizing those moments when you may be under pressure or when you may want to possess the ball a little bit more," Bonner said. "I think the game over here is a bit more transitional than back in England, And it's a very different game back home. Likewise I think they can help me in terms of it being a much quicker game over here. If we can get the balance together and I can help the younger players with my experiences and they can help me as well, then hopefully we can grow together."
If you only get one chance to make a first impression, she succeeded with Holly.
"Fantastic. Lovely person," he said after her first training session. "Really technically proficient as you can see as a center back. Coming through the English system she's very comfortable on the ball. She's got a good composure about her when she's under pressure on the build-out. And as we go through the week, we'll get to see her more in a defensive setting, which is where she really thrives, so we're very excited. And she's a pro. That's something, we as a club are evolving on a daily basis, and we have number of young players who are very easily influenced on a daily basis. And to have a pro in there who has been there, done that and got the T-shirt, is going to be a massive asset for us."
For Bonner, who went down with her ankle injury in January and hasn't played since, the Racing Louisville opportunity marks the end of one her most frustrating periods as a pro.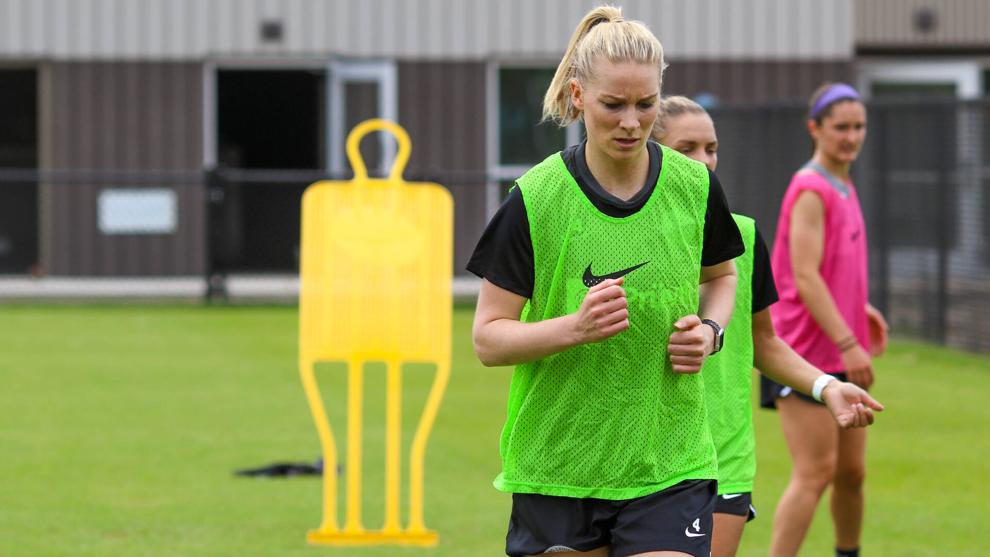 "It's been extremely frustrating," she said. "Obviously I wanted to get out here as soon as possible but, you know, the world is in the middle of pandemic. For me, I'm fortunate that I was able to get out here because I know a lot of people aren't able to travel at the moment. So, it was frustrating for me, but the club was absolutely brilliant about sending me training programs and making sure I was in a good place. I was so grateful for that. They made the transition so much more easy and I feel like I've been here longer than a day already. For me, it's been nothing but positive."
Even in the interim, she found ways to contribute. She spoke in her community about ways to cope with the isolation of a pandemic. In an interview with The Athletic, she said she drew inspiration from her mother, who has been paralyzed for four decades after an automobile accident. She said she has begun keeping journals, one for her personal life, one for her soccer experiences.
With luck, she will find rich entries for her Louisville chapters.
"You look at the games and I don't think people necessarily expected the team to gel as quickly as they have and they've stayed in a lot of games," she said. "They might've been under pressure but they've got the team spirit and they've got the quality of players that can win games. I think it's probably just about the consistency and, like I said, in those moments in the games when we might be under pressure a little bit just managing those, and maybe using the energy a bit more conservatively in those moments and taking the chances when we do get them. But I think, you know, the girls have done fantastic so far. They've created opportunities, they've kept so many clean sheets, it's something for us to build on -- but obviously quite early days in terms of the club."
With her injuries behind her and the waiting over, she's ready to get back into the game – whenever that may be. Racing Louisville travels to face Portland on Saturday night before a 15-day layoff leading up to a June 20 game against Houston at home.
"Obviously it's quite a young team. I've probably got quite a bit of experience behind me and coming from a different league, hopefully I can help in those moments in the game and manage them a little bit better," Bonner said. "But I think the girls have done fantastically well. I've watched all the games and there's so much potential within this group, and that's what's exciting about it and that's what made me want to come and join and be a part of it. I've just completed my first training session and the girls are absolutely brilliant, so I think if we can continue to grow together throughout the season then we'll be in a good place."
Copyright 2021 WDRB Media. All Rights Reserved.