LOUISVILLE, Ky. (WDRB) – After all of the disappointments, the close losses, the second-guessing from within and without, the University of Louisville football team stands on the cusp of bowl eligibility.
And among the equipment Louisville will pack for its Thursday night ESPN game at Duke is something it hasn't really had all season: Momentum.
Sure, one win is not a streak. But Louisville's win Saturday over a solid Syracuse team that had been playing well marked the first time the Cardinals had put together a complete game in all phases this season.
They had pulled out a win over Central Florida with a late Pick Six. They had held off a struggling Florida State team. They beat a struggling Boston College team, but had to do it with a nominal passing game.
Against Syracuse, everything was clicking. If ever there were a time to have a short week, this probably would be it. But the important thing now will be to keep the positive vibes rolling with another solid performance at Duke.
The Cardinals are 20-point favorites, but Louisville coach Scott Satterfield is preaching that they can't take anything for granted.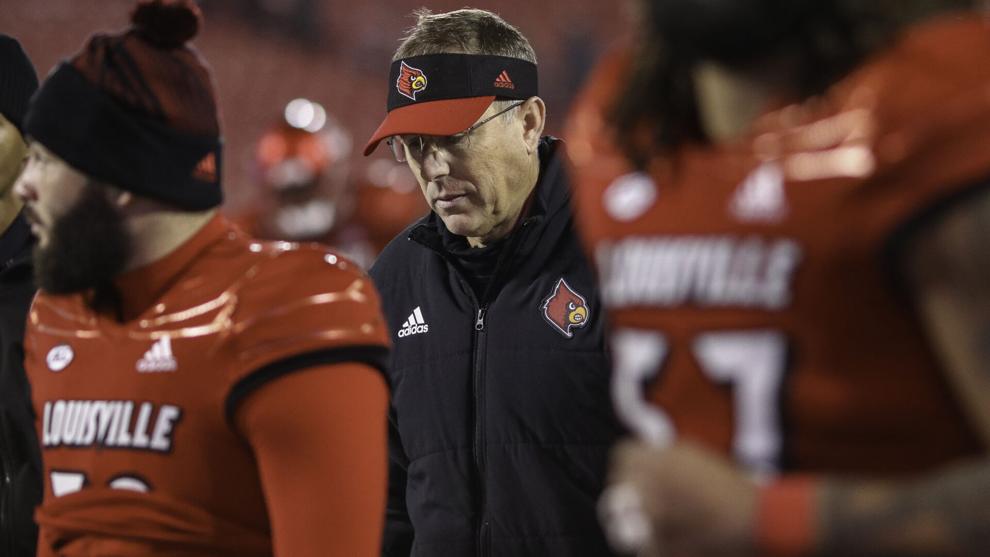 "I hope we can avoid being complacent," Satterfield said. "It's all about our preparation. There's great motivation for this game, so we can have that extra three weeks of practice to get ready to go play in a bowl game. I think for us, we've been on the cusp of a lot of these games and our guys continue to fight and strive to get over the hump and win these games. We finally put one together with a complete team win and that's encouraging. Hopefully our guys are fired up to know we can play that way no matter who we're playing and to say, 'Let's go out let's put this thing together'. It doesn't matter who you're playing, anybody can beat you, so we better be ready to rock and roll."
Even if the Cardinals should gain bowl eligibility, there will be a great feeling of "what might have been." They lost to a nationally ranked Wake Forest team by a field goal. They lost on a field goal to Virginia a week later. They lost to Clemson when they couldn't punch in a touchdown from 2 yards out on four last-minute plays.
Nonetheless, the players and coaches deserve credit for resilience. They showed up to play each week, and did not appear to let the discouragement that was brewing among the fan base creep into the locker room, even though it was difficult.
Quarterback Malik Cunningham was particularly down after the Clemson loss, a game in which he slipped on the final fourth-down play, though he had come back from an ankle injury to lead the last-gasp drive down to the 2. But even he had bounced back by midweek last week, and responded with one of his best all-around games to beat Syracuse.
Now, with a bowl bid in the window, Satterfield is hoping a different kind of motivation takes over.
"We certainly talk to our guys about it," he said. "I think that's a goal of ours. We set it at the beginning of the season. We're certainly right there on the cusp of it. I think it's the elephant in the room. We want to talk about it. We know what we're playing for this week, and we know what we're preparing for, it's great motivation for us. You talk about this being the second season going to a bowl game out of three (under Satterfield) and I think it's great, it's what we want to do, to be playing for bowls every year and contending for those championships. We talked about how we want to finish the season. I think everybody remembers that. It also propels you into the next season. It propels you into recruiting so it's an exciting time for us and we're excited to be able to get out on the field and albeit a short week, we're playing Thursday night on national TV. I think that's awesome too for our program. I know recruits across the country are going to be watching the game as well as our fans."
Still, Satterfield warned that while Duke has been struggling in recent games, it's fully capable of spoiling the party for the Cardinals.
"We know what we have in front of us," he said. "We have the opportunity to win our sixth game and get bowl eligibility and we want that, and our players want that. . . . (But) I think everyone wants to look at Duke's record and their last few games and haven't played as well. The one thing that stands out to me when I look at them is that when they play at home, they play like a different team compared to when they're on the road. They've played four out of the last six on the road, which has been difficult, and they started the season off 3-1 and all three of those wins were at home."
In a season with more than its share of disappointments, Louisville must build on its best performance to avoid yet another.
Copyright 2021 WDRB Media. All Rights Reserved.