CRAWFORD | Before NFL paydays, Snell and Allen gave UK one last gift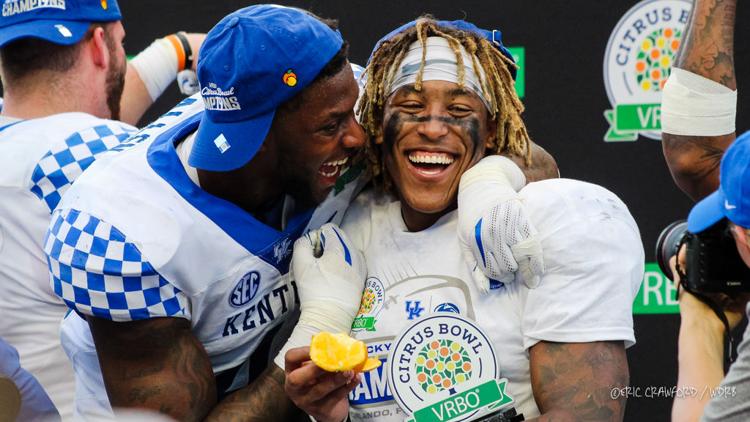 ORLANDO, Fla. (WDRB) – What would it take for you to risk a million dollars? How about several million? Seriously. You know the payday is coming, all you have to do is show up. In one piece. All you have to do is not hurt yourself, and your life, and the life of your family, is forever changed.
I don't hold it against college football players who skip bowl games. But I respect the heck out of guys who know a high draft pick is coming and show up anyway.
And guys like outside linebacker Josh Allen and running back Benny Snell, who not only show up but lay everything they've got on the line, well, that demands another level of respect, from fans, coaches and teammates.
If either one of those guys decided to play it safe, Kentucky's season would not have gone from good to great on Tuesday. The Wildcats wouldn't have earned a 10th victory, making them just the third UK team to do so. Everybody would've left Florida praising the team's progress, but likely not etching this as a moment to remember in Kentucky football history.
Instead, Allen played as dominant a half of football as you'll find all season in the first half of Kentucky's 27-24 Citrus Bowl victory. And Snell basically said to him in the second half, "Hold my cell phone. Watch this."
Penn State coach James Franklin joked that he'd sent them direct messages on Twitter suggesting that they might want to think about sitting this bowl game out. On Tuesday, you could see why.
Allen had a pair of sacks in the first half and, with 45 seconds until halftime, blocked a field goal that kept UK in the lead, 10-7, heading into the second half. Snell broke the first run of the second half for 32 yards, setting the tone for a UK offense that had been ineffective for the game's first 30 minutes.
"The three guys that we knew we had to stop were Lyn Bowden, Snell and Allen," Franklin said. "We knew that. You know, and I think, really, all three of them showed up today. We knew Bowden was going to be a problem. We knew Allen was going to be a problem. We knew Snell was going to be a problem. They built their program around those guys. They built their season around those guys. They are guys that can hurt you a lot of different ways. They're tough, athletic, smart, physical, and they played well, and they made plays at timely situations, like great players do."
On the field after the game, Snell was asked why he took the risk, why play this bowl game.
"You're looking at it," he said, his signature wide smile beaming at thousands of Kentucky fans. "We're a team. We had one more game to win. I love this place. It's been good to me. I wanted to do something nobody had done here."
Now, he has. Coming out of a second half timeout, Snell was within a few yards of the school's all-time rushing record. The crowd knew it. The coaches knew it. Snell knew it. He took a handoff from quarterback Terry Wilson and stormed up the middle, 12 yards into the end zone. He dropped to his knees and the crowd roared and his teammates gathered around him.
"Man, I (was) so excited. I (was) in the moment. I don't even have words for, like, how I was feeling," Snell said. "I was speechless. I know that when we ran out there, you know, I knew I was like 5 or 4 yards away, and I looked at Coach Gran and he gave me that look, like yeah. I was like, 'Oh, yeah, let's get it.'"
Stoops, who scrambled to try to get the game ball Snell was carrying from the official after the TD, jumped in, "Matter of fact, we had two plays called. We were going to run it to him two plays in a row. We had thought about some other things. We were, like, nah. Benny two in a row here so it only took one."
Allen is the epitome of a player who used his college experience to improve himself. He developed physically and worked his rear end off in the weight room. He is as versatile and talented as any defender in college football.
He finished the season with 17 sacks, including three on Tuesday. His first-half disruption helped Kentucky buy some time, with its offense unable to produce much.
After the game, Allen was hugging everybody. While Snell was making snow angels in the confetti, he kept running into teammates and embracing them. Coaches. Fans.
"This is the reason why guys come back," Allen said, referring to his decision to pass on the NFL Draft last season for a senior year at Kentucky. "If you're projected to be one of the top players coming back, I advise to come back because you could have a season like I did, become the national defensive player of the year, projected top five pick, win bowl games. I have no better feeling than right now. I feel great. Great team win. Offense did a heck of a job. Defense did a heck of a job. Special teams did a heck of a job. And I'm just living it right now."
Both of these guys will keep living it. Snell finished the game with 144 yards rushing and two touchdowns.
Because of them, Kentucky not only had a stellar season, but it had a great finish. Their names will be in the school's ring of honor, hopefully sooner rather than later.
It may seem a small thing, to play one more football game. But for many of these young men, it's a million dollar question.
Allen and Snell both probably made themselves some more money with the way they played Tuesday.
But what they did for UK is priceless.
Copyright 2018 WDRB Media. All Rights Reserved.