LOUISVILLE, Ky. (WDRB) -- The NCAA still has not acted on proposed legislation that would make Bellarmine eligible for NCAA Tournament competition in its third NCAA Division I season. But that hasn't stopped coach Scott Davenport from crafting a non-conference schedule that is NCAA Tournament caliber.
Bellarmine's nonconference slate should again rank among the best in the country, with games at Louisville, UCLA, Clemson, Duke and Kentucky, and the added bonus of Murray State coming to Freedom Hall in December.
Bellarmine will face Louisville in its first regular-season game under coach Kenny Payne on Nov. 8 in the KFC Yum! Center.
In an eight-day span, the Knights will play at Duke (Nov. 21), Loyola Marymount (Nov. 25), UCLA (Nov. 27) and Kentucky (Nov. 29), visiting three of the most famous arenas in college basketball in the process.
The Knights also will travel to Morehead State on Nov. 12 and to Evansville on Dec. 21. They begin the season with a Freedom Hall exhibition against Centre on Oct. 27.
"This schedule is a tremendous challenge," Davenport. "Our players and the greatest college basketball fans in the country appreciate and understand the difficult challenge that lies ahead. Very special players and teams embrace the challenge to be a part of something bigger than one individual, knowing this will bring out the absolute best in them. We have and always will want the absolute best for them. They deserve it and they earn it every day."
Davenport said assistant coach Beau Braden did much of the legwork on the upcoming schedule.
"Coach Braden deserves all the credit for his tireless efforts in putting together a nonconference schedule that will compare to every program in the country regardless of level," he said.
Bellarmine beings ASUN play on Dec. 29 against Liberty in Freedom Hall. The Knights finished last season with a record of 20-13 and won the ASUN Conference Tournament after finishing the regular season with an 11-5 league record.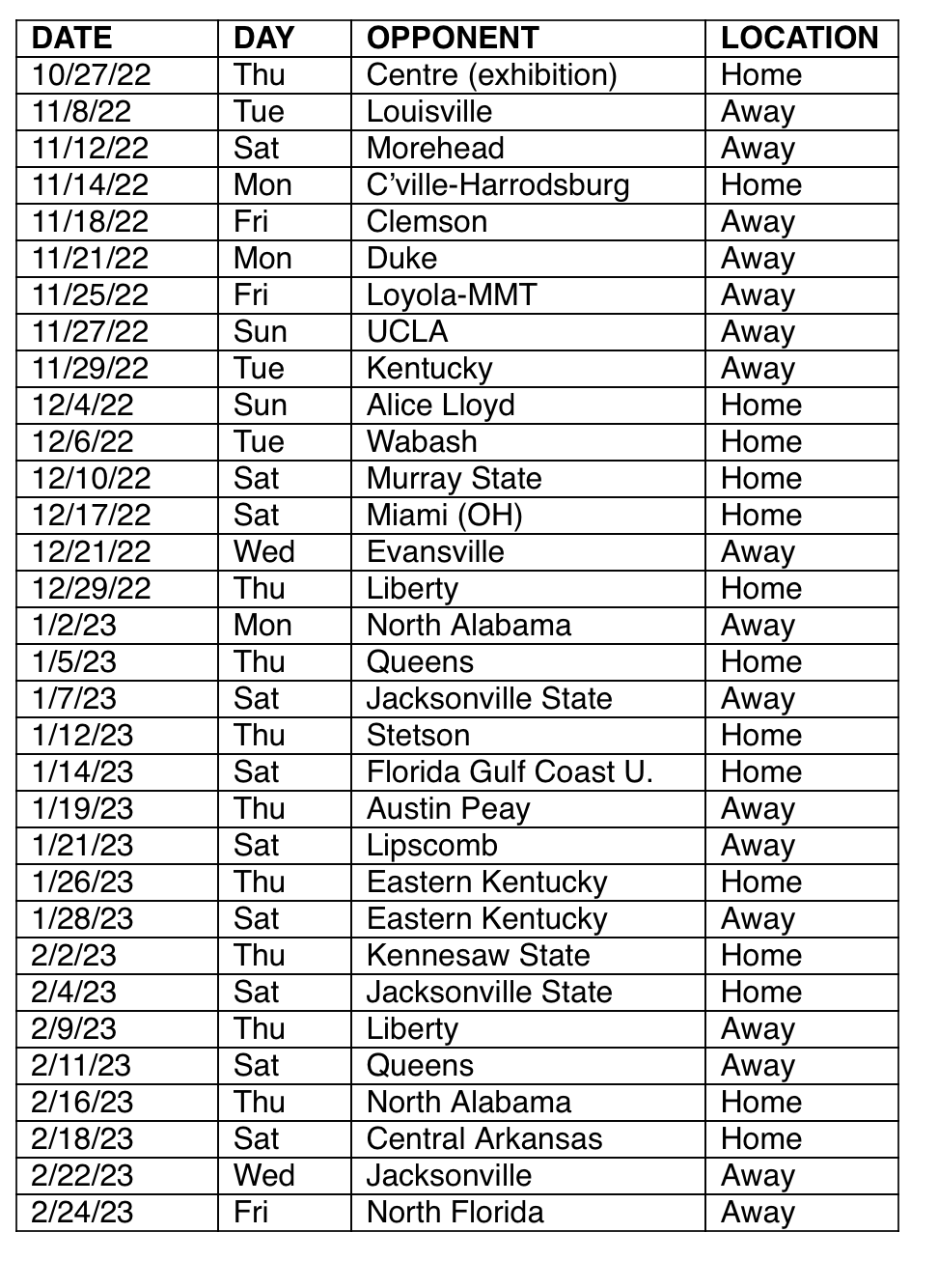 Copyright 2022 WDRB Media. All Rights Reserved.