LOUISVILLE, Ky. (WDRB) – It was a two-point game with three minutes left. Bellarmine University is an NCAA Division II program in its final season before beginning reclassification to Division I.
But at the KFC Yum! Center on Tuesday night against the University of Louisville, ranked No. 5 in NCAA Division I, the Knights demonstrated that it's not going to be a long trip.
The narrative is that Louisville was depleted, and that's accurate. The Cardinals were without starting center Steven Enoch and team captain Malik Williams, and they don't have highly touted freshman David Johnson.
But Bellarmine wasn't at full strength, either. The Knights were without senior guard Parker Chitty, who figured to play 20-plus minutes, but was sidelined as he recuperates from a bout with pericarditis. Moreover, as a Division II school, Bellarmine has been practicing for only two weeks. Division I institutions got four hours a week of practice once school started before the official start of full practice earlier this month.
In any event, Bellarmine likely isn't here for talk of a depleted opponent that still features the preseason ACC player of the year and All-American Jordan Nwora and a freshman McDonald's All-American in Samuell Williamson.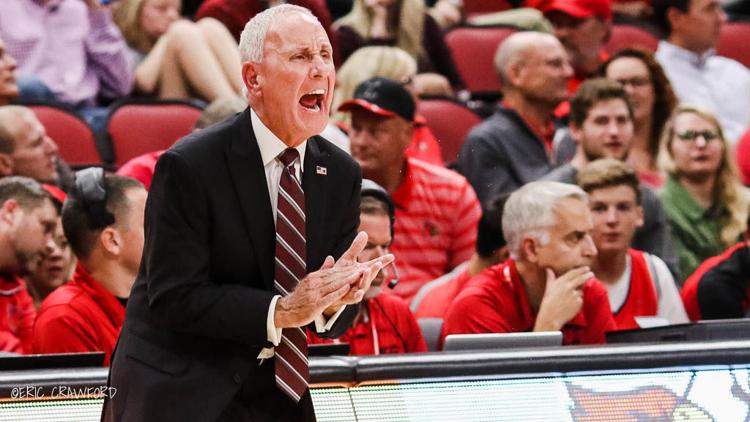 The closest thing Bellarmine coach Scott Davenport has to a McDonald's All-American is an actual McDonald's, a couple of miles away from campus at the corner of Taylorsville and Bardstown.
In the end, Louisville flexed its offensive rebounding muscle and fashioned a 9-0 run to pull away to a 75-65 victory. Before that run, it hadn't led by more than six. But after exiting a stinging locker room, Davenport said he was happy with his team's effort and performance.
"I'm incredibly proud of our guys," Davenport said. "My message to them after the game was simple: you learn from this incredible learning opportunity tonight. There's no limit to this basketball team. I understand (Louisville) is short-handed, I get that. But this learning environment tonight, as a teacher, is not going to be equalled by anyone in Division II basketball. This was an incredible learning opportunity for us. That's the luxury of coaching this team and these type of young men because they embrace that opportunity to learn. I would be shocked if tonight, there will be guys in Knights' Hall (practicing). . . . Wouldn't be surprised one bit. They're amazing."
This wasn't a game where Bellarmine punished an opponent in three-point shooting. In fact, it was just the opposite, with Louisville making eight threes to just five for the Knights. But without Enoch or Williams in the post, Bellarmine's bigs found success getting to the basket off the dribble. Alex Cook, a senior out of Male High School, had 20 points and nine rebounds in 33 minutes.
Ben Weyer, a senior from Fort Thomas, Ky., added 15 points and guard Dylan Penn had 13. Bellarmine led for only 7 ½ minutes of this game. But was in the game into the final minute.
That's certainly something Davenport can build on, and he'll need to build quickly. The Knights' next exhibition is on Friday night at Notre Dame.
"We're going to be better tomorrow," Davenport said. "I can tell you that right now. At 3:30 at practice (Wednesday) we're going to be better. What makes that great is, it's one thing to have a staff who want to get better. When you have 16 guys that are not very happy that are going to want to go in there and get better, you're good. We're going to practice 2 p.m. Thursday. Bus (to South Bend) at 4 p.m. We're going to stop a little over halfway to Notre Dame. Then we have an 11 a.m. walkthrough Friday. We play at 7 p.m. and we're going to come back Sunday and get better again. It's unbelievable. I'm incredibly proud of our guys. I really am."
Louisville and Bellarmine have met 10 times in exhibition games, with Louisville winning all of them. If they meet next season or anytime after, it'll have to be a regular season game. At the moment, that doesn't look likely. Louisville coach Chris Mack said on his radio show this week that next season's schedule already had been filled, but that "I can see us playing down the road."
The teams have met 12 times in the regular season, with Louisville winning all of them. Peck Hickman took Louisville to play in Knights Hall in 1960. Denny Crum's first career victory came against Bellarmine. Davenport is a U of L alum, and was an assistant to Hall of Famers Denny Crum and Rick Pitino. He won a state title at Ballard High School and coached future U of L star DeJuan Wheat.
Let's hope the series continues. Regardless, Davenport expressed nothing but appreciation on Tuesday night.
"First and foremost, let me say, because of our players, and secondly because of our university, we are appreciative of the opportunity," he said in his opening remarks. "What an opportunity to play in the best arena in the country with 15,000 and change in here tonight. They just asked me outside, your love for the university -- that's a distant, distant, distant third, because I'll challenge anyone who loves this university more than me. Two degrees, and 39 hours over my Master's and I'll take you on. I grew up five blocks away. . . . But what an amazing opportunity for our players, and we're so appreciative. . . . It'll be great for our basketball team, and I'll lay my head down tonight in total confidence they'll learn from this."
Copyright 2019 WDRB Media. All Rights Reserved.