LOUISVILLE, Ky. (WDRB) -- The trip in for the first Louisville Football Kickoff Luncheon since 2019 began with some somber words from Kentucky Gov. Andy Beshear. I was listening on the radio.
During a coronavirus briefing, he noted what is happening in surrounding states, he noted some trends in Kentucky hospitals, and he said he expects the state to have more people hospitalized with COVID-19 than at any point in the pandemic by the end of this week.
Then I parked my car, turned the radio off, and walked into a sold-out ballroom of 1,100 largely unmasked and highly celebratory people ready to proclaim an end to caution and a return, at long last, to proper football. Or at least, proper football fandom.
My heart is with the fans. I want them at games. I don't like games without them. And when it comes to outdoor sports, I think they should be there without restriction. I'm hoping to be there, too, on the field if possible, sitting up in the press box if not.
My head, however, knowing what the governor knows, and what we all have seen, isn't buying into it just yet. And I sure wasn't walking into that ballroom teeming with people without an N95 mask pulled tighter than Malik Cunningham's chinstrap.
And I wasn't hanging around in there long. And I sure wasn't taking my mask off to eat. Yes, I've been vaccinated. Yes, I feel like if I got COVID, I'd be all right.
I don't want to get it. I don't know what long-term effects it could have. I don't know what it would do with my blood pressure, which already wants to climb. I don't want to miss a week or two of work just when things are getting fun again. And I don't want to give it to anyone else. Those are my choices. Others can make their own.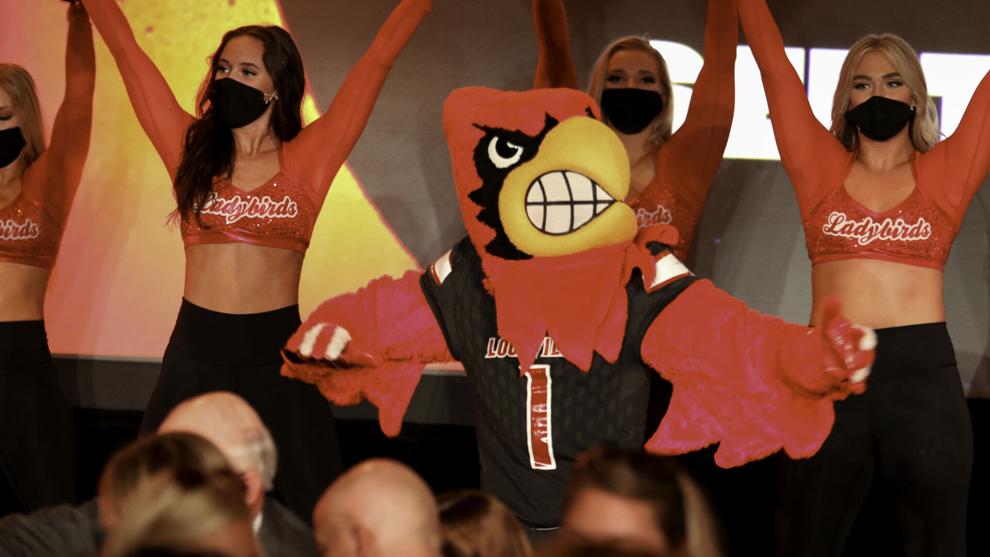 I followed the Louisville team buses, five or six of them, into the Galt House as they made their way in. Players filed off, each wearing a mask, which they continued to do, even in the hallway outside the ballroom, even once sitting down, all on a far side of the room, after walking through it and greeting fans on the way to their tables.
Walking up the stairs from the parking garage, I saw a text from the Student Government Association at U of L, reminding students (and everyone else) that the university is requiring masks of anyone who enters a university building, vaccinated or not.
Yet five miles down the road, football players would soon be subjected to an indoor crowd of more than a thousand without their masks. Now, the good news is that the team is more than 90 percent vaccinated.
We're not talking about life and death. We're talking, again, about getting sick, missing three or four days of workouts, and setting yourself behind in what already is going to be a significant opening-game challenge against No. 25-ranked Ole Miss. The game is a few weeks out. Everything should be fine. Unless it isn't.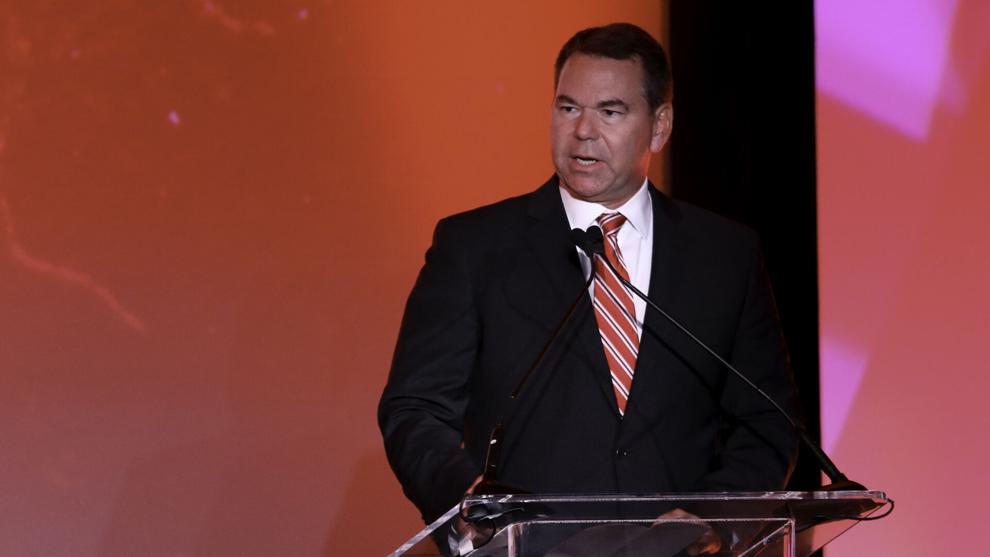 I'm not unsympathetic to the whole thing. Heck, I was in the room myself. I wanted to hear a bit of it, and take some photos.
Louisville athletics director Vince Tyra stood up and welcomed the crowd, said, "I love seeing over a thousand people in this room. I love seeing you, period."
And he's hoping to see many thousands when the games are played. He has a business to oversee.
I hope they can be there, too. But events like this continue the inconsistent messaging from schools, businesses and governments. What is advised against in one place is forgotten in other.
The vaccine part of the message is ended. Get vaccinated. Go in peace. On to some football.
"A season of redemption"
Tyra introduced this phrase, and while I don't know how much redemption the Cardinals need after a COVID-plagued campaign in which they weren't right in most of their losses, I suspect the motto will stick.
"As I look at this season, it really is a season of redemption to allow us to reset the trajectory of this program," Tyra said. "We had our challenges last season for sure, COVID wasn't friendly to us. But coach (Scott) Satterfield never complained about it and the guys never did. They fought extremely hard in all of those games and we were close in many of them. They didn't go our way last year, the year before they did and they will this year."
That's a pretty powerful paragraph from Tyra, who also reiterated his full support for what Satterfield is building, and how he is building it.
There was little complaining from Louisville football last season. And the program played (and lost) at least one game that it could've legitimately gotten out of. Nobody gives you credit for those at the end of the day, but they should.
I like the way Satterfield talks about this team.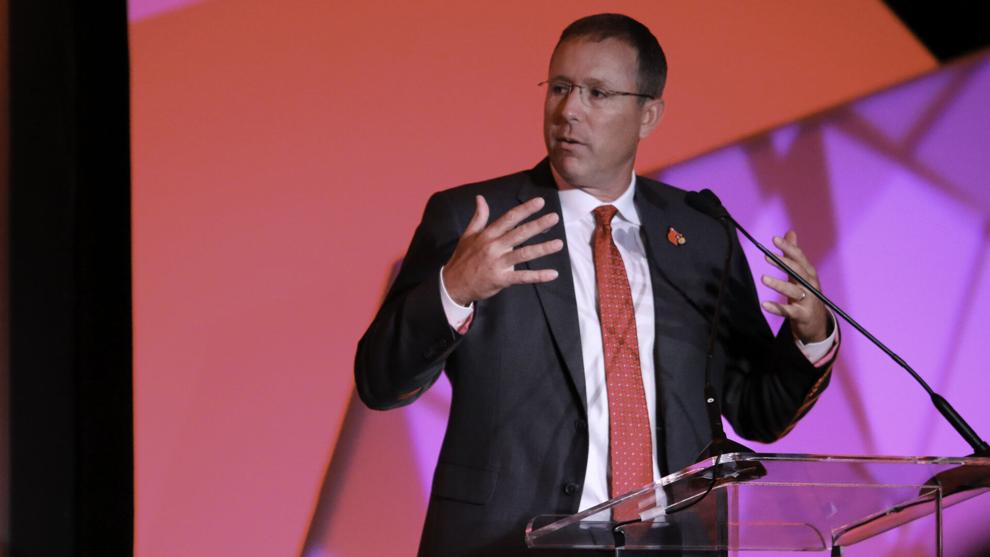 "When we came back after the Wake Forest game, which was a really good game for us, ending on a high note and a really big win for us, come back and you never know what to expect," Satterfield said. "And these guys came back so hungry, so ready to put the work in. From Day 1 in January when we got back in January to this day right now they've been a tight, cohesive unit. They pull for each other. . . . I think this is a special team. It truly is. The camaraderie. The chemistry. Just the way we're practicing right now."
Now, we all know, luncheons are never the place to get serious football handicapping. (Anyone remember Bobby Petrino saying he expected his last Louisville team to beat Alabama in the opener?)
Whether the chemistry and work Satterfield is talking about are enough to win in the ACC the way the program aspires to, who knows?
But we do know this – you can't win without doing those things. You can't win without holding your head up through adversity and learning from it and coming back more determined.
That's the starting point for Louisville in 2021. With luck, they'll be playing on college football Saturdays (and Mondays, and Fridays) that look like they used to look, even if COVID is proving tougher than a banquet steak to put behind us.
Copyright 2021 WDRB Media. All Rights Reserved.