LOUISVILLE, Ky. (WDRB) – The euphoria had taken place. Freshman Alex Binelas, with the bases loaded and two out, had singled up the middle for a walk-off RBI, leading the University of Louisville baseball team past Illinois State 4-3 for its eighth NCAA Regional title on Monday.
Binelas leaped into the air as he passed first base. He flung his helmet into the air. He turned and a wall of teammates engulfed him, spraying him with water bottles, knocking off a shoe, driving him far out into right field before he fell at the bottom of a pile, his beard barely visible between celebrating teammates.
"First thing I remember is turning around and getting a face full of water," Binelas said. "And then all the guys running after me. I lost my shoe, my pads, everything. It was awesome. I'm sure I'll never forget it."
But there was a quieter moment soon after that he'll likely never forget. He sat down in a folding chair in the Louisville clubhouse, which doubled as the media interview room. As his teammates passed, they stopped one by one to say something.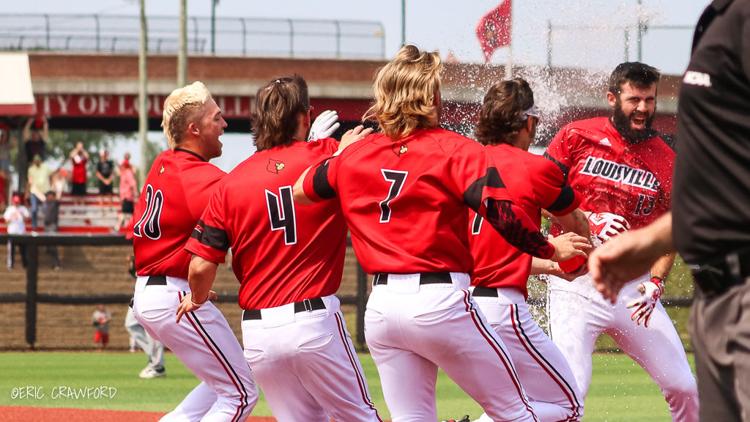 "I love you, Alex," some said.
"Another stopped to say, 'Thank you for extending my career, Alex, really.'"
They made a point to stop. And that kind of thing, the willing expression of appreciation, and support, says as much about why Louisville is heading to its eighth Super Regional as anything. Guys don't do that on their own. They do it because they're part of a culture that values it.
After the victory, Louisville coach Dan McDonnell expressed appreciation for his team's toughness. As he should. The Cards lost to Illinois State on Saturday, leaving them with the uphill proposition of having to win three games in a row to stay alive. Not only that, they had to get by without closer Michael McAvene, who was ejected from Sunday's first game for a comment he made about a ball-strike call. He is in the midst of a four-game suspension. His only presence on the field Monday was his jersey No. 41 hanging in the dugout and a "Free Mike" sign that someone had put up on the Central Avneue overpass.
Nothing about the way Louisville won this regional was easy. It lost a big lead and nearly let Indiana pull even. It was up 3-1 entering the ninth against Illinois State and then failed to turn a double-play, then center fielder Trey Leonard misplayed a line drive and it got to the wall, allowing ISU to pull within a run. Still, Louisville persevered.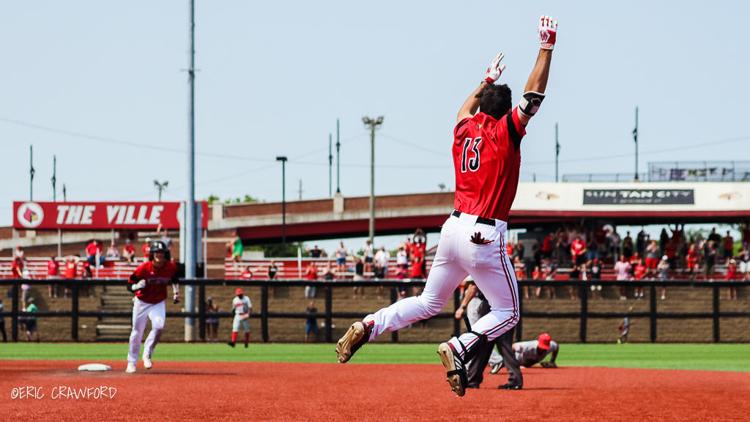 "Our team showed a lot of toughness, I'm most proud of that," Louisville coach Dan McDonnell said. "We've said, if the stars have to line up for you to have success, you're probably not going to be real successful. You've got to be able to handle the curveballs and challenges. I'm super proud of our guys, and happy to be in this position."
As much as toughness, however, Louisville won because of resilience. After Leonard made the error in center field, he looked crestfallen. As he ran in from his position, however, his teammates embraced him. As luck would have it, he was the second batter up in the ninth.
McDonnell wouldn't let Leonard feel down on himself. He inserted him as a pinch runner in the seventh and wound up scoring a run to put Louisville up 2-1. He talked to Leonard about what he'd done to help Louisville get into that position. Then he made Leonard smile by mentioning the character Linus from the comic strip "Peanuts."
"I challenge these guys all the time about toughness and the curveballs of life," McDonnell said. "It's a tough game, a frustrating game. You've got to be able to deal with failure. It's why I was teasing Trey about the Linus character on Charlie Brown. We challenge our guys not to be like Linus and carry your blanket behind you and be sad and mopey."
Justin Lavey got the ninth started with a walk. Leonard laid down a bunt and Lavey beat the throw to second. A sacrifice bunt and intentional walk loaded the bases. Lavey was thrown out at the plate on a ground ball, setting up Binelas' two-out heroics.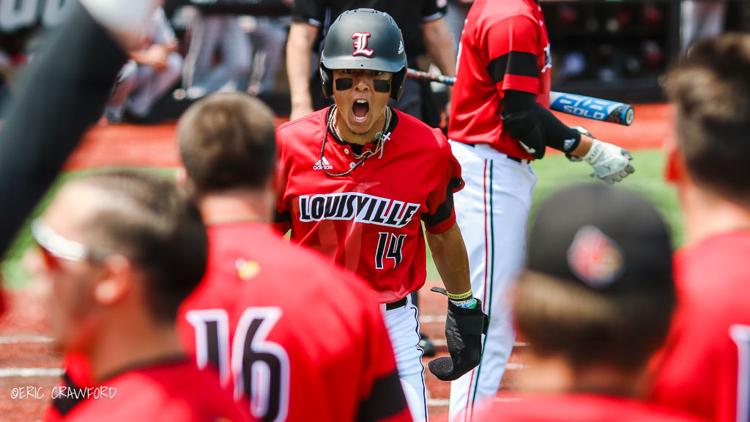 And here was Leonard, crossing the plate for the regional win.
"What makes this a great game is that you usually get a chance to redeem yourself," McDonnell said. "Not all the time, but a lot of the time you get a chance to redeem yourself."
And Louisville keeps redeeming. The regional Most Valuable Player was Jake Snider. The Louisville left fielder went 3-for-4, had a pair of doubles and two RBI. For the series, he was 9-for-20 with 5 RBI.
"I just didn't feel like there was any doubt, even going into the ninth inning, that we were going to win the game," Snider said. "We've seen a lot of times this season what this team is really made of."
The Cardinals turned to Nick Bennett for two scoreless innings to start the game. They got five innings of one-hit pitching from Bryan Hoeing to set up Jared Poland for a scoreless inning of relief. Michael Kiaran pitched well enough to get out of the ninth, but still wound up getting the win despite ISU's two unearned runs in the inning.
Now the Cards await their Super Regional opponent. It was far from a foregone conclusion. After they lost on Saturday, McDonnell talked to them about the 2007 team that went to the College World Series after losing a Saturday game in the regional. He gave them a list of No. 1 regional seeds who had done it.
He asked them, "Why not us?"
"I just wanted to make sure guys believed," McDonnell said. "You can do a lot of things with belief."
Now, the Cards will get to keep trying to do them.
IMAGES | Louisville baseball wins NCAA Regional
Scenes from the University of Louisville baseball team's NCAA Regional victory over Illinois State at Jim Patterson Stadium.
Copyright 2019 WDRB Media. All Rights Reserved.