LOUISVILLE, Ky. (WDRB) – With Jeff Walz resting Asia Durr and his No. 4-ranked University of Louisville women's basketball team facing No. 3 Connecticut on Thursday, a Sunday afternoon game against rebuilding Pittsburgh had all the makings of one that the Cardinals might overlook.
They didn't. After falling behind 2-0 in the first minute of the game, Louisville would not give up another basket for 15:33. They outscored Pitt 39-4 in that stretch, led 41-12 at half and, after losing interest during parts of the second half, walked away with a 70-42 victory.
On the sidelines, Walz was anything but happy for much of the second half, shuttling subs in and out at just about every mistake.
"The first half was fantastic," Walz said. "I was really impressed with us. We gave up zero second-chance points and two offensive rebounds, because we tried. . . . It was really impressive. . . . And then in the second I guess our players just decided to do what they thought was good. And that didn't work out very well. . . . (Pitt) had seven second-chance points in the third quarter and scored four of their first five possessions."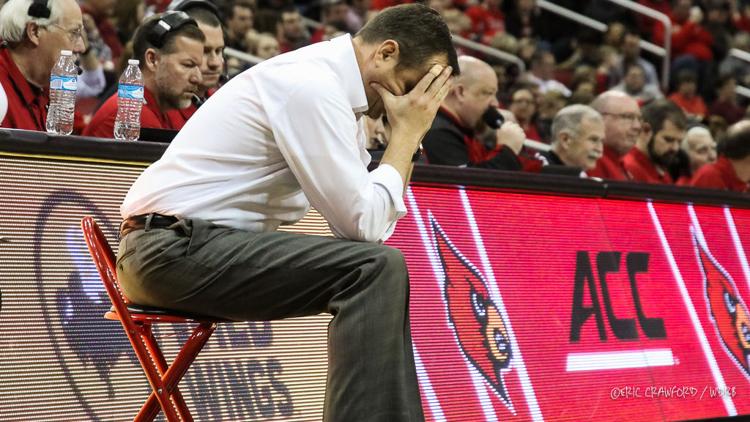 At one point, in a classic Walz pose, the coach sat with his head buried in his hands, his team up 25 midway through the third quarter. But Walz wasn't thinking about the score or opponent. He was thinking about the kind of execution and discipline that will required Thursday against UConn – and beyond.
"If you want to be great, you can't play the scoreboard," he said. "You have to keep grinding and battling for 40 minutes. Now that's tough. But that's what the great teams do, and that's what I'm challenging our group to do. . . . I told the players they're going to watch the game, and they're going to give us the breakdown of how they played and what they think they need to work on."
They're also going to need Durr at 100 percent and playing well. But Walz forsees no problem in that department. She sat as a precaution. She had complained of a sore knee last week, and Walz just wanted to give her time to rest a bit. Because of this week's UConn game, Louisville will have only one bye week in conference play. He had the luxury of resting her, and took advantage of it.
"She warmed up," Walz said. "If we had needed her, she would have played. But I just thought it was the best thing. . . . She's been playing a ton of minutes for us."
Before a KFC Yum! Center crowd of 10,067, Louisville got 16 points and seven rebounds from Dana Evans and 12 points and seven boards from Kylee Shook.
Louisville overwhelmed Pitt with defensive pressure for the entire first half, gave up only three field goals, and rebounded all but two of the Panthers' misses. Turnovers helped stall the Cardinals in the second half, but the ACC door was cracked open a bit by Notre Dame's loss to North Carolina. Now, N.C. State sits alone and unbeaten in league play.
But for now, all eyes turn to a non-conference test for the Cardinals, who are 1-17 against the Huskies, and haven't beaten them in Walz'z tenure. A year ago, they lost 69-59 in Storrs, Conn.
Walz said his players will be up for the game, but he doesn't think they've spent much time thinking about it up to now.
"I don't think they've thought about it until today, because we've had so many games to worry about, you just play them one at a time," Walz said. "But we'll be excited, no question about it. UConn's going to be excited. It's going to be a big game for both of us. I'm hoping to be able to get 16,000-18,000 in this place and have a great environment and hopefully we play well and they play well and it's a great game for women's basketball. It's a team we're like, 0-62 against, since I've been here. There's a lot of excitement about it, but at the same time no matter what happens on Thursday, we've got to turn around in a quick turnaround to go play at Clemson on Saturday."
Copyright 2019 WDRB Media. All Rights Reserved.