LOUISVILLE, Ky. (WDRB) – If there's a better breaker-upper in the college game than Kentucky coach John Calipari, I'm not sure who it is.
Calipari doesn't want good players to leave his program. Most coaches don't. But when players do decide to transfer, he rarely checks out on them. Most coaches say the right things. Most will give you the "wish them well" line.
Sometimes, that's the last time you hear about them. Bring up a player leaving and you're likely to get the suggestion to focus on the players who stayed. Transfers are the crazy relatives you don't talk about.
You never know about public statements, but Calipari looks for all the world as if he remains in the fan clubs of players who seek opportunity elsewhere. He Tweets about their accomplishments, takes pride in what successes they share. That certainly was the case with Kyle Wiltjer after he left for Gonzaga and Charles Matthews as he helped take Michigan to the NCAA championship game after transferring out.
So it was that when sophomore guard Quade Green decided to depart Kentucky earlier this week, Cal was ready not just with a smile, but with his support.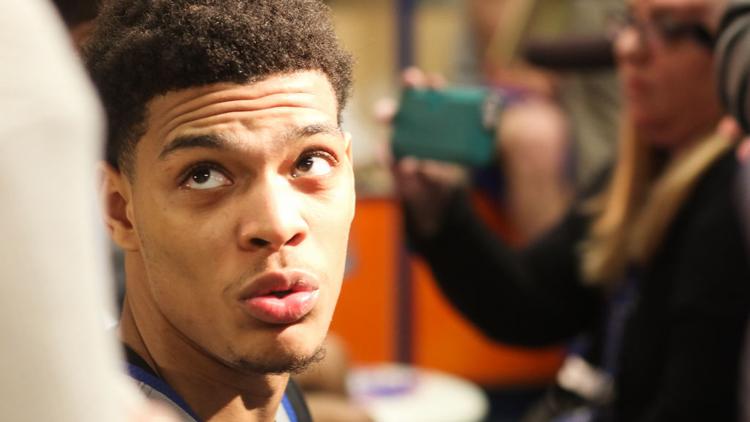 "I met with Quade (Tuesday) and we talked through a lot of different things," Calipari said. "The thing that struck me most is what a great kid Quade is. He felt like he was in a position that he couldn't overcome and he had the maturity to come in and sit down and talk through it with me. Quade has my full support with this decision. We haven't had many kids leave, but when we do, we always support them and, in just about every case, stay in touch with each other. I hope that will be the case with Quade."
In general, these kinds of moves don't play too well. Green looked at the backcourt landscape at Kentucky and didn't see a place for him. Sometimes you'd rather see a little more fight than flight from these players.
They have a name for the struggles of players in their second college seasons. The Sophomore Slump. If you fight through it, you come out in a better place. It doesn't mean you can't transfer and find more playing time. But at some point, for all of us, there are no more transfers. Eventually you have to fight to keep climbing, or level off.
Increasingly, that's not how college basketball works, and all you have to do is look at the numbers of transfers in college basketball to prove it. There were 875 last season, according to VerbalCommits.com.
All of those players deserved the right to transfer. I even believe they all should be able to play right away.
I also believe many would benefit from sticking it out. If you're playing at a place like Kentucky, even moreso.
Calipari sets a good example in his handling of these matters. In the end, if a player doesn't want to be around, both the coaches and players are better off if he isn't.
Whether the player is better off is another story. But that's a call they have a right to make.
Copyright 2018 WDRB Media. All Rights Reserved.