Writer's note: The italicized sections of this story are later additions to a story posted on deadline. Some include commentary, some expound on original points.)
CHARLOTTE, N.C. (WDRB) -- University of Louisville coach Chris Mack couched the Atlantic Coast Conference Tournament to his team as no-pressure affair. You know, come out, play a little hoops, move onto the NCAA Tournament.
(Couch? Upon looking up the verb definition, I probably would've been better off going with "pitched" or "presented.")
The Cardinals opened tournament play feeling good, sprinting to a 28-12 lead in the first dozen minutes before coasting to a 75-53 victory to set up a Thursday night showdown with No. 3-ranked and No. 2 seeded North Carolina at 7 p.m.
Louisville held Notre Dame 1-for-20 shooting during a long stretch late in the first half, but only led by nine at halftime because the Cards made just 3 of their final 16 shots themselves.
But a flurry of second-half three-pointers from Ryan McMahon and an all-around strong offensive night by Jordan Nwora was more than enough to carry the Cards to the comfortable win.
Louisville coach Chris Mack, along with Cardinals players Jordan Nwora and Ryan McMahon, met with reporters after Thursday's 73-55 win over Notre Dame in their ACC Tournament opener.
Some takeaways:
1). JORDAN RULES. Nwora, who was just named the ACC's Most Improved Player and third-team All-ACC in a vote of media and league coaches the day before, scored Louisville's first 12 points -- all of them in 4 1/2 minutes, to get the Cards off on the right foot.
"When he comes out hot like that, we all feed off him," Darius Perry said after the game. "He gets that look and you know he's got it locked in."
He finished the first half with 16, and added eight more for his game-high total of 24, topping the 20-point mark for the 13th time this season and adding nine rebounds to just miss his ninth double-double.
2). NO TURNOVER TROUBLE. One offensive problem the Cardinals have had is sloppy play leading to turnovers. That wasn't in evidence in the first half Wednesday. Their first turnover of the game didn't come until just 2:36 remained until halftime, when Ryan McMahon drove into the lane and lost the ball.
The Cards turned it over just three times in the first half and just six times in the game, their second-lowest total of the season.
Mack said this will be a big key against North Carolina on Thursday.
"We really took care of the ball except for maybe a two or three-minute stretch in the first half," Mack said. ". . . But keeping (North Carolina) out of transition, we've got to score. We can't turn the ball over. If we have live ball turnovers like we did at the end of the first half, that's going to put one of the fastest teams in the country in the open court. So we have to do a great job with our ball security, and then getting numbers ahead of the ball."
One note on turnovers: Nwora had at least one turnover in 24 straight games until Louisville played Notre Dame back on March 3. On Wednesday night, he had his second turnover game in the past three.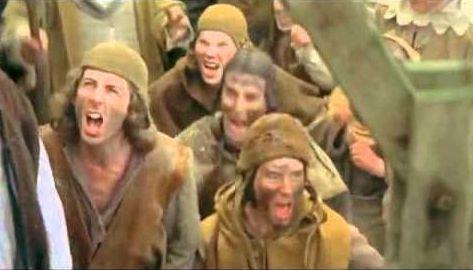 PERSONAL NOTE: Several Twitter followers accused me of being a "jinx" after Tweeting that Louisville hadn't turned it over on its first 20 possession. In fact, Louisville played six more possessions before turning it over after my Tweet. The real "jinx" was Courier Journal reporter Danielle Lerner, who Tweeted about the same topic just a moment before the streak without a turnover ended. She's a jinx! Burn her!
3). ENOCH ENOUGH. Steven Enoch had four offensive rebounds in the game, but all of them led to scores, including a pair of dunks. He finished the game with 10 points and seven rebounds.
The sophomore also had three blocked shots in a single sequence with just over four minutes left in the game. (He wasn't credited with official blocks on all of them, but trust me, they were blocks.)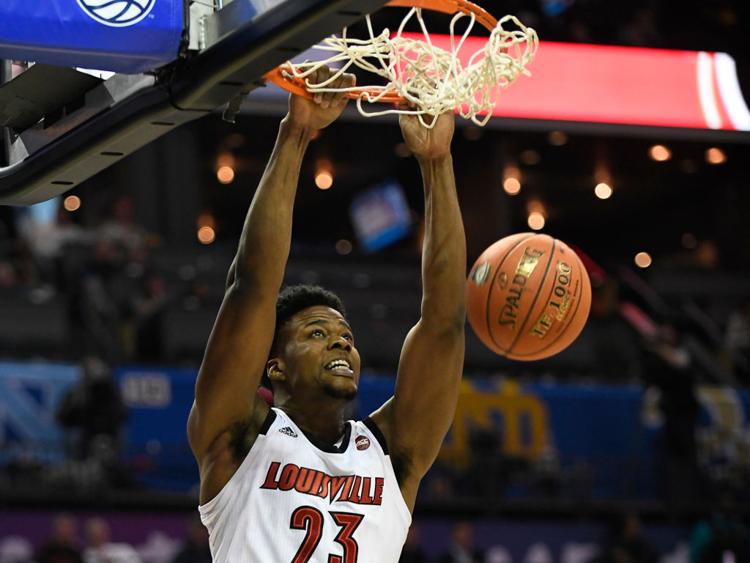 4). McMAHON, THE MAN. The game, for all intents and purposes, was over when McMahon heated up.
With 15 minutes left and Louisville up 13, the Cards started going to him. He flared off a screen and hit a deep three from the right wing to put them up 16. On the next trip down, less than 45 seconds later, he hit a deep three from the left wing and the Louisville lead was 19. After an Enoch dunk, McMahon hit another one and the Louisville lead was 22. And that was that.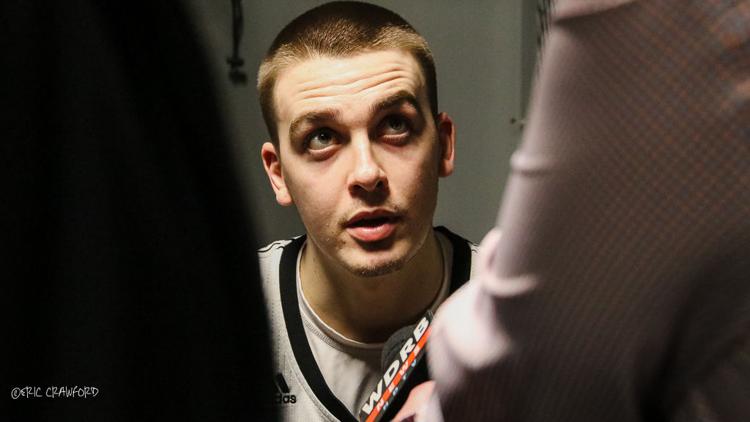 He also drew a foul and converted all three free-throws to finish with 12 points.
All three of his threes were in catch-and-shoot situations. After the game when asked about that, he smiled wide, and said, "I feel like if I can get the ball in that position, it's going in."
Said Mack: "I thought Ryan obviously, despite the turnover there in the first half, shot the eyes out of it. We ran a few plays for him. You know, it's nothing that we don't expect. If he gets some daylight, we feel like it's going in."
5). NEXT UP. Louisville gets North Carolina. They beat the Tar Heels by 21 in Chapel Hill this season, then lost to them by 10 in Louisville. UNC, which comes into the game as one of the nation's hottest teams, has won seven straight and 14 of its past 15.
The last time Louisville faced North Carolina in this building, Andre McGee was its point guard and David Padgett was its center. UNC won that game 83-73 to reach the 2008 Final Four.
I always thought that might've been Pitino's most talented Louisville team. If they play anyone other than North Carolina (in a virtual road-game situation) they go to the Final Four.
One More thing: Mike Brey on Louisville, said, "Chris has done a fabulous job, and they really have physicality. I mean, they have got bodies that can get out to you. . . . I thought Louisville was really good, and just kind of wore us down physically."
Finally, appreciated a chance to interview Louisville AD Vince Tyra for a group of Louisville alumni before the game. They'll have fun in Charlotte for at least one more night.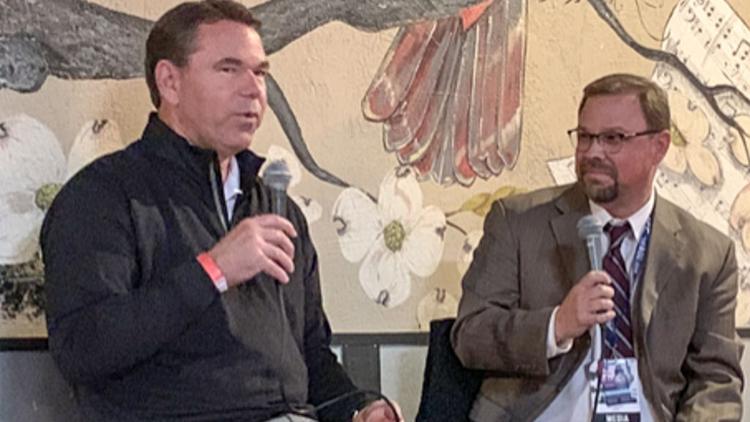 Copyright 2019 WDRB Media. All Rights Reserved.