LOUISVILLE, Ky. (WDRB) – Here is the transformation Kentucky football has made. It has transitioned from the nation's longest losing streak to a single opponent (Florida, 31) to kicking itself over being the better team and losing to Florida Saturday night.
Kentucky should've beaten the Gators Saturday, and it wasn't the first time that had happened. But now the challenge for coach Mark Stoops is to make sure it does what it is supposed to do next.
While everyone else (including oddsmakers) is beginning to suspect that Kentucky is descending back into business as usual after a season in the spotlight with Josh Allen and Benny Snell, the Wildcats can show otherwise if they bounce back with road wins at Mississippi State and South Carolina.
Their problem this Saturday in Starkville is that MSU needs to bounce back, too. The Bulldogs just lost at home to Kansas State, and have yanked their starting quarterback in each of the past two games.
With that background, a look at some of this week's storylines:
1). BETTER BOUNCE-BACK? This is not a new challenge. Last season after Kentucky fell to Georgia in the program's biggest game in a decade, it was flat the next week and got drilled 24-7. The season before, after a similar "should have won" loss to Florida in Lexington, they went through the motions in beating Eastern Michigan 24-20.
Stoops needs his team to guard against one loss becoming two.
"Well, yeah, it's a big, big focus this week," he said. "I talk about each situation every week. With this, moving on to Mississippi State, we don't have much time to dwell on it. It's next man up, next battle, next punch, next time to get another opportunity against a quality team on the road."
2). ROAD READINESS: Kentucky hasn't won in Starkville since 2008, and there have been some ugly losses there in the interim.
Stoops is particularly concerned that he has some young players in their first college road game – in an environment that isn't all that hospitable for visitors.
"With some young guys going on the road, going down there, they'll be rocking their cowbells, it will be a raucous crowd," Stoops said. "Been guys that haven't been exposed to that yet. We'll try to get ready for that this week. . . . If things get rocking, you probably heard last week, we had crowd noise at practice, some young guys, they've never been out there when it's loud. It's not just the offenses that have a hard time communicating. Defenses do, as well. We practiced that last week. We had crowd noise very, very high in certain periods to make them look at each other and give hand signals. In practice they get in a comfort zone with their checks and calls. You can't do that in a game, home game like that. . . . Inexperienced guys got to understand under that extreme pressure, their habits are going to come straight to the surface. We got to create winning habits, do things right all the time, over-communicate."
3). FEED THE STUDS? It seems like since the days of Randall Cobb (why isn't he getting the ball more?) you've heard questions about why the Wildcats' most dangerous offensive weapons aren't being utilized more often. That subsided with Benny Snell last season (though you did hear it in his early days), but could fire up soon again in a couple of spots for the Wildcats.
When UK elected to run A.J. Rose twice in critical short-yardage situations, one of which lost yardage and a second of which resulted in turning it over on fourth down when a blocking assignment was missed in the fourth quarter, more than a few wondered why Kavosiey Smoke wasn't on the field.
Through three games, Smoke leads the Wildcats both in rushing yards (251) and yards per carry (7.4) but is No. 2 on the team with 34 carries to 47 for Rose (192 yards, 4.1 per carry).
"(Smoke) is doing some really good things, making good cuts, some strong runs, breaking tackles, some good things," Stoops said. "It's interchangeable. It can change. It's not to say that it won't. But you're correct, I mean, a lot of times it's just by series, who's in there. Sometimes based on carries is how we're doing on that particular drive."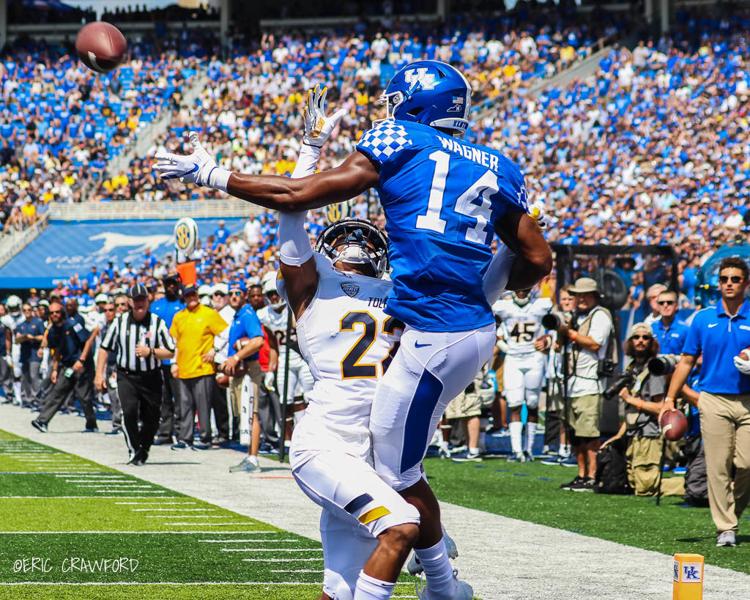 At wideout, Lynn Bowden is undoubtedly the go-to player. He has 20 catches for a 10.1 average on the season. But Ahmad Wagner cannot be ignored. The big man with great hands has caught nine passes in 11 targets this season, averaging 22 yards per completion. And when he's not catching the ball, he's drawing pass-interference penalties.
Kentucky has run 216 plays from scrimmage in three games, with Smoke and Wagner accounting for just 46 of those plays (fewer combined than Rose, in fact, who has 55 rushes and targets combined).
In short, those two guys are too good not to get the ball more. With a defense that is young in the secondary and a quarterback suited to a pro style, Kentucky might be well-served to open things up and to focus on its playmakers more in the coming weeks.
4). KNOW THE ENEMY: While Kentucky has a young secondary hitting the road for the first time, whether Mississippi State, under second-year coach Joe Moorhead, can take advantage of that is another thing altogether. The Bulldogs started senior Tommy Stevens in the loss to K-State, but after he went just 7-15 for 100 yards and a pair of picks, they handed the ball to Garrett Shrader, but he went just 4 of 12 for 51 yards. It was the second straight game where Stevens was yanked in the second half.
Whether either can execute well enough to consistently exploit any problems in Kentucky's secondary is questionable.
Mississippi State also has had trouble after heavy offseason losses on defense, and gave up a kickoff return touchdown last week, on top of it.
The Bulldogs' main strength has been their running game, behind Kylin Hill, a 5-11, 215-pound junior who is third in the nation in rushing 431 yards through three games.
"(Moorhead) just does a nice job. Similar in a lot of ways to Florida, the way they were years ago with Dan," Stoops said. "I say it in this way: they all want to be physical. It starts with a physical attack. They're committed to being physical and running the ball. With that, that sets up a lot of play-action, double moves, max protect, pushing the ball, getting the ball down the field."
5). VEGAS VIEW: MSU opened as an 8.5-point favorite, and is listed as a consensus 7-point favorite with an over-under 49 as of noon on Monday. Kentucky has beaten the spread in every game this season, and hit the over.
Copyright 2019 WDRB Media. All Rights Reserved.