LOUISVILLE, Ky. (WDRB) – For just a moment, Louisville basketball fans in the packed KFC Yum! Center and those watching at home on ESPN got a taste of what it was like to be back.
This was a buzz that hadn't been felt in the building since before the postseason ban. For 30 minutes, No. 16 Louisville dominated No. 2 Duke, and on a crazy night in college basketball, everyone was mesmerized.
But in the span of 10 minutes, Louisville went from being back, to back to the drawing board. As if Louisville needed any more cruel twists, Duke used (of all things) a 2-2-1 full-court zone press to storm from 23 points down to stun Louisville back to reality, 71-69.
The same press Denny Crum made famous in this city. The same ball pressure Louisville has used for years to unravel opponents – including Duke on occasion. For Louisville in the final 10 minutes – as it had down the stretch in a loss at Florida State – the press read like a mystery novel.
Louisville didn't see it coming. At one point, before the fall, Jordan Nwora begin motioning to the student section and smiling. And why not? It wasn't Duke's night. Its field goal percentage was roughly equal to the wind chill outside the stadium.
Duke coach Mike Krzyzewski had already resigned himself to "teaching his team a lesson" mode. He told his guys they weren't losers, but they were playing like losers.
I was struck by that moment because, one, Louisville and its fan base deserve it after all they've been through and, two, with more than 10 minutes to play, it was a little too early to be smiling so much against a team as talented as Duke. In fact, I took a photo of it. Had Louisville won the game, it might've been the main image – the moment when Louisville basketball was back.
Instead, Krzyzewski decided to ramp up his press, and Louisville folded like a road map.
I'm not sure what's worse for the fans. To feel like your program might never get back, or to play well enough to be "back," then to give it all back.
All I can say to those folks looking for a bright side today is this: Sometimes the lights have to flicker before they come on. And if nothing else, this Louisville basketball team has been flickering the past couple of games.
Even after a dispiriting loss at Florida State, the Cardinals reinflated and took the game to Duke from the opening tip.
"I literally feel bad for them," Krzyzewski said after the game. "They were so damn prepared for us, so well prepared, and my level of respect was already high, but it's even higher after this game."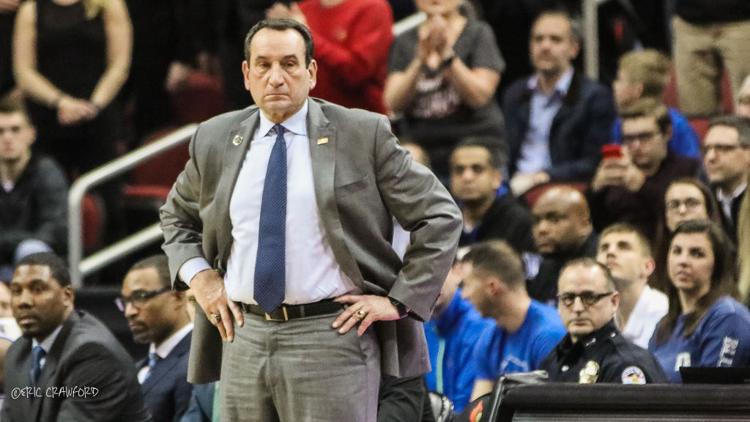 A little less than a year ago, I worked on a column after Louisville had given away a four-point lead in the final second of a game, likely losing a trip to the NCAA Tournament. That was as jarring a loss as I've ever witnessed.
That loss was a knockout. This loss was, for Louisville fans, like being punched for the final three rounds.
I suspect, however, given how the team played to open this game, we'll see it get back off the mat.
Louisville coach Chris Mack was pretty on-point after the game.
"I'm really proud of my team. They competed their tails off," he said. "We played as hard as we've played all year. We dominated the best team in the country for 30-something minutes, and we have to figure out how to close games. I say we, that's me, that's all of our players. We've got to figure out how to finish games and close games when teams are in panic mode and they're drawing up defenses in the sand. Give Duke great credit, their kids never quit. They battled, they turned us over it seems like 1,000 times in the last four or five minutes. I'm stunned, but I love my group, I feel for them. As I said, I thought we outplayed the best team in the country for a long time and our team will grow from this. As hard as it is to accept, we're going to grow from it and there will be better times."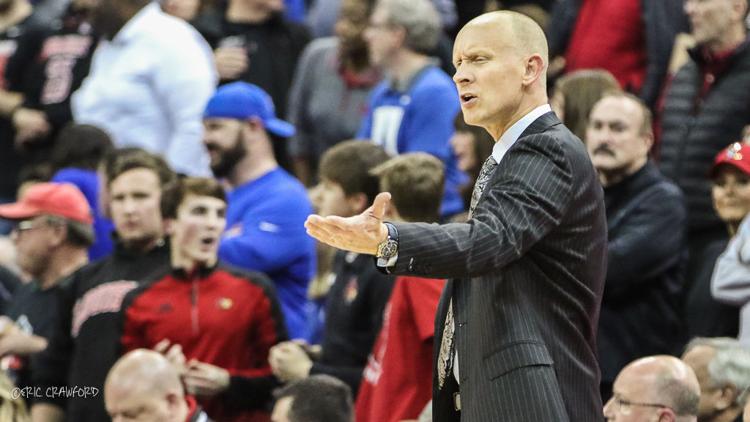 What stings here is the opportunity lost. The chance to score that kind of win over that caliber of team doesn't come around often, and to give it away – and Louisville did give it away – is tough to accept.
Up by 20, the Cardinals allowed themselves to be sucked into a quick-shot, uptempo game that is exactly what Duke wanted. When Krzyzewski was worried about his team going down by 30, Louisville was playing into the Blue Devils' hands.
Then, in the face of a Duke run, Louisville panicked. I'm less certain that it was an inability to handle defensive pressure than an inability to handle the pressure of winning.
In two straight games, this team has stared stunning success full in the face – and flinched. At some point, the thought of, "Hey, we're not supposed to be doing this," has to be banished.
None of these players have ever experienced success at this level of college basketball. They didn't have a signature win last season. Sometimes you don't just have to learn to play, you have to learn to win.
"We're not going to get a magic potion sprinkled over our guys," Mack said when asked about shoring up his press offense. "Or come up with some elaborate press-break . We just have to be men with the ball. We've got to meet our passes. We have to pass fake and we have to make the right decisions. . . . You know, we haven't played timid all year. But, when you get in that situation, they're humans. They're great humans. It's one of those things where, when they saw the lead evaporate, they're trying to make the best play they can. But my job is to keep these guys up. I told them, that's the best team in the country and for 30 some odd minutes we were clearly better."
Mack said he foresees no letdown. To reinforce it, he took to Twitter after the game.
Tough night. Love this group. We will get better. Stay with us #CardNation.

— Chris Mack (@CoachChrisMack) February 13, 2019
"I feel like I have some of the best guys in the country in that locker room," he said. "They have great character. We come back on Thursday, we practice again and keep stressing the same things we do every single day. And just try to grow from it and get better. . . . It's sports. Adversity is a fact of life, man. You're talking to a guy that had three ACL tears in college. Thought he was going to the NBA and, boom, God had a different plan. So if we have the opportunity to learn from some tough times and tough moments, then that is exactly what we are going aim to do. My belief in these guys is crazy strong and that's not going go away after a really tough loss. But hey man, you lose some tough ones. If you're going be in sports at this level, it's going happen."
Copyright 2019 WDRB Media. All Rights Reserved.