LOUISVILLE, Ky. (WDRB) – Louisville women's basketball standout Hailey Van Lith is routinely listed as among the most valuable athletes in college sports, when it comes to Name, Image and Likeness earning potential.
But the Cardinals' sophomore guard says she's looking for more than just money when putting together potential partnerships. One twist to her deals is that she wants to involve teammates, or other athletes. And she asks that they have a community service component.
So it was on a sweltering Saturday morning that she took to the stage to welcome kids from Louisville's Family Scholar House on behalf of one of her sponsors, JCPenney, for a $150 back-to-school shopping spree for each child present. Teammates Mykasa Robinson and Chryslin Carr helped in the event, which featured a mobile stage with local entertainers, lawn-style games, local food and, most of all, the shopping.
"For me an option you like this where I get to involve the community, involve my teammates, other athletes, that's really all I'm looking for in NIL," she said. "Because at the end of the day, I'm going to be a pro, no matter what, and I'm going to have those marketing opportunities. But I think in college, I have this really unique position to help the community that I'm a part of, and so I've done stuff with Grace James Academy, I'm now doing stuff with the Family Scholar House. And it's just a really great opportunity to better our community, our kids, give them better opportunities, surround them with successful young women and men that play at the college level. So anytime I can do that, that's really my goal."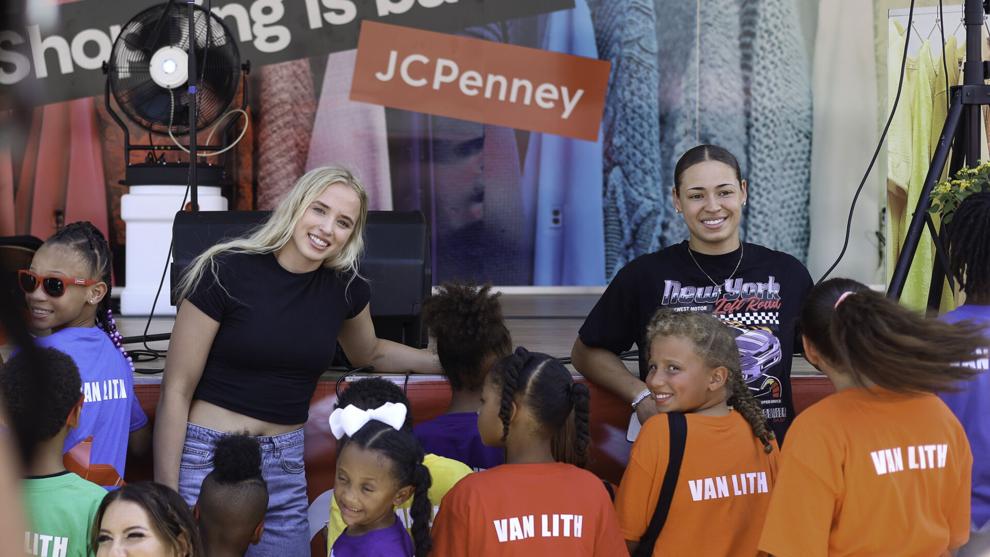 She has a small team of advisors, plus her parents, who screen NIL offers, but she makes the final calls, and the deals have to do several things.
"I'm very involved," she said. "My team does a great job of involving me with my negotiations and what I'm willing to do, and I'm very much in charge. They know my rules, they know what I'm looking for in a deal. And they always make sure it's there, whether it's my teammates, my community, any foundation that I like to partner with. So, I have very tight guidelines of what I like to have."
She has partnered with JCPenney in its 120th anniversary year. She recently did a commercial shoot for Dick's Sporting Goods. Yesterday's event celebrated a "Shopping is Back" message at the retailer's Mall St. Matthews location.
But mostly, Van Lith's summer has been basketball, working out with a trainer, and representing Team USA in 3x3 basketball in Belgium last month.
"It was actually probably one of my favorite foreign trips that I did with USA," she said. "It was just really fun. It was my first senior event. So it was a different vibe, competitiveness-wise. I was playing with kids that were my age, so lit was a totally different experience. But I'm glad I did it and it made me better."
Coming off the Final Four run last year, Van Lith said she bounced back from the national semifinal loss pretty quickly. But she said the team will take motivation both from how far last season's team went, and how the season ended.
"You can be happy that it happened, but we definitely did fall short," Van Lith said. "We had national championship goals. And we're very proud of how far we went. But at the same time we're very focused. The girls are working really hard already. We already have a huge goal to make it farther than we did last year. And I think it really motivated us, like we can get here and we can get farther. So it's a big inspiration for us. . . . I think one thing I really learned last year is just to enjoy life outside of basketball. Obviously, I was very upset that we lost and I'm a very competitive person. So, to this day, like it's still hard to think about. But I'm really excited to have another opportunity to get farther. We played really well. I played really well. I have things to get better at. So, I'm mostly just focusing on the opportunity to get better."
Family Scholar House provides comprehensive, holistic services for disadvantaged single-parents, their children and foster alumni. What began with only four families is now headquartered in Louisville serving more than 9,000 people annually. The organization is focused on education as a primary path for ending the cycle of inherited poverty. To find out more about the organization, visit its website here.
IMAGES | Hailey Van Lith at Family Scholar House shopping spree at JC Penny
Copyright 2022 WDRB Media. All Rights Reserved.