BLACKSBURG, Va. (WDRB) – The only way to survive in conference play is to get over disappointment really fast. The University of Louisville basketball team deserves credit for that.
The No. 15 Cardinals beat No. 11 Virginia Tech on Monday night, getting 17 points each from Ryan McMahon and Dwayne Sutton to storm back to life in an impressive 72-64 victory in a game where they were four-point underdogs.
After a 10-point loss at home to North Carolina Saturday, the Cards turned around quick for a Big Monday ESPN showdown at Virginia Tech. The game was sold out, and a blackout for Tech fans.
It was a chance for a national showcase for a program that has deserved more national attention all season. The Hokies ranked among the top 20 teams in the nation in offensive and defensive efficiency coming into the game, and had just held N.C. State to the lowest point total for a ranked opponent since the shot clock era began in college basketball.
From a momentum standpoint, they had it all. And Louisville has been hearing all season about how it was in for a rude awakening when the calendar turned to February.
From the way it played at Virginia Tech on Monday, Louisville is plenty awake. And has been for a while.
"I'm proud of my group," Louisville coach Chris Mack said afterward. ". . . This was a good bounce-back win for us."
Some quick takeaways from as hard-earned a road win as Louisville has collected in a while.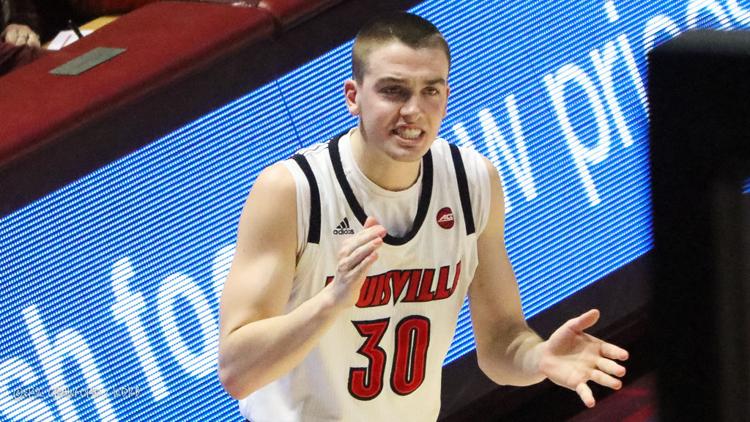 1). McMAHON? THE MAN. Midway through the second half, with Virginia Tech having pulled within three, McMahon got into one of those zones. He was fouled on a three-point try and drained all three free-throws. Then he hit a three-pointer from left of the key and Tech called a timeout. Following a Hokies turnover, McMahon hit another three, and Tech called another timeout. This time, the Hokies answered with a Ty Outlaw three, but McMahon topped it on the other end with an off-balance three from the right wing, and Louisville led 53-41, a lead it would extend to 15 points.
For the game, McMahon scored 17 points, and Louisville made 4 of 5 three-pointers to help offset the Virginia Tech onslaught.
"After I make the first one, I always feel like the next one is going in," McMahon said. "And my teammates and coaches will do a great job looking for ways to get me open or get me the ball. . . . But my favorite thing is after I hit a few it will open the court up and I think you saw CC (Christen Cunningham) and Jordan (Nwora) get in for some layups after that."
2). REBOUND REBOUND. One game after being destroyed on the boards, Louisville outrebounded Virginia Tech 31-25.
Dwayne Sutton, Jordan Nwora and Malik Williams were the biggest cleaners of the defensive glass for the Cardinals, who held Virginia Tech to just two second-chance points in the game.
"It wasn't just the North Carolina game, but the game before we were dominated on the offensive glass and we knew we had to put a stop to that," Williams said.
3). THREE-POINT ATTACK. Virginia Tech came into the game one of the nation's top three-point percentage shooting teams in the nation, and the Hokies have shown over the course of the season, they're going to make their share.
Louisville was able to fight fire with fire, hitting 13 of 27 from beyond the arc -- while it made just 11 of 26 from two-point range.
4). LATE POISE. I could just cut-and-paste this paragraph, but when Louisville needs poise, it has an unlimited supply in Cunningham.
After Louisville grabbed its 15-point lead, he kept the Cards settled. He slowed the tempo, knowing how explosive an offensive team Virginia Tech is, limiting its possessions and shortening the game.
Cunningham also scored seven points and dished out six assists.
Give credit, too, to Jordan Nwora, who scored a calm, cool and collected 15 points to go with eight rebounds.
And the Cards went 11-12 at the line.
Copyright 2019 WDRB Media. All Rights Reserved.