LOUISVILLE, Ky. (WDRB) – The University of Louisville women's basketball team -- hindered by serious foul trouble from the midway point of the second quarter on – mounted a furious fourth-quarter rally behind some unlikely catalysts before falling to No. 1 Notre Dame 82-68 on Thursday night before a sellout crowd of 9,149 in the Joyce Center in South Bend.
In an ESPN national showcase game, the Cardinals erased a one-point deficit at the end of the first quarter to go up seven late in the second before Notre Dame cut that margin to two at the half.
The Irish ramped up their defensive pressure and had success pounding the ball down low to lead by 10 at the end of the third quarter, and things looked bleak for Louisvile.
But when Dana Evans fouled out, freshman Mykasa Robinson checked in for Louisville to give the Cards a lift. She sparked a 14-4 Louisville run, along with Bionca Dunham down low, to make it a 2-point game at 68-66 with 1:48 left.
But Notre Dame got a post basket from Brianna Turner, and All-American Arike Ogunbowale nailed a three-pointer on its next trip and the threat was averted by top-ranked Notre Dame.
The Irish built their final margin after Dunham was called for an unsportsmanlike foul late in the game that wasn't fully explained. Notre Dame's final margin was its largest lead of the game.
Regardless, the Cardinals suffered their first loss of the season after a second straight 14-0 start.
Louisville was led by Asia Durr with 29 points on 9 of 20 shooting. Dunham, with 10 points, was the only other Louisville player in double figures. Four Louisville players, three of them starters, fouled out.
Notre Dame crushed the Cardinals on the boards, 48-32, and outscored Louisville 20-5 on second-chance points. The Irish also outscored Louisville 23-6 on the fast break and outscored the Cards 29-12 from the free-throw line.
Notre Dame improved to 103-3 in their past 106 home games, with the only three losses coming to Connecticut.
Ogunbowale, who had only four points at halftime, was virtually unstoppable in the second, and finished with a game-high 30.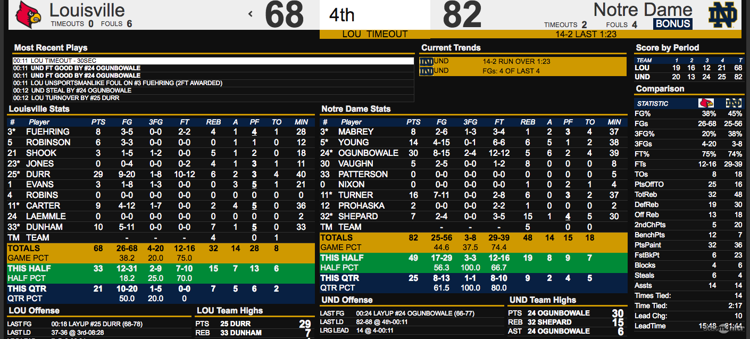 Copyright 2019 WDRB News. All Rights Reserved.