LOUISVILLE, Ky. (WDRB) – You couldn't walk through a door in the Howard Schnellenberger Football Complex this week without seeing a sign that said: "Scar down." With it was the message, "Sometimes you have to go through the darkness to get through the light."
On an overcast day at Cardinal Stadium, the lights came on for the Louisville football team. There was no drama. No fourth-quarter awkwardness. No more scars. Louisville throttled Syracuse 41-3 in front of a crowd that came to celebrate the retiring of Lamar Jackson's No. 8 and got a bonus football celebration instead.
The Cardinals hustled to a 14-0 lead, neutralized a powerful Syracuse rushing attack that was ranked third in the nation coming in, and stayed on the gas to lead 35-3 at the half leading into the Jackson celebration.
For once, all the cylinders were firing.
"It was glorious," Louisville coach Scott Satterfield said. "My mom tells me 'quit making those so close'. Today was awesome to be able to relax in the second half and play a lot of players. That is one thing we haven't been able to do. . . . I was proud of our team with the resiliency they showed this week and how they came out today."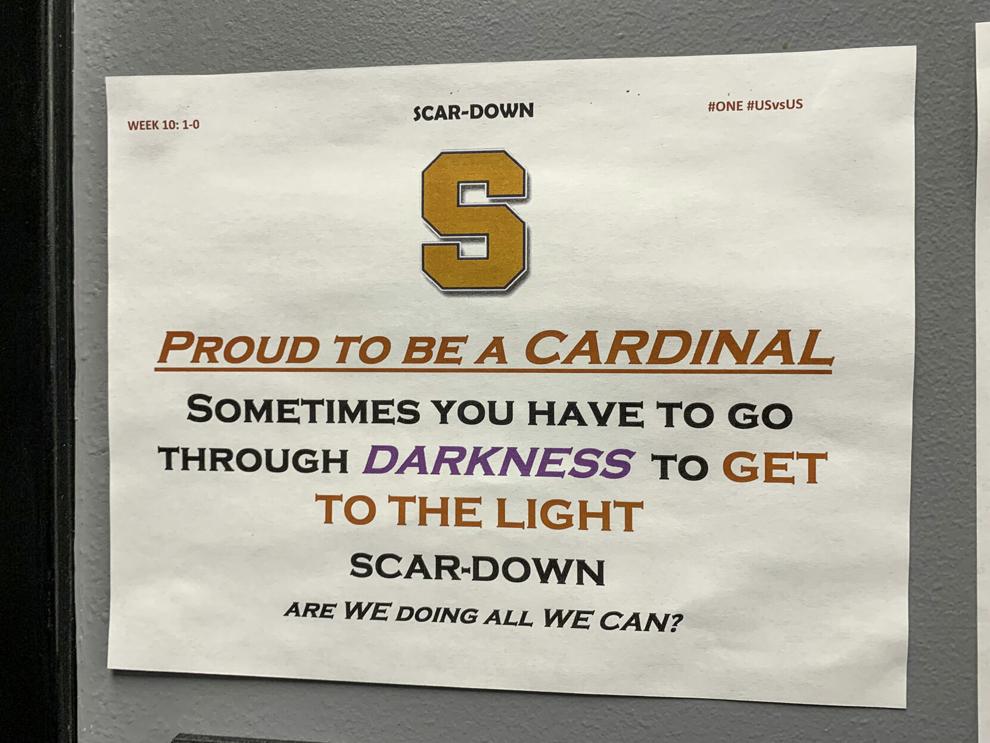 It's not easy to keep answering the bell when things keep going against you. It's easy to get discouraged and to come out flat.
And the psychological odds were stacked against Louisville. The Cardinals were coming off a heartbreaking loss to Clemson. They lost a former teammate, 22-year-old Demji Dumervil, who passed away earlier this week.
"It was a hard week now," Satterfield said. "It was a lot of things going on with the tragedy that we heard made it even worse, you know, really. Our guys came out this week. And they were solid. . . . We talked about scarring down. We've scarred down a lot because they've had to play and they made mistakes but I think once they get to that level where they have the experience and they know how to do it, then obviously we're going to play better. I think that's what's happened, this part of the season they have just started to play better because they've learned from some of their mistakes, they've missed tackles, they've not been where they're supposed to be, and they get coached up on and they come back and go again. That's why when you get a team that works hard, that goes hard, you're going to continue to improve. That's what our team does and that's what I'm proud about this team, we always want to be that way, that blue collar, come out and work. When you put the work in, great things happen."
Satterfield said he didn't know this kind of win was coming. He expected a hard-fought game that, again, went down to the wire. He said he didn't realize how dialed-in his team was until maybe midway through the first quarter.
Malik Cunningham was as sharp through the air as he has been, completing 13 of 18 passes for 209 yards and four touchdowns. The Cardinals also got 102 yards on 15 carries from Jalen Mitchell. Their defense held Syracuse to just 184 total yards and limited Syracuse freshman Sean Tucker, who came into the game as the nation's No. 2 rusher, to 95 yards on 19 carries.
Amid the locker room celebration was an overriding emotion: relief.
"It's a bit of a relief, because we felt like we could do this for a while and a lot of games could have been like this, and just ended up being games that ended up coming down to the wire," linebacker Dorian Jones said. "It's a big relief."
Satterfield said it was a difficult recovery from the Clemson loss, but by the end of the week, the players were back in the right frame of mind.
"We had a great meeting last night as a team," Satterfield said. "I think they just decided to go out there and get it done, bottom line. That was fun to see, and what was so awesome for me as a coach is it was everybody. It wasn't just one side of the ball, or one phase, it was all three phases. The team made their mind up to go out and play for each other. That was the best thing."
Now the Cardinals will take some momentum into a Thursday night game at Duke. Win that one, and they're on their way to a bowl game, despite everything that has happened.
"We have a lot riding on this game," Satterfield said. "It's an opportunity to get bowl eligible and that's huge for our players."
Copyright 2021 WDRB Media. All Rights Reserved.