LOUISVILLE, Ky. (WDRB) – This one is going to leave a mark. Louisville City held the lead on the Tampa Bay Rowdies in the USL Eastern Conference final for more than 94 minutes, including regulation and all four minutes allotted for stoppage time on Saturday at Tampa's Al Lang Field.
But a free kick awarded to Tampa in the 94th minute, followed by a corner awarded and taken and a subsequent scramble in the box that resulted in a header by Lucky Mkosana to tie the score left forced overtime, and a goal by Steevan Dos Santos in the 102nd minute of extra time gave the Rowdies the win.
The loss deprives LouCity FC of a fourth trip to the USL Championship round, and an opportunity for a third title.
The sting was evident in the postgame remarks of coach Danny Cruz and veteran defender Oscar Jiminez. Mkosana's goal at the end of regulation came about 2 minutes after the four minutes of stoppage time expired. But a free kick awarded after a foul by Wes Charpie in the 94th minute led to a ball in the box that LouCity kicked over the end line for a corner kick. And few referees will stop a match before a corner is taken.
The corner careened around the box before Tampa Bay's Forrest Lasso could put a head on it, followed by a header from close range by Mkosana on the final kick of regulation.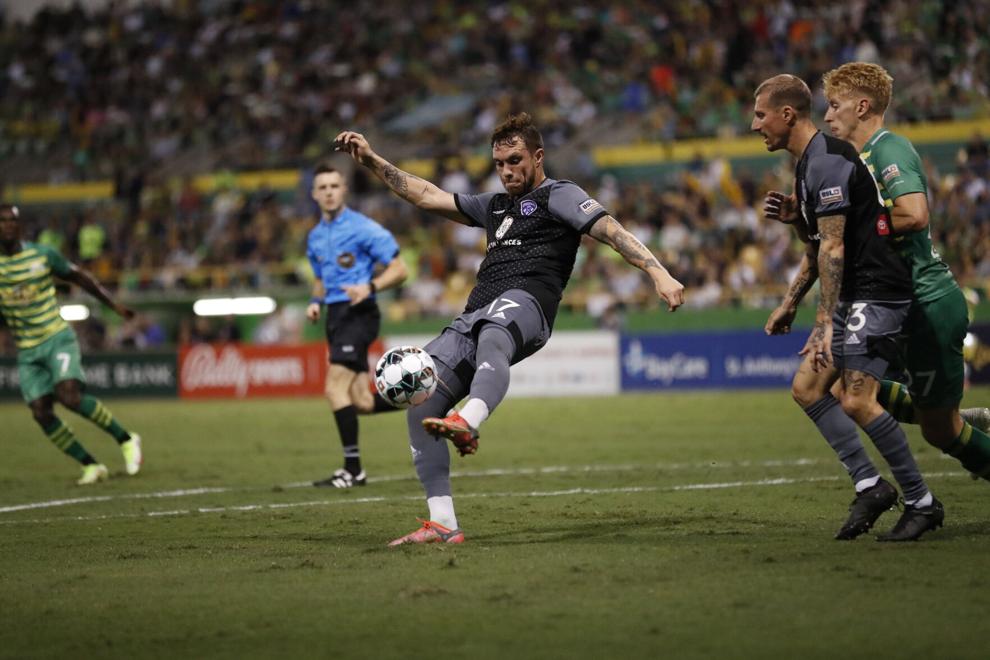 Stunned, LouCity was left with a lineup on the field heavy with defensive specialists.
"Heartbroken. sick to my stomach. It's difficult to lose that way," said LouCity manager Danny Cruz, who took over the team after head coach John Hackworth was relieved two games into the season. "Obviously thankful to all of our fans that made the trip down. Sorry that the game ended the way that it did. But extremely thankful for this group of players and everything that they've given me this year. Obviously to lose that the way that we did it's gonna hurt for a long time. There's no doubt about it. . . . Extremely difficult to take in. But, you know, I'm still proud of the work that we did this year. Proud of the fight that the players gave tonight and I'll certainly reflect back on it and try to improve as best as I can."
The Rowdies outshot Louisville 25-10 and put 10 shots on frame to Louisville's 4. They also held 57.4% of possession, and took 16 corners to Louisville's 7. Especially after scoring a second goal, an own-goal off a corner kick by Lasso, Louisville appeared more passive and Tampa Bay became the aggressors.
"Honestly, it was great to get two goals in there, but I think we decided to let them have the ball too much at the end of the first half," said defender Oscar Jimenez. "And then the whole second half, I thought we just stayed back and let them get comfortable having the ball. That's really dangerous when you play a good team. We defended well for a long time. But sometimes it just takes one or two moments for them to capitalize. … It's football, man. It's final. It's a tough one."
LouCity grabbed the initiative early off a goal by Brian Ownby, who got his right foot on a cross by Jiminez after a corner kick for a 1-0 lead just 10 minutes in. The own goal came 13 minutes later, and a LouCity team that hadn't conceded a single goal in its two prior playoff matches looked to be in good shape.
A corner at the end of the half was yet another good opportunity for the boys in purple, but they didn't capitalize.
Still, at halftime Cruz said the discussion was about staying aggressive.
"We talked at halftime about the importance of not taking our foot off the gas and of trying to put them under pressure," Cruz said. "That obviously didn't happen there. You know, I think we started the half well, we had a chance there within the first 30 seconds. And then from there, you know, they piled it on through a lot of numbers forward. They brought in a big body at halftime in Dos Santos. But again, it comes down to second balls and set pieces. Obviously, I did feel that the players were putting their bodies on the line to get a block, to win a header. And then obviously it didn't it didn't end the way that we wanted. To be 10 seconds away, one clearance away from an Eastern Conference championship and to fall short, I think that's certainly something that, like I said, we're gonna be feeling for a long time."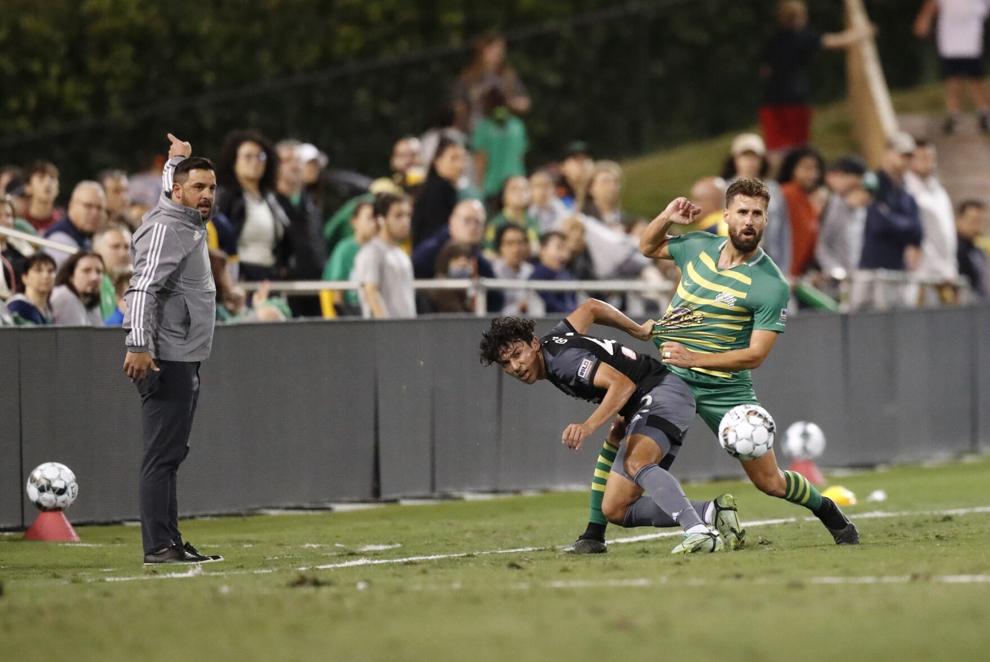 Cruz knows he'll be second-guessed for lifting top scorer Cameron Lancaster and others in favor of more defensive-minded replacements in the second half, and he said he would be examining his own performance along with that of players after such a difficult defeat.
"I'm sorry that the game ended the way they did, obviously," Cruz said. "We'll look to see how I can improve. I think that's certainly a piece of it. I take full responsibility for the result."
After the game, Cruz said he told the players he was proud of them and how they conducted themselves all season. He told them he knew how they felt, because he felt it, too.
"But ultimately, I think it's important that the players you know, they remember every single moment from shoveling snow in early January to this moment now," Cruz said. "We've been through a lot together and I think when it ends this way, you certainly feel it. It's a gut punch. But my hope is that we'll remember this feeling going into next year and certainly try to do a better job of closing out games and hopefully getting back to lift the trophy says this club deserves."
Jiminez said he was proud of what the team accomplished this season, even if it's difficult to appreciate that in the moment.
"Lots of emotion, sad, angry, frustrated, annoyed, but the message was,  we accomplished a lot this season," Jiminez said of the club's postgame mood. "Proud is the word, although it's a tough one to hear when you lose, but, proud and about how we went about things and how we had a good season, in our opinion, here. So, I mean, here's the thing that's hard to hear when you lose like this, especially because everyone's just upset angry, sad, but you know, there's positives in this obviously."
Copyright 2021 WDRB Media. All Rights Reserved.