LOUISVILLE, Ky. (WDRB) – The scrimmage was secret. The result, not so much. When Ohio State visited Louisville last Sunday, the score that drifted out of the KFC Yum! Center was Buckeyes 80, Cardinals 69.
Schools aren't allowed to publicize these scrimmages. No stats are allowed to be disseminated, though apparently programs can tweet out video from the scrimmage. We do know this tidbit, however, thanks to discussion at Friday's U of L basketball media day: The Cards trailed by 20 at half.
Neither team was at full strength. Louisville was without Malik Williams and freshman David Johnson. Ohio State was without Justin Ahrens, and freshman guard D.J. Carton injured an ankle during the first half and was out for the rest of the game, according to the Columbus Dispatch.
Regardless, Mack wasn't very pleased with his veterans' approach to a game situation. Asked what he learned from the secret scrimmage, Mack was succinct: "We got our ass kicked."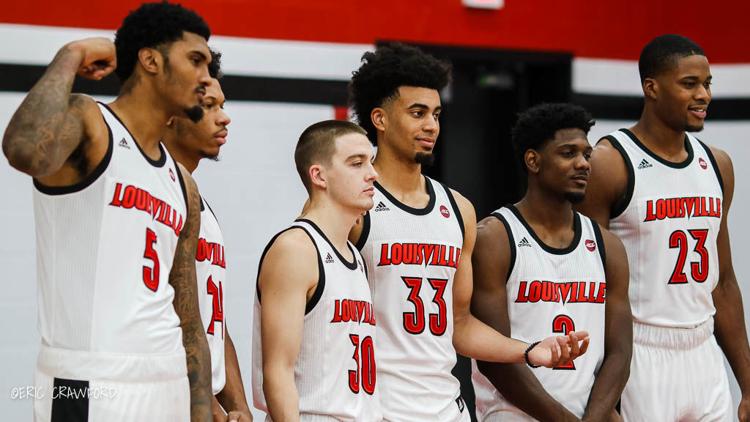 In elaborating, he said, "I want to see a mindset out of our guys that I didn't quite honestly see in the first half of the Ohio State scrimmage. I think, having said that, we really responded well in the second half. I think having a veteran team, some continuity of the same coaching staff, we should be a lot more ready than we were on Sunday."
Darius Perry, who appears to be emerging as Louisville's starting point guard, said that the first half Sunday provided a wake-up call to the team.
"It's reality," he said. "I think maybe we'd been listening to the buzz around us and didn't come out with the intensity that we needed to have. But I think once we took that punch, we came back and showed what we could do in the second half."
Louisville was ranked No. 5 in the nation in the preseason. Jordan Nwora has been crowed the Atlantic Coast Conference's Preseason Player of the Year and a first-team preseason All-American by the Associated Press before playing a game this season.
It's a lot of hype for a program that seemed to be on life support after the firing of Rick Pitino two years ago.
But Mack is constantly reminding his players of the kind of grit and determination it took to earn what respect they got last season – and that they haven't done anything to earn it this season. Mack referred to the hype as "a two-headed monster."
"It's great for the public perception of our program," he said. "Especially how things were viewed prior to our coaching staff getting here. But we haven't earned anything. I hope our players are well aware of that. If they aren't, they'll learn it the hard way. ... It's reality. You try to give your team reality every day in practice, but as preseason goes forward and unfolds, the practices become monotonous. We're on practice No. 25 and only once teed it up against someone other than our teammates. But the really good teams thrive in the mundane. They want to get better in every drill, whether it's a live drill with competition, or it's a teaching drill, it doesn't matter to the good ones. And I think our team is still learning that, to be completely transparent."
None of that, of course, will temper expectations. Mack is quick to warn reporters that much of the hype comes from the outside. He has his own high expectations, but much of what he discusses is just in response to questions about the rankings and what pressure those rankings are perceived to bring.
He said Friday that he's more interested in the pressure inside the locker room from the expectations the team has for itself.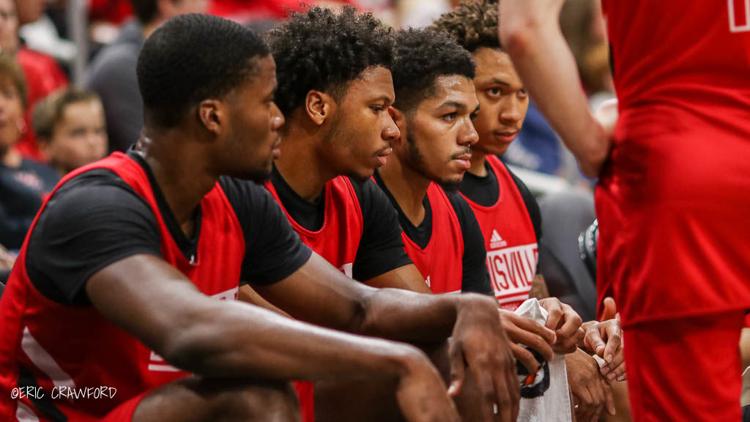 As for how quickly the hype has mounted for his program, Mack declined to take all the credit.
"I had high expectations when I took over," he said. "I don't know what other people thought. I was left with some tremendously talented players. I would not for one minute sit up here and say, 'Look what a good job our staff has done.' I'm reliant on Dwayne Sutton, who was recruited by Rick Pitino. Ryan McMahan, who was recruited by Coach. Steven Enoch, Malik Williams, Darius, all the way down. Those guys are our stalwarts. They're our better players right now. They're our most experienced players. I've coached them really hard, and our coaching staff has. The type of character they have has allowed them to let themselves be coached hard by a staff they didn't necessarily sign up for. But to answer your question, we were left were some really good players. And we're very thankful for a very good freshman class that hopefully will learn from the older guys and provide for some stability for our program moving forward."
Louisville returns to the court with an exhibition game against Bellarmine at 7 p.m. Tuesday, Oct. 29, at the KFC Yum! Center.
Related stories: 
Copyright 2019 WDRB Media. All Rights Reserved.