LOUISVILLE, Ky. (WDRB) – The first Sunday game of a regional is usually forgotten as long as the final out is recorded. But that's when Sunday's game between Louisville and Indiana at Jim Patterson Stadium got interesting.
With a 2-2 count and a runner on with a 9-7 lead, Louisville closer Michael McAvene threw a pitch that was close to the strike zone. He didn't get the call, however, and the count ran full to Indiana's Ryan Fineman. Before he got the ball back from the catcher, McAvene could be seen on replays saying, "That's horrible."
Whether McAvene was talking to his catcher about the call or about his own pitch, nobody ever clarified. But home plate umpire Ken Langford didn't like it and tossed McAvene from the game – an action that carries a mandatory four-game suspension for McAvene, with no apparent avenue for appeal.
Louisville coach Dan McDonnell came sprinting from the dugout shouting and immediately got a warning from Langford. His arguments were in vain. Louisville brought in Michael Kiaran to throw the full-count pitch. His pitch looked low, but Langford called Fineman out on strikes looking, and the game was over.
Louisville ended Indiana's season and advanced to tonight's elimination final against Illinois State – 6 p.m. on ESPN3. 
But the fireworks were just beginning. Fineman ran up the first base line shouting at Langford, and when he peeled off base coach Casey Dykes took up the cause, running after Langford and having a brief shouting exchange before Louisville Metro Police officer Dale Thompson helped escort him away.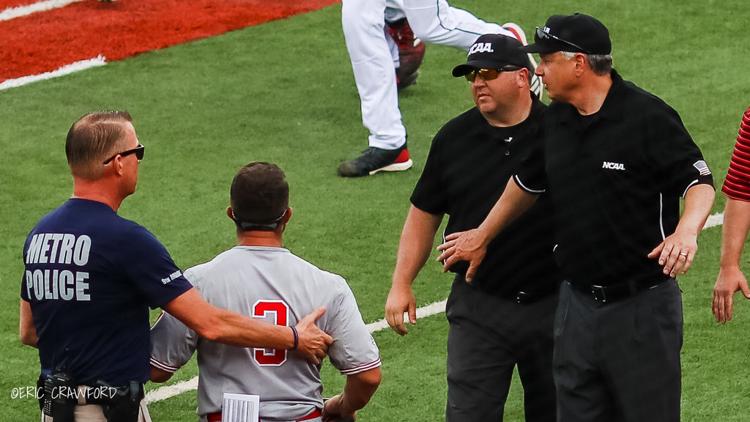 Meanwhile, shouting began on the field between Fineman and some U of L players, and soon the teams themselves had to be separated by coaches and police officers.
In right field, McDonnell quickly worked to get his team focused on an elimination game two hours later. Indiana coach Jeff Mercer talked about a comeback that was cut short too soon. And, in general, emotions were on edge.
McDonnell said he didn't second-guess Langford's ball-strike call but thought McAvene should've been given a warning instead of tossed from the game without warning, especially given the circumstances.
"It's really hard. You've got to be really careful. You don't have a great angle. We're on the side. We can see a little up and down, but we're fighting for pitches. Everybody's fighting for pitches this time of the year. But until you see a replay of it, it's hard to tell from our side," McDonnell said. "I don't know (what was said). I would've liked a warning. I just think the magnitude of this time of year – you know, I got a warning. Which is fair. I ran out there, I stuck up for my guy, I got a warning. I toned it down after that.
"It's just disappointing that Michael didn't get a warning. I think he deserved it. It's a lot of emotion. People are here to see these kids, play, compete, put it on the line. I don't say those other people don't work, but we've been here since Jan. 7. There's a lot that goes into this. So, disappointing, but it happened. ... It's just disappointing when you take kids off the field like that."
McDonnell said he didn't really get a detailed explanation on why McAvene was ejected.
"It's hard. It was heated there," he said. "It's not exactly a Starbucks conversation. It was pretty heated, so I'm not exactly sure."
From his side, Mercer said he wasn't sure what was said and couldn't speak to the circumstances of the ejection, but he said he would pursue every avenue to hold Langford accountable for a missed call on his strike three call of the next pitch.
"You can look at the video," Mercer said. "I'm a subdued guy, pretty level headed. And both of our base coaches are very level-headed guys. I mean, the pitch just bounced. You can look at the video. That's not untrue or controversial. It just bounced. So when you have a game like this with so much on the line, so much at stake, and you make a call like that to end guys' careers, and some of these guys end their career period, and some will go onto the next level, it's going to be heated, and guys are going to be upset. They (umpires) have a job to do; they get paid to do it. I get paid to do my job. And you have to be able to execute, and everyone is held to that same standard.
"So it's going to be emotional when those kinds of things happen. ... I'll handle it. I'll talk to the tournament. I'll talk to the site directors. I'll talk to the umpires. It'll be handled in a professional way. Just like if I had done something unprofessional or unbecoming, they have ways to hold me accountable. We have the same things in place, and thankfully. Everybody wants the games to work smoothly and have the right calls in place. Everybody, the site administrators, the umpire's association, everybody wants to do the best job they can do. That's why there are checks and balances for me, for the players, and the umpires as well."
As his teammates warmed up for the second game, McAvane sat in the Louisville clubhouse, wondering where he was permitted to sit for the upcoming game. He said he'd look for a seat in the stands, perhaps.
Langford prepared to call the next game at third base. IU's players headed for the bus on the way back to Bloomington, Indiana. 
For a game that usually recedes from memory quickly, the repercussions from this one might only be beginning.
Copyright 2019 WDRB Media. All Rights Reserved.