CRAWFORD | Louisville begins uphill ACC challenge with little margin for error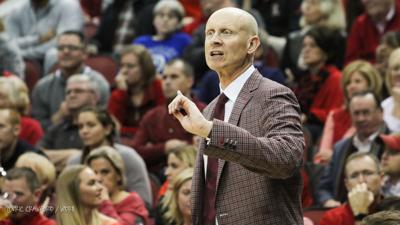 LOUISVILLE, Ky. (WDRB) – It doesn't take a brand-name basketball expert or a lot of fancy analytics to see that the University of Louisville's Atlantic Coast Conference basketball schedule is not only back-loaded, but difficult from start to finish.
You can count the number of games that aren't A- or B- tier opponents, in the parlance of basketball efficiency guru Ken Pomeroy, on one hand, and even those games are not wide-open layups for the Cardinals, who will return to action for the first time since a 71-58 loss to Kentucky when they play host to Miami in their ACC opener at 6 p.m. this evening (ESPNU).
Chris Mack, making his first run through the ACC, isn't peeking ahead, but he knows what to expect. The Cardinals are the last team to open their ACC slate this season, but there is no putting it off any longer.
"It's a great league," Mack said. "It's not going to change from year to year. Certain teams may have better years because of older players. There aren't more probably more than two teams that are relying on one-and-dones. But the talent level is always going to be outrageous. Teams are going to be well-prepared. It's a hell of a league. That's why I came here.
Eight days have elapsed since the loss to Kentucky. Eight days for the lesson of that game to sink in, and for Mack to drill home a truth that will be the key to the rest of the season for his team.
"We don't have overwhelming talent, where we can just roll out and have guys create their own shots. This isn't NBA basketball," Mack said. "We have to be able to move the ball. We have to be able to move ourselves. We have to be able to become obstacles as screeners, so that the defense has to lean on one another. And Kentucky didn't have to. They were able to keep one guy on one guy for the most part, and because of that we were never able to get anyone out of position, to draw fouls, to drive and kick, to get the ball where we needed to in order to be effective on offense."
So the extended break from games in the wake of that loss has been spent on getting back to some offensive and defensive basics for Louisville. Mack hasn't concerned himself with opponents so much as getting his team playing the way he wants it to play. He wants to see his team play "stronger" on offense, to cut harder, to set more purposeful screens. After the loss to Kentucky, he said his team appeared impatient on offense. Upon further review, he refined his analysis from impatient to inefficient.
That's what he has been addressing over the past eight days, among other things. Everything has been on the table. He's been playing 10 players double-digit minutes, but that could be subject to change.
"We need some guys playing better," he said, "or I need to play fewer guys."
Miami comes to Louisville with a short bench and some bad losses. It fell to Rutgers at home just after Thanksgiving, part of a four-game losing streak that ended only with home wins over Houston Baptist, Florida Atlantic and Campbell. It fell to N.C. State 87-82 in its conference opener at home on Thursday night.
Five Hurricanes players are averaging at least 12 points per game, led by 5-7 sophomore Chiris Lykes at 16.6 points per contest. Junior guard DJ Vasiljevic leads the ACC in three-pointers per game (3.0) while senior center Ebuka Izundu leads the ACC and is sixth in the nation in field goal percentage (.693).
Louisville will look to re-establish its penchant for getting ot the free-throw line, but that will be difficult to do against a Miami team that plays primarily zone and ranks 13th in the nation in fewest fouls per game.
"They're depleted in terms of numbers of bodies, but the ones they have are very talented. Very talented," Mack said. "They've got five guys averaging in double figures. They've got some creators on their team and one of the quickest guards in the entire country in Chris Lykes. They're good. They put you in a lot of spread ball-screen situations and roll their five man right down the lane, and he's had a monster season, one of the best offensive rebounders in the country. They're pretty vanilla with what they do on offense, but that doesn't mean it's easy to stop. They play a little bit more zone maybe than years past, but that's because of depth."
Louisville has won its conference opener in eight of the past 10 years and five of the past six. But from here on, its margin of error slips pretty close to zero.
You don't need an analyst to tell you that.
CARDINAL CLIPS: Louisville has won seven of its last eight openers of a new calendar year. . . . In his past six games, Louisville forward Jordan Nwora has averaged 19.2 points, 9.7 rebounds and shot 52.5 percent from the field, including making 17-of-33 three-pointers (.515). . . When the Cardinals face Miami on Jan. 6, Louisville will have played just one game over a 15-day period during the holiday season. U of L's current stretch from Dec. 22 through Jan. 5 with a single game (Dec. 29 vs. Kentucky) is its longest such span with just one game in 29 years. It is the longest break of its length since a 16-day stretch with a single game from Dec. 19, 1989 through Jan. 3, 1990. . . . Louisville's four losses have come to teams currently ranked in the AP Top 25, with two of the losses by a total of four points. . . . U of L has made 78.5 percent of its free throws in the last five minutes of games this season (73-of-93).
Copyright 2018 WDRB Media. All Rights Reserved.