No. 22 Florida State 80, No. 16 Louisville 75 (OT)
CRAWFORD | Louisville can't overcome its own miscues in OT loss at Florida State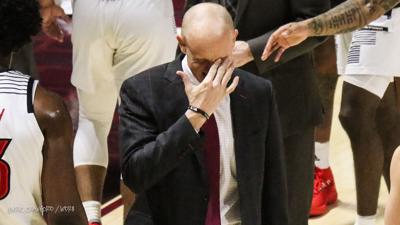 LOUISVILLE, Ky. (WDRB) – For most of Saturday's game at No. 22-ranked Florida State, the No. 15 Louisville basketball team did the things it needed to do to win on the road, despite some major issues with turnovers.
But in the end, they gave too much away, and didn't get the important rebounds when they mattered the most. As a result, the Cardinals lost a 10-point second-half lead, and the game, 80-75 to Florida State in overtime.
Louisville turned the ball over a season-high 23 times, leading to 32 Florida State points, and grabbed only one rebound in the final five minutes of regulation and the first four minutes of overtime.
Still, the Cards were up seven with 4:55 to play and led by four with two minutes left, but crucial mistakes and an inability to penetrate Florida State's pressure defense in the closing minutes wound up being too much to overcome.
The key sequence began with a video-review turnover by Ryan McMahon with 1:23 left and Louisville leading by four. Florida State cut its deficit to two on a Mfiondu Kabengele follow slam, then got a quick Louisville turnover under the basket from its full-court pressure and a layup by M.J. Walker to tie the game.
Louisville took the lead back on a pair of Christen Cunningham free-throws, but Trent Forrest tied the game by driving into the lane and scoring with 34 seconds left, and a late three by McMahon kicked off the back rim.
Florida State took control in overtime, scoring the first eight points, six of them from the free-throw line.
In his Tom Drexler Coach's Corner postgame interview with Jody Demling, Mack said FSU's pressure played a part, but in the end there were too many turnovers and late breakdowns.
"We knew their pressure was going to be there. We handled it for the majority of the game. We were very dependent on CC to get it and get into the lane, but there was way too many turnovers," Mack said. "Even if we keep it under 20 . . . Just not strong enough with the ball. Don't have the ability to get open. That 60-second stretch at the end of regulation just crushed us. We have the ball up four, turnover, they come down, throw our guy out of the way – legally, we're not tough enough on the glass – dunked the ball, and then we turn it over and tie game. That's going to be replayed in my mind a million times."
Despite the turnovers and some serious foul trouble for big men Steven Enoch and Malik Williams – both of whom wound up fouling out – the Cards still led for 31 minutes of the game. They jumped to an early 14-5 lead and were up by six at the half.
But after opening up a 10-point lead midway through the second half, the Cards fell victim to their own turnovers and a renewed FSU effort on the glass. Offensively, the Cards had trouble getting the ball into the lane down the stretch.
"We knew the game plan coming in," Mack told Demling. "You've got to be able to take care of the ball. Get a shot. You can't allow them to get into the paint, which leads to drive and kicks, and we did a great job in that area the whole game and then the last piece of it was to keep them off the glass, and when it mattered most we didn't do it. . . . It's tough to move the ball against them. You face extended pressure, you've got to have the ability to drive by your man, get in the lane and do what the game tells you to do, find the open man, spray out, shot fake, open up passing lanes. But it starts with your ability to drive under control. I thought for a large part of the game we were able to do that, but you've got to do it for the entire game and come away with a win."
Louisville was led by Cunningham with 20 points, seven rebounds and six assists, but he also had five turnovers. Dwayne Sutton added 14 points, six rebounds and four assists, but he had four turnovers. Jordan Nwora had 13 points and McMahon added nine on three straight second-half three-pointers that threatened to break the game open.
Louisville wound up outrebounding FSU 36-34, but turning it over on 23 of its 70 possessions proved too much to overcome. The Seminoles also went to the line 36 times to just 16 for Louisville, outscoring the Cards 27-13 from the line.
Kabengele led all scorers with 22 points for FSU, which won its fifth straight, and improved to 13-1 at home. Next up for Louisville is a Tuesday night home-court matchup against Duke. Mack told his Demling that his team will have to remember the lessons of this loss.
"The frustrating thing -- it wasn't like we got hit upside the face with reality, we knew what Florida State was going to bring and how they were going to play and we didn't handle it," Mack said. "Now we've got to learn from it. The game plan that we had today is going to be very, very similar to what we need on Tuesday, because Duke is going to try to punk you, they're going to try to deny the ball from you, they're going to try to block your shot, just like Florida State, and we've got to be able to have a better answer than we did today. . . . We can't forget why it happened and how it happened. That's what we've got to learn from. If we do, it will give us a chance to win against the best team in the country, at least that's what the NCAA says right now."
Copyright 2019 WDRB Media. All Rights Reserved.