CHAPEL HILL, N.C. (WDRB) – This was a line in the sand moment for the University of Louisville basketball team. Having lost at Pittsburgh with a lackluster effort and facing an Atlantic Coast gauntlet over the next two months, the Cardinals needed to immediately dig in and re-establish themselves.
A 21-point win at No. 12-ranked North Carolina ought to do the trick. It was this bad: With just over a minute to play, ESPN switched off its national broadcast to go to a closer game.
It was the most lopsided home loss of Roy Williams' North Carolina tenure and the final 83-62 count was the third-worst loss ever for North Carolina in the Dean Smith Center.
After several straight slow starts in a row, the Cards came out on fire at North Carolina. And they never really cooled off.
🗣️ LET'S 🗣️ GO pic.twitter.com/BRvglTb8um

— Louisville Basketball (@LouisvilleMBB) January 12, 2019
All the toughness they failed to display on Wednesday night at Pittsburgh was front and center at North Carolina. Coach Chris Mack said his team needed to play with some "dirt under our fingernails."
They'll walk away from the Dean Smith Center with a bunch of tar under them.
The Cardinals made their first eight shots from the field, hit 5 of their first 7 from three-point range, were the more physical team on both ends and even dominated the boards for much of the game against one of the nation's best rebounding teams.
The result was as resounding a victory as Louisville has experienced in years, especially given the quality of opponent and game venue. It's also a second signature win in the first season of Mack's tenure.
And this: Despite Louisville's rich basketball history under Peck Hickman, Denny Crum and Rick Pitino, it had never won a game in Chapel Hill. Until Saturday. It also was Louisville's largest-ever margin for a road win against a nationally ranked team.
Mack said his team clearly took stock of itself after losing at Pitt.
"I think there was some soul-searching," he said. 
The list of superlatives is long. But it starts with a pair of double-doubles.
Louisville native Dwayne Sutton was brilliant. He set an early tone, making his first three-pointer and wading into traffic to finish amid contact in the opening minutes. After being little factor in Louisville's loss at Pitt, Sutton was the primary factor against North Carolina, finishing with 17 points, 10 rebounds and seven assists.
Center Steven Enoch had his best game as a Cardinal, finishing with 17 points and 11 boards. He was steady in the post and also was a huge presence on the boards. He, too, said the Cards were angry after losing at Pittsburgh.
"Angry should be the motto for this team," he said. "Angry and aggressive. That's how it's always been for Louisville basketball. That gets our motor going."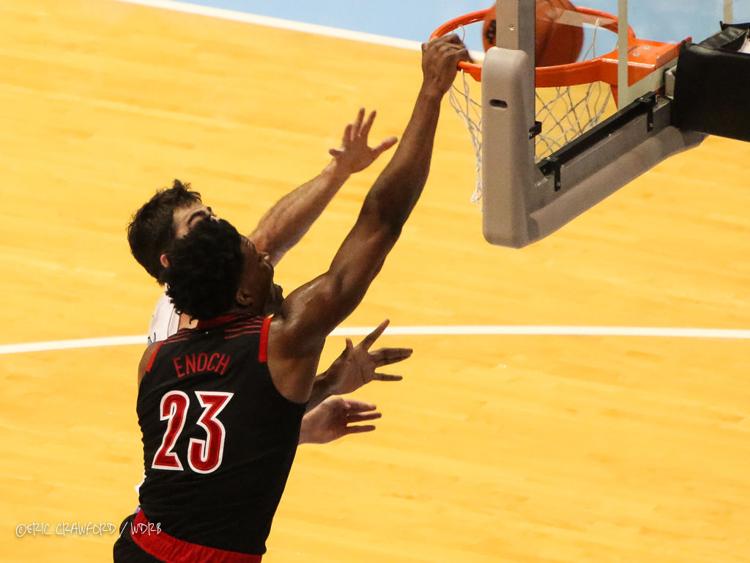 The Cards got solid leadership from point guard Christen Cunningham, who dished out five assists and finished with 10 points.
After Louisville extended its lead to 11 in the opening minute of the second half, North Carolina never closed within single digits again.
"It was a very good day for Louisville," Williams said. "I congratulated Chris and I really meant it. I thought his team played really, really well. They hit us early. . . . I'm at a little bit of a loss, but that's OK. It happens in coaching. We have a wonderful group of kids that we have to better prepare, and we have a head coach who is trying but not doing very well."
The Cards shot 51.9 percent from the field and outrebounded UNC 40-31. The Tar Heels shot just 34.9 percent from the field.
Copyright 2019 WDRB Media. All Rights Reserved.