No. 2 Duke at No. 16 Louisville, 9 p.m., ESPN
CRAWFORD | Louisville wearing black, hoping to make No. 2 Duke feel blue in ESPN matchup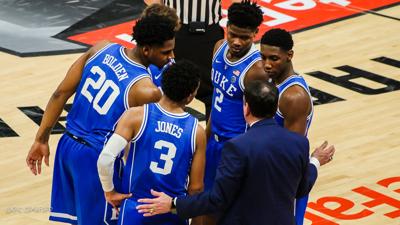 LOUISVILLE, Ky. (WDRB) – Here's a bit of fortuitous marketing for Louisville: Duke's fantastic freshman, R.J. Barrett, was asked by ESPN's Maria Taylor after the Blue Devils knocked off Virginia in Charlottesville last week what the key to his team's road performance has been.
"We love road games," Barrett answered. "We wear black because it's their funeral."
When No. 2 Duke faces No. 16 Louisville in the KFC Yum! Center at 9 p.m. Tuesday night, it'll be a blackout for the Cardinals, meaning they and their fans will be in black and Duke will be wearing white.
So, you know, there's that.
Duke, no matter what color it has worn, has been downright dominant this season. We in this state were witness to it in the season opener when the Blue Devils handed Kentucky its worst-ever loss under John Calipari.
Endearing as that might have been to Cardinal fans, Louisville faces a tall order to keep its own black-clad proceedings from feeling somewhat funereal. Duke is a 7 1/2-point favorite despite losing in its last two trips the KFC Yum! Center, the last without coach Mike Krzyzewski on the sideline.
The laundry list of challenges for the Cardinals will be to (1) somehow keep Duke out of the lane, then (2) keep Duke off of the offensive glass, and finally to (3) keep Duke from getting the kind of live ball turnovers that sank Louisville in its Saturday loss at Florida State and which can result in highlight reel dunks from Barrett, Zion Williamson and others.
The one ACC team to beat Duke this season, Syracuse, was able to do it with a long, athletic zone and a subpar shooting night from the Blue Devils.
Louisville coach Chris Mack is not a zone kind of guy, though the Cardinals have played it a few times this season. It was rumored that his staff was engaged in some kind of rain dance to ward off three-pointers. So far, it has resulted in lots of rain.
Mack answered questions about Duke for more than 11 minutes on Monday. The summary: Duke is pretty good. They're going to be tough to play.
Louisville has responded well to losses this season. Two of its signature victories – a win over Michigan State and a Chapel Hill demolition of North Carolina – came after losses, as did last week's win at Virginia Tech.
But none of those was followed up with a game against Duke.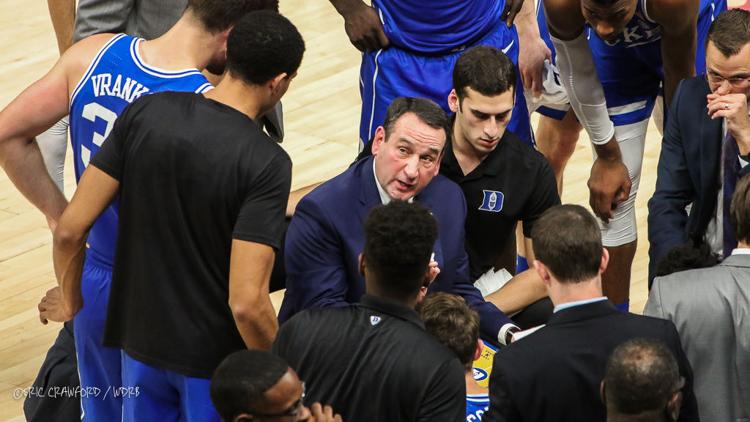 Louisville will have to show itself capable of handling Duke's defensive pressure and will have to defend the interior. Big men Steven Enoch and Malik Williams will have to avoid foul trouble, and the Cards will need to get to the line themselves.
They come into this game with something to prove. With the exception of their losses to North Carolina and Kentucky – both at home – they've been competitive with the best teams on their schedule. If they can stand in toe-to-toe with Duke, they'll further stamp their Top 20 credentials.
They're also coming off a road loss that they let slip away because of shaky ballhandling and a lack of rebounding in the closing minutes at Florida State. As an added bonus, Louisville struggled to guard Florida State one-on-one, and Mack noted that Krzyzewski, "does a really good job of putting them in positions where they have a lot of space to operate, because they're very difficult to defend in one-on-one situations."
Duke ranks fifth in the nation in offensive rebounding percentage, grabbing better than 38 percent of its own misses. It also ranks first in the nation steal percentage – 14.1 percent of opponent possessions – and first in blocked shot percentage.
"They're pretty good," Mack said. "It starts with their talent level. But outside of that, they play together. They play extremely hard on the defensive end. High motors, and what they lack in experience at times they make up for with just basketball instinct, athleticism, length. They play on offense in attack mode. They go from defense to offense as well as any team I've coached against. . . . They also are extremely unselfish, so when you double a certain guy or flood to help, they don't take those bad shots that so often you see when you play against really good players. That's what makes them pretty good. . . . They don't have many, if any, weaknesses."
Copyright 2019 WDRB Media. All Rights Reserved.