LOUISVILLE, Ky. (WDRB) – The University of Louisville women's basketball program began its 2022-23 season by hanging a fourth Final Four banner in the KFC Yum! Center, then the current Cardinals went to work on earning a fifth.
Led by 28 points from Hailey Van Lith, Louisville turned back a Cincinnati club that got hot from 3-point range but in the end couldn't match the weaponry from the home team, which walked away with an 87-68 victory before a crowd of 8,049.
Coach Jeff Walz's newest edition looks perhaps a bit more athletic than last season's team, and when all of the pieces fall into place, considerably deeper, particularly in the interior.
In addition to Van Lith's scoring, Louisville got 14 points from Florida State transfer Morgan Jones and 12 points from Liz Dixon. Peyton Verhulst scored nine points off the bench and Olivia Cochran pulled down a game-high eight rebounds.
Mykasa Robinson came off the bench to contribute five points, six rebounds, an assist and five steals in 26 minutes. Louisville was plus-22 in her 26 minutes on the court, the highest total on the team.
Walz likes to see his team challenged early in the season, and Cincinnati obliged, cutting a 20-point deficit to eight to start the second half. Walz didn't call timeout, and his team gathered itself to push its lead back to double-digits, and eventually to 23 early in the fourth quarter.
"We made some adjustments and then I put (Mykasa) back in the ballgame," Walz said. "And she's so good at the defensive end for us. You know, she guards her man and three others."
You'll see a good many teams start the season with what they know will be an easy win. That's not Walz's philosophy.
"When I schedule our nonconference, I'm trying to schedule teams that look a little bit similar in style of play to teams in our league. And then of course, with (Cincinnati coach) Michelle (Clark-Heard), Michelle worked here, she was a huge part of this program being where it is. Now you've got IUPUI coming in here on Thursday. And the problem is, if it was a Power Five named school, some would be like, 'Oh my God, it's going to be great. But they don't realize IUPUI lost by six, I think, or four to Oklahoma at Oklahoma in the first round the NCAA tournament. And then we're playing at Belmont, who is one possession away from being in the Sweet 16 and us playing them instead of Tennessee? Then we travel to Middle Tennessee State, who was in the Final Four of the WNIT. You know, we put a really good schedule together. It's just a matter of if you really take the time to study our game."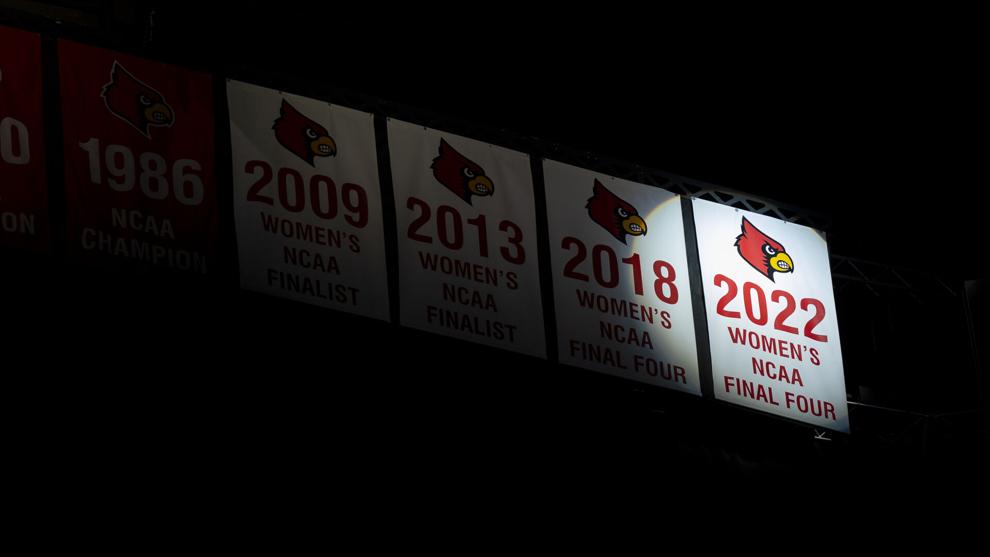 There are eight players on the current roster who were a part of last season's Final Four run. Walz said he stressed to those players that they enjoy the moment when the program unveiled the latest Final Four banner.
"One of the things we talked to the kids about in the in the locker room before we came out was -- especially the returning players -- was to make sure you enjoyed the moment because it was a lot of work," Walz said. "You know, it's not easy to get there. It's a big deal. And to have four of them up there right now, you know, I think speaks volumes for what we've been able to do here in 15 full seasons. So we're going to continue to strive to put more up there and hopefully put one up there that says national champion on it. That's our ultimate goal."
Louisville returns to action on Thursday in the KFC Yum! Center against IUPUI.
Copyright 2022 WDRB Media. All Rights Reserved.