LOUISVILLE, Ky. (WDRB) – I could sit here and take the Louisville coaching staff to task for wasting much of the first half of Saturday's 31-16 loss at No. 10 Clemson by playing a compromised quarterback in a painfully conservative offensive game plan.
(What happened to the expected Election Day Red Wave, you ask? It was hiding in the Louisville offensive play book. Bad joke. Withdrawn.)
But the fact of Saturday's loss is that Clemson's defensive front was just a lot better than Louisville's offensive front. And Louisville couldn't manage much better offensively after the injured Malik Cunningham left then game than it did before, so perhaps the conservative stance was the way to play it.
The other fact is that no matter how many breaks Louisville made for itself, it was going to be hard-pressed to overcome the bad breaks of a questionable pass interference call that saved one Clemson drive for a touchdown, and a pass-interference non-call on the home team that cut short a promising second-half drive that could've made a game of it late.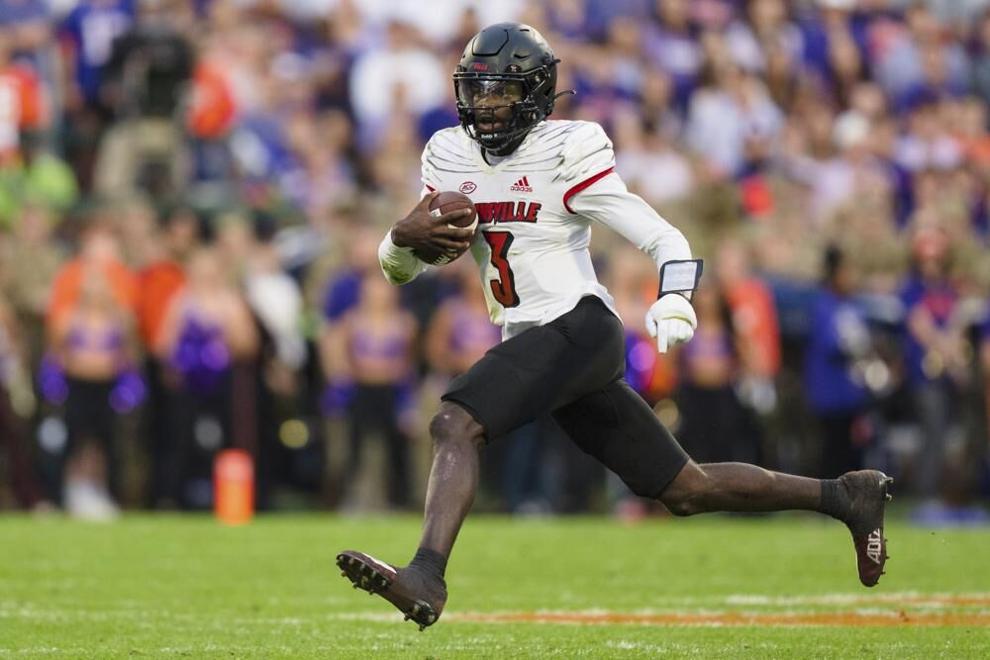 Whatever you want to blame it on, it was a 15-point Clemson win, and while it wasn't unexpected in a game where Clemson was a 7-point favorite in a stadium where it had won 38 straight, it still feels like a missed opportunity for a program looking to show its improvement in the wake of a recent 4-game winning streak.
Clemson marched for easy scores on its first drive of each half. And the cushion the Tigers built allowed them to tee off even more on whoever was quarterback, whether it was Malik Cunningham -- who began the game and played the first half on a heavily bandaged non-throwing hand, which completely took him out of the running game – or Brock Domann, who tried to rally the offense in the face of withering pressure in the second.
Toss out those opening drives, and the Louisville defense played pretty well. It got four takeaways, and gave the offense some opportunities. But it couldn't dominate the game the way Louisville's offensive struggles required it to.
With the injured Cunningham trying to gut it out, Louisville put up only 160 yards of offense in the first half, with 26 of those coming on a run by Cunningham on a meaningless final play, which ended with a hard tackle that wound up injuring the senior's throwing shoulder. He came out of the locker room at halftime and tried to warm up, but couldn't go.
From then on, it was up to Domann. The hero of Louisville's victory at Virginia, which began the Cardinals' 4-game winning streak, drove the Cardinals to a third-quarter field, goal, but nothing else until the final play of the game added one more touchdown. An interception with 5:26 left in the game and Louisville trailing by 14 and driving in Clemson territory pretty much closed the book.
Clemson had too much Will Shipley (19 carries, 97 yards) and too much strength up front. One week after putting up only 14 points in a blowout loss at Notre Dame, the Tigers had no letdown, opened the game with a sharp scoring drive and came out with something to prove on defense.
But Louisville coach Scott Satterfield said he was proud of his depleted team. The Cards played largely with 3 wideouts and 2 running backs, after starter Tiyon Evans got banged up early.
"I'm so proud of our guys the way they continued to fight," Satterfield said after the game on his postgame radio program on 93.9 FM. "You know, our defense turned them over three times -- that was outstanding -- and we were close to getting a couple more. Some calls and go away tonight, as well. Then offensively, man, we're just down to a few guys right now. And they're fighting their tails off."
The two-touchdown cushion early in the second half allowed the Tiger pass rush to tee off, and it did. Some of Louisville's best plays were runs against the blitz by Jawhar Jordan, who carried 11 times for 73 yards.
The other offensive bright spot for Louisville was wideout Tyler Hudson, who caught 11 passes for 163 yards. Domann finished 13-23 for 175 yards and a touchdown on the game's final play, a 31-yard strike to Braden Smith, and led the Louisville offense to a 240-yard second-half effort.
"I can't say enough about (Hudson), how he continues to fight," Satterfield said. "We only had two running backs tonight and they're getting beaten up and Malik is banged up, as well. Brock came in and really played hard there in the second half. You Just get down and then we got worn down by their D-line and I think there's some NFL guys up front they have and they're big and strong and we didn't do a great job up front against them. . . . But receiver-wise right now we're down just to a few guys. Amari (Huggins-Bruce) is still kind of hobbling a little bit, and that's why I'm proud of Braden, T-Huddy and then Marshawn Ford. I mean, they play every snap and by the end of the game they're really tired. And (Clemson) is playing man to man, it's hard to get loose."
Louisville falls to 6-4 on the season, and gets N.C. State next Saturday at Cardinal Stadium.
Copyright 2022 WDRB Media. All Rights Reserved.