LOUISVILLE, Ky. (WDRB) -- Vince Tyra was a starting pitcher in his college days at the University of Kentucky. But he was hired at the University of Louisville in a relief role, to build on the massive growth of the athletics department established by Tom Jurich, while dealing with massive scandals in the men's basketball program.
To liken it to baseball, Tyra was handed the ball with nobody out and the bases loaded. Less than three years into his tenure, the righthander once again is looking to navigate Louisville athletics through a tight spot.
A longtime booster and dedicated fan of Louisville athletics, Tyra loved supporting the programs, being around the players and traveling to road games. As athletic director, he could do those things and be paid for it. Now, with the economy on the edge and college athletic programs around the nation in crisis, Tyra is drawing more on his business background than he is on his love for sports, though the two have come together to make him a man for the moment.
He has been a resource for athletic directors around the country as they seek to navigate uncertain financial times. He has hosted virtual round table discussions and even shared documents with other universities looking to follow Louisville's lead in cutting costs in anticipation of more COVID-19 related shortfalls.
And he has been a resource for U of L. At the time of his hiring, Tyra was serving as the chairman of Louisville's foundation board, trying to sort through a mess in that organization. He brought with him experience as an operating partner of a private equity firm, sitting on many boards of directors, and as CEO of a Florida-based medical company.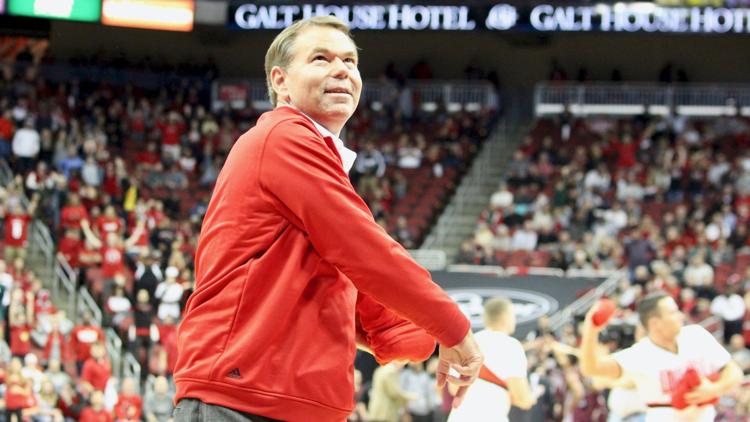 Even as AD, U of L president Neeli Bendapudi said his role at the university goes far beyond athletics.
"He's such an integral part of my senior team," she told U of L's athletic board on Friday. " ... I have asked him to serve on so many committees, take a lead on so many things that have nothing to do with athletics. That should show you his value."
On Friday, Louisville athletics announced that it expects to finish the current fiscal year with a surplus of around $4 million — money it likely will need to meet next year's budget, which is a patchwork of dedicated study, semi-educated guesses and cautious optimism.
Tyra has seen many business situations, but he hasn't seen many where the projected revenue in the coming year was a virtual dart throw. The school doesn't know if it will be able to have fans at its football and basketball games, or how many. At the outset of the COVID-19 shutdowns, Tyra and his team slashed 15% from the athletics budget. Whether that is enough, or just a start, remains anyone's guess.
On Friday, ULAA's finance committee was presented a $95.1 million budget, cut down from an originally projected budget of around $104 million. Built into that are expected declines in ticket sales for men's basketball and football, and known declines in some other areas. But no guess on whether enough of a loss was built in can be educated enough, because the virus will decide the pace at which spectator sports proceed.
"This is like no other year I think I've ever entered – knowing that the budget won't look anything like what the projection looks like very soon," Tyra said. "We'll have different forecasts coming about during the year. It's hard to tell what's going to occur when we get into it, but we tried to take a number of things into account, and depending on how well we're able to mitigate the COVID virus and resocialization plays out over the next 60 days, that'll dictate how our budget will look. We only have so many levers on the revenue side, and football and men's basketball are two of those."
Tyra gave media members an update about a month ago on the prospects for playing football in the fall. He was no closer to a definitive answer on Friday. He thinks the season will happen, though he can't say whether it will start on time. He thinks at least some fans will be allowed to attend, though he doesn't know how many.
"Our primary focus is still on when practice starts," Tyra said. "... I think there's an indication that football is hopefully going to start on time. I think that's what we're all planning for. But what that means in terms of fans is still to be determined. We have contingency plans going on. We've communicated some of that to our season-ticket holders. That's why we've held off on single-game sales and mini-game packs, to see where we are on season tickets first … and we'll go from there. And we have some procedural things we're looking at in parallel to make sure it's a safe environment. I think fans are aware that there will be an at-risk, at-will on their side, but we want to mitigate that and make them feel as comfortable as we can entering the venue when we're allowed to do so. But that's not solely up to us. There are government and health officials that make that decision."
The signs of life around campus have been encouraging. Tyra likened the athletics office to the movie "The Shining" with campus empty, and said that the return of 60 athletes last week and more next week has been a shot in the arm for everybody.
And he said that has helped keep the focus on the short term. Keeping athletes healthy. Overseeing a COVID protocol. And then looking at short-term goal, like an expected NCAA approval for the start of practice, which will then kick into place a potential scheduling plan for conferences and schools.
In this uncertain time, looking too far down the road is of little use.
Tyra said he's watching everything, from plans being drawn up by professional sports league to an expected plan from Churchill Downs in the coming days for hosting the Kentucky Derby in September.
U of L is hoping for the best, but even a worst-case scenario of not being able to have fans at home games is something they've looked at.
"At the worst end, it's pretty dramatic," Tyra said. "But our operating expenses go down too, because we employ a lot of people to take care of fans and get them to them to their seats. There's a variable expense to running a game that goes away if there weren't fans. But you still do have fixed costs, paying coaches, student-athlete financial aid and other things. Those are hard to adjust, so you've got to look at other levels to pull back your costs."
Regardless, Tyra's hire, even after less than three years, appears to have been a fortuitous one for U of L. After just a short time in the league, Tyra was a nominee to serve as the chairman of the ACC Athletic Directors Committee.
"He is everywhere at the same time," said humanities professor Elaine Wise, who is ending her time as the school's faculty athletic rep after 22 years this month. "If I had to find a fault it would be not getting enough rest."
With athletes coming back but the future far from settled, Tyra probably can't count on much down time in the coming months.
Copyright 2020 WDRB Media. All Rights Reserved.