LOUISVILLE, Ky. (WDRB) – The slam-dunk sports column this morning is to rip the fans of the Indianapolis Colts. Having found out on their phones that quarterback Andrew Luck had informed the team he was going to shock the NFL and retire immediately, some reacted harshly.
A good many in the Lucas Oil Stadium crowd booed Luck as he walked off the field after Saturday night's exhibition game. And the reaction from many in the media has been strong and swift, exemplified by this postgame video reaction from Indianapolis Star columnist Gregg Doyel, one of the very best in the business.
"I've never understood booing," he said. "You take a guy as nice as Andrew Luck, someone that nice, what has he ever done to this city to be booable? You take someone that nice, and you decide because he's not going to play the sport you want to watch him play, you're going to boo him? Are you watching this video booers? You idiots. That's not how you treat Andrew Luck. It's not what you do. . . . You booed him, there's so many words I got right now that I can't say. But you can guess what I'm thinking about all of you right now."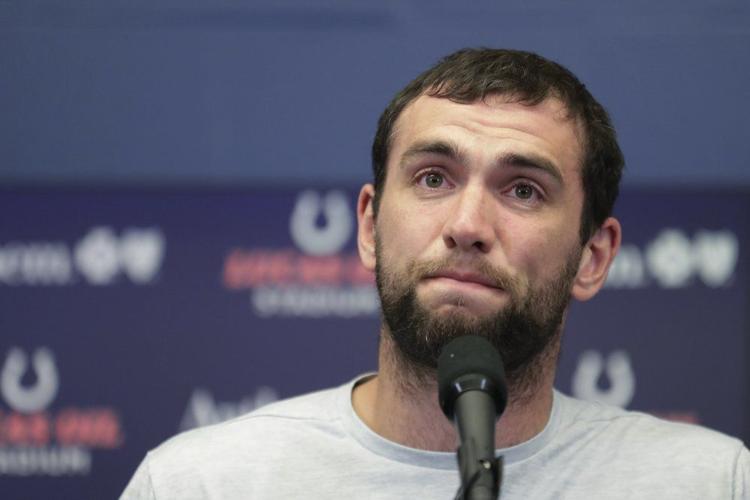 I have to admit, when I saw the postgame video and heard the boos, I felt about the same thing. Luck has dealt with some pretty serious stuff. He's had injured ribs, a torn labrum, at least one concussion, a lacerated kidney, and a partial tear of an abdominal muscle. And people are mad at him if he decides he doesn't want to risk more physical harm? How selfish can you get?
Except that it isn't exactly that simple.
Often there's a disconnect between fans and media. If you cover a team on a regular basis, even if you don't get to know players in a true personal sense, you deal with them as human beings. You stand three feet away and talk to them. You see that they're people, just like everybody else. You get a feel for their good days and bad. You can't just seem them as uniform numbers, or statistics.
But there's a certain segment of fans – and I don't think it's most of them, and maybe not even close to a majority – that sees them just as a number. As fantasy points. As a chance to brag about your team at work on Monday morning.
As a rule, that segment is part of the thing that keeps the whole enterprise in business, of course. It keeps guys like me employed. The passion of fans fuels all of this.
It also can lead to the kind of scene we saw in Lucas Oil Stadium on Saturday night.
I'll tell you what I'm not going to do. I'm not going to denounce them all or paint them all with the same brush. No doubt, there were a great many fans cheering Luck as he ran off the field, too. And more than that, many of them who were booing would've been cheering had this news broken on, say, a Monday, and Luck were honored for his contributions to the franchise at the next game.
Judging someone on an immediate response, when information is new and sketchy, when you haven't even heard, in this case, the player talk about his reasoning and his thinking, well, it's a dicey business.
I don't see many pundits slamming the media for all the information it gets wrong in the opening hours of a breaking news event. You don't see many commentators get trashed for snap opinions based on sketchy information. And they are trained professionals. You don't see it, because the media doesn't often bash itself.
Fans are an easy target. But I suspect when the Colts honor Luck at some point in the future, when everybody has had a chance to look at the whole situation, there will be far more cheers than boos in that stadium.
There will, of course, still be some boos. That's just where we live today. The players are commodities to some fans.
But let's not judge everyone on a bad moment. And let's remember that the moment was set up for that scene.
This wasn't handled well by the Colts. If, in fact, the team was informed that Luck would be announcing this after the game, who in the world decided it was a good idea to leak it to ESPN during a preseason game?
If the response of fans in that environment was disappointing, it also was predictable.
You don't have to study a lot of sociology or group dynamics to know how that was going to go.
I'm with Doyel. I don't understand booing. But I don't pay to attend these games. Maybe if I did, I'd understand it a little better. Regardless, I still believe that people are better overall than they are in their worst moments.
What we saw Saturday was a bad moment. You hope it was just that. The problem these days is that there's so much rancor in the country, and more focus on the boos than the cheers – in every situation – that you can't be too sure.
Copyright 2019 WDRB Media. All Rights Reserved.