CRAWFORD | Mack decries 'deplorable' Louisville defense in OT loss at Pitt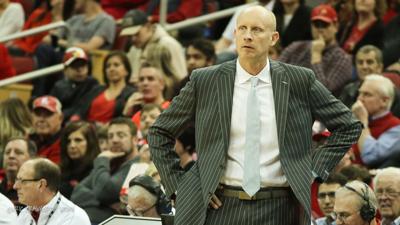 LOUISVILLE, Ky. (WDRB) – Bad, bad, bad, bad, bad, good . . . bad.
A Pittsburgh team that hadn't won a game against a Power 5 conference opponent since March of 2017 beat Louisville 89-86 in overtime on Wednesday night, after a late Cardinal flurry got the game into OT.
Pitt had lost 23 straight Atlantic Coast Conference games and 12 straight to Louisville. Both streaks ended on Wednesday.
If you're a Cardinal fan, take a moment and a few deep breaths. You probably need them.
Louisville trailed for 32 minutes of the game, and was in its own way most of the night. As good as the Cardinals have been in Chris Mack's first season as coach, with a pieced-together lineup playing competitive games against their better competition -- even beating a Top 10 Michigan State team -- much of their game at Pittsburgh was as bad as it has been all season for Louisville.
The Cardinals were impatient on offense and unglued on defense.
"We're an inconsistent team, both in our effort and our execution," Mack told Bob Valvano on his postgame radio interview. "To be a good team, you have to be consistent. Look at our last few games . . . Until our team understands that every possession matters, we're going to struggle with our consistency."
Give them credit for persistence. Despite their struggles, the Cardinals kept slugging away. They were good enough on offense in the second half to stay within reach, even after Pitt surged to a 16-point lead four minutes into the half. Christen Cunningham went 8-for-8 from the field between halftime and the end of regulation, and Steven Enoch went 5-for-5.
RELATED LINK: CRAWFORD | I was wrong about Christen Cunningham.
Louisville outscored Pittsburgh 14-2 in the final 4 ½ minutes of regulation, getting seven straight points from Enoch to spark the run. A Ryan McMahon three pulled the Cardinals within two with 1:51 left, and a put-back by Dwayne Sutton with 26 seconds left tied it up.
"When we came back, we did get stops," Mack told Valvano. "We just couldn't get enough of them over the course of the game."
The Cardinals even struck first in overtime, with a McMahon three. But after a Sutton layup tied the game with 2:56 left, the Cardinals would score only one more time, misfiring on a couple of McMahon threes and a wide open Enoch three late, as Pitt emerged with a win to improve to 11-4 overall.
"We had a few open shots at the end, and that's all you can hope for," Mack told Valvano. "But we should never have put ourselves in that position."
Louisville got 23 points on 9-11 shooting from Cunningham and 14 points from Sutton. Enoch had 12 points and McMahon 11. But the Cardinals gave up 52.5 percent shooting to Pittsburgh, including 8-20 from three-point range.
Jordan Nwora, Louisville's top scorer, had his toughest night of the season, going 2-14 from the field to finish with eight points. He also had four assists, but turned the ball over four times.
Trey McGowans torched the Cardinals with 33 points. Xavier Johnson added 21. Louisville couldn't do much to keep Pittsburgh from driving the basket. Half of Pitt's 32 field goals were layups or dunks. 
"They had their way with us," Mack told reporters after the game. "Whether we switched, whether we hard-hedged, our defense was deplorable. Until our team plays with a little bit more dirt under its fingernails instead of playing they way we did tonight defensively, then we'll get more ass-kickings in this league."
Louisville committed 18 turnovers, which led to 29 Pittsburgh points.
Now, they must regroup for a trip to Chapel Hill where they will face No. 12-ranked North Carolina on Saturday at noon.
"Our mental toughness is lacking right now," Mack told Valvano. "And it needs to change. We're in too tough of a league to continue to wallow in the highs and lows of a game, of practice, of how I'm playing individually. That right now is hurting our team."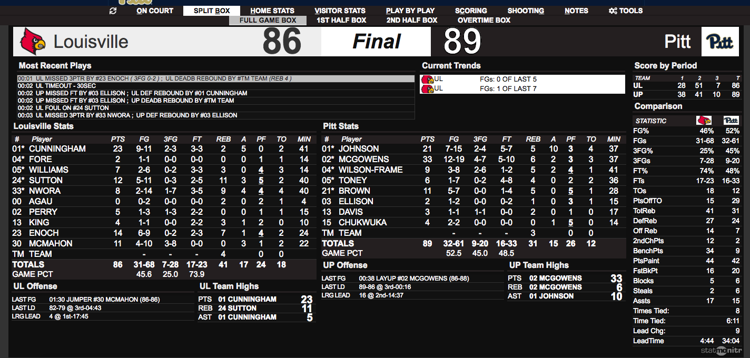 Copyright 2019 WDRB Media. All Rights Reserved.