CHAPEL HILL, N.C. (WDRB) – Some numbers to know before Louisville's visit to the Dean Smith Center to face No. 12-ranked North Carolina. The Tar Heels are 12-3 overall and have won four straight since losing to Kentucky in the CBS Sports Classic in Chicago. Louisville is 10-5 overall, 1-1 in the ACC after Wednesday's overtime loss at Pitt.
The game tips at noon Saturday on ESPN with Dan Shulman, Jay Bilas and Maria Taylor on the call. North Carolina leads the series 13-5, and is 4-2 since Louisville joined the ACC in 2012. Louisville has never beaten the Tar Heels in Chapel Hill, the only ACC team they haven't beaten on their home court.
More numbers:
1 -- North Carolina's national ranking in rebounds per game, 44.9. The Tar Heels rank third nationally in rebound margin (+11.5) and are 23rd nationally in offensive rebounds per game (13.2).
13.5 seconds -- Average length of a North Carolina possession, the third-fastest in the nation (only Savannah State and Florida International are faster).
19.7 -- Assists per game this season by the Tar Heels, third-best average in the nation.
25.2 -- Percentage of Louisville's points coming from the free-throw line, ranking fifth in the nation. Their team free-throw percentage of 76.5 is 15th in the nation.
30.8 – Points per game averaged by Louisville reserves. The Cardinals rank 47th in the nation in bench minutes per game, with players off the bench accounting for 37.2 percent of game time. The bench contributed 34 points, 12 rebounds and five assists in its last game at Pittsburgh. Louisville scored a school-record 63 bench points against Southern
49.4 -- Three-point percentage by North Carolina leading scorer, Cameron Johnson, a graduate transfer from Pitt, who ranks in the top 10 nationally in both shooting percentage and three-point percentage.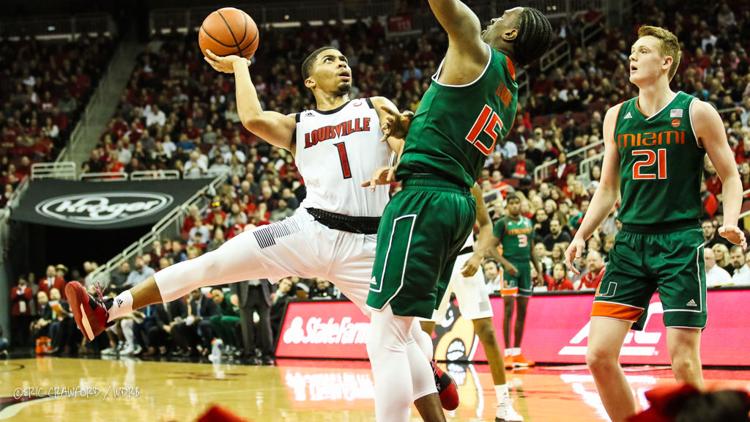 61.5 -- Louisville guard Christen Cunningham's shooting percentage over the past six games, which includes 61.9 percent from three-point range. He's averaging 15 points and 3.8 assists in that span.
79.4 -- Points per game Louisville has allowed in its four losses. Opponents have shot 49.1 percent from the field in those games.
89.9 -- Points per game for North Carolina, third-highest average in the nation, and on pace to be the third-highest ever for a North Carolina team.
538.3 – Miles driven by WDRB's Eric Crawford and Annice McEwan, one way, to cover Saturday's game. They'll have coverage on WDRB News and WDRB.com.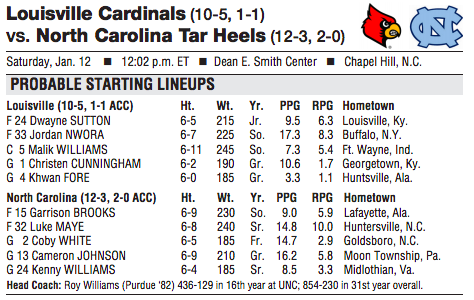 Copyright 2019 WDRB Media. All Rights Reserved.