LOUISVILLE, Ky. (WDRB) – After a one-week COVID layoff, the No. 3-ranked University of Louisville women's basketball team was a bit sluggish to start, but hit the gas in the second half to pull away for an 82-58 victory at Pitt on Thursday, improving to 20-1 and reaching the 20-win mark for the 11th straight season.
Dana Evans matched her career high with 29 points, and Mykasa Robinson continued her outstanding all-around play, with six points, nine rebounds, five assists and five steals without a turnover.
"It's always nice to get to 20 wins, especially in a shortened season when the most you can play is 25," Louisville coach Jeff Walz said. "It was a really tough win ... We had some glimpses where we were good and we had some glimpses where we were bad. I'm challenging all of them. It's not easy, there's no question. But, you know, they say they want to be great. It's my job to try to hold them to that standard. We had some tough stretches, but overall we did some really good things."
Louisville grabbed an early 10-point lead, let Pitt come back to tie the game, led the game by six points at the half, then shot 62% in the second half to run away.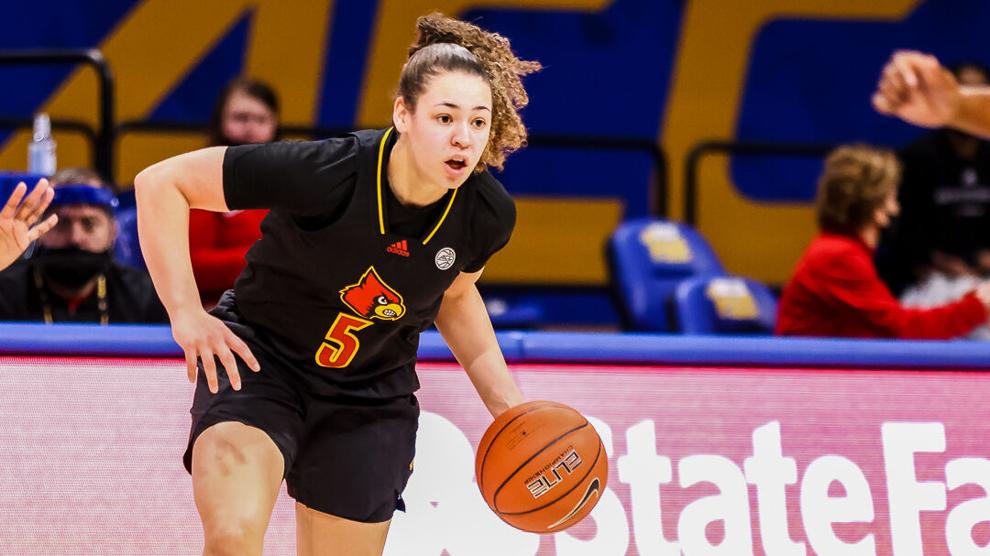 "Mykasa was phenomenal," Walz said. "She's everywhere ... She competes. I told our team afterward, we have other players who play that hard. They just don't play as smart as she plays. Her basketball IQ is of the charts. She's easily one of the top 10 defenders in in the country, and she guards one through four and even guards the five for us at times. So she's definitely an asset for us, and I'm really happy for her."
Evans started slow, but came on in the second quarter, had 13 points in the third quarter and 21 in the second half. It was the third time this season she has reached the 29-point mark. Louisville needed her after both post players, Liz Dixon and Olivia Cochran, each picked up a pair of early fouls.
"We were able to get out in transition in the second half," Walz said. "I though Elizabeth Balogun had a couple of nice times where she really sprinted the lane, Hailey Van Lith had a nice one. When we can rebound and get out and run, good things happen."
Louisville shot 51% for the game despite making only 3 of 18 three-point shots. Van Lith finished with 13 points, Dixon 12 and Balogun 10. The Cards allowed 21 offensive rebounds, but only six in the second half, and Pitt was able to convert those into only eight points.
Now Louisville will travel to Florida State on Sunday, where they'll try to keep it going with a chance to take back the No. 2 spot in the polls after No. 2 South Carolina lost to Tennessee Thursday night.
Copyright 2021 WDRB Media. All Rights Reserved.