LOUISVILLE, Ky. (WDRB) – You put a new giant scoreboard/video screen into an arena, the unspoken message is that you'd better put a team on the floor that keeps the thing lit up.
On Friday night in the KFC Yum! Center, the latest edition of the University of Louisville basketball team unveiled a new-look offense, and had little trouble generating points against an overmatched Kentucky State team in a 94-45 victory.
What was new? The Cardinals wasted little time getting the ball up the court and into their offense. They even flashed some possessions of full-court pressure to speed up the game. Gone is the tendency to walk the ball up court.
"We're trying to squeeze out every bit of opportunity once we have the ball, whether it's a made shot or missed shot, and that doesn't happen if we jog up the floor," Louisville coach Chris Mack said. "We're sprinting, we're trying to get to the corners, we're trying to spread off spacing, we're trying to squeeze as much as we can out of transition, because efficiency will tell you that's where it's most difficult to guard people, is in transition. Now we've got to make better decisions, and we will. And we've got to finish around the basket."
The Cardinals scored effectively from every position, and showed depth from every position. They got three-point baskets from seven different players, and at least one from all five positions.
They shot a decent percentage from the field (46) and had 78 possessions. Last season they averaged about 66 possessions per game.
All of which is well and good against a Kentucky State team with 10 new players. But it was, as they say, a start.
"We've got a long ways to go," Mack said. "I knew I'd say this regardless of what the outcome was. But we're a work in progress, like a lot of teams this time of year."
As a work in progress, Louisville figures to take time to get completely together. It won't be helped by the absence of Mack for the period of the first six regular season games. But it also is working in an unprecedented number of newcomers, including four who are new to the program at the guard spot.
But those four proved fairly comparable on Friday night, with no letdown no matter who was running the point or operating out of the shooting guard spot.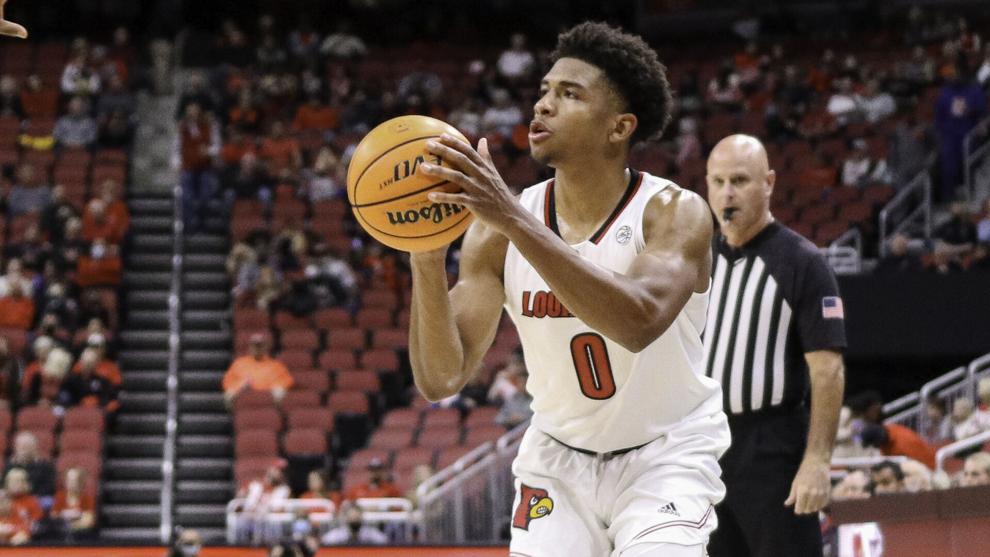 Noah Locke, a transfer from Florida, was the team's leading scorer, with 15 points. El Ellis, who came off the bench at point, added 12 points and was perhaps the most dynamic offensive player on the night. Gerrod West was a defensive catalyst and he led the team with 4 assists. Mason Faulkner, who is still coming back from injury, will mesh better over time.
Likewise in the post, Louisville showed depth. Malik Williams finished with 9 points and 9 rebounds in 16 minutes, but Sydney Curry (7 points, 5 rebounds) also was effective.
Jae'Lyn Withers had 14 points and 15 rebounds in 20 minutes of play, and Williamson had 13 points and 10 boards off the bench, with Dre Davis scoring 10 points in a starting role.
Mack, via new assistant Ross McMains, is seeking far more tempo than his team employed a year ago, as well as better offensive spacing. He said he thought the spacing was fairly consistent, but the tempo was up and down.
"A few of our guys need to run harder, and they'll see it on film and get that corrected," Mack said. "Everybody says they want to play fast, but they don't want to run fast to play fast."
Louisville led 44-12 at half before Kentucky State scored on seven straight possessions to open the second half. Still, Mack said the tape will provide plenty of opportunity for correction before next Wednesday's 7 p.m. exhibition game against West Georgia.
"I want us to be the same team that we are in practice," Mack said. "And obviously you want to be effective, on either end of the floor. Everything that you stress and coach. When a guy goes rogue when the lights go on, it sends a weird message to the team. I thought in the first half our spacing was good, our defense by and large was pretty good. But we didn't come out with that same readiness in the second half. . . . But for the most part we were trying to do what we want to do, and our guys were themselves."
Copyright 2021 WDRB Media. All Rights Reserved.